Sometimes when you've been married for a few years, you start to forget what dating was like. Or what it was like before you became engaged and started planning surprises for each other. And when I said to Mr NQN that we would be trying out a tailor made restaurant dining service for a romantic date, there was a look of panic in his eyes for a moment as he thought that he would have to bring his romance A-game. But he need not have feared because there's a restaurant butler service that is designed to do the work for you.
The restaurant butler is a relatively new service that is part of the offering at two restaurants at the GPO dining precinct: Prime and Intermezzo. So what exactly is the butler service? When you book a table online you can use the drop down menu to choose from a list of add ons. You can select anything from a single red rose ($35) to a dozen red roses ($98) or a floral centrepiece for $80.
You can then add on a sparkling wine or a range of champagne (Gosset or Dom Perignon) either by the glass or bottle or an amuse bouche for $7.50 per person. And if you don't want an awkward situation with wine you can also ask them to suggest a bottle of red or white wine and you can also specify a budget online. You can also order a box of 4 or 12 truffles ($12-$30) or a handwritten card ($5). Writing a message on a dessert plate is complimentary and you can also put it in here when you book and if you want to pre-order an item you can do so here too.
It has been many, many years since I dined at Prime which has been open since 1999. It opened before the blog started and I think with the new restaurants I didn't get a chance to go back. It's quite full this Saturday night and mostly with couples on romantic dates. Literally there are only two group tables whereas around us people seem to be having intimate dinners.
The couple to our right have just gotten engaged while the couple to our left are celebrating a birthday where she has picked the courses for him and surprised him using the restaurant butler service. Okay we did eavesdrop but honestly I was curious to see why there were so many couples. It was a bit like Valentines Day!
We are led to our table on the right hand side with one regular and one banquette seat. There are white tablecloths which seem to be a rare thing in Sydney nowadays. It's a historic sandstone building and it's a bit chilly on this Winter's evening. On the table is a bunch of purple and blue snapdragons and two boxes of the hand made truffles. The personalised card is something we had to ask for (it was at the maitre'd station) so perhaps this is a teething issue due to it being early days.
We are handed the menu and I had forgotten how extensive it was. It is really designed for steak lovers with three out of the four pages being made up of steak options. The first page is a page of entrees and non steak mains and the second page is the Angus Hereford Yearling, the third page the Black Angus fully matured and the fourth page is the Wagyu selection. The staff are polite and very knowledgeable but they aren't really warm.
Mixed olives, cornichons and sourdough bread $4.50 per person
They ask if we would like some bread and we say yes. It comes with some mixed olives, cornichons and thin slices of sourdough along with half orbs of butter. This can also be pre-ordered.
Our amuse bouches arrives. This is part of the restaurant butler package and they're a small cup of porcini mushroom cappucino soup with arabica coffee foam and a thin crostini with pata negra and porcini mushrooms. This is a smaller version of the soup that appears as an entree on the menu and it is creamy and warming.
A dozen Sydney rock oysters $44 served with VDP de la Loire "Unique" Sauvignon Blanc, Domain du Salvard, France
In the vein of romantic dinners, we can't go past a dozen Sydney rock oysters. They're served with an eschallot vinaigrette and a fantastic cucumber and lemongrass sorbet. Usually I have them plain with a squeeze of fresh lemon but we both like the refreshing and sweet sorbet. Our waiter recommends that we use the sorbet as a palate cleanser between courses too.
House smoked Ocean trout served with buckwheat blini, caviar and citrus creme fraiche served with Domaine Naturaliste "Floris" Chardonnay, Margaret River $28
The house smoked ocean trout on a blini is soft and delicate and very light in texture. Its a mild flavoured dish and I think I would have loved some chives to go with this to just bring it all together. It good that it is light especially given that we are going to be eating quite a bit of steak.
Black Angus Contra filet dry aged served with Torbreck "Struie" Shiraz Barossa/Eden Valley$75
There are two dry aged steaks on the menu and I had to order one because I love dry aged steak. This is a 400g sirloin on the bone that is grain fed and aged for 200-250 days from Liverpool Plains in Northern NSW. It comes with three roasted cherry tomatoes and potatoes of your choice and we go for the truffled potato mash (this is extra as it is not one of the options). And a little side note: I was hoping that there would be more truffle on the menu given the season and the fact that it is a special occasion restaurant. The steak is superb and they bring a peppercorn sauce with it but I like it as it is. The meat is wonderfully succulent, juicy and tender. The sauces range from a red wine jus, bearnaise, pepper, mushroom, blue cheese, ponzu and truffle jus and are $4 each.
Grilled Beef Tasting Plate $120 served with Barbera D'Alba Mossolino, Piedmont
For the other main we deice to go with the beef tasting plate as it has three of the steaks that I wanted to try on it in smaller 90g portions. There is one steak from each menu on this plate. It also comes with seasonal vegetables like red capsicum, sweet potato, asparagus and a Bordelaise sauce. A Bordelaise sauce is a red wine based sauce that is finished with bone marrow. It's a very rich sauce and honestly, I wouldn't necessarily recommend this for the Black Angus or the Wagyu 9+ full blood as I think it added a richness to some already very rich cuts of meat. I would have gone for something lighter, maybe the ponzu or a salmoriglio sauce.
Still the three steaks are excellent and perfectly cooked. The Yearling fillet or Prime fillet is the steak after which the restaurant is named. It is an Angus Hereford cross grain-fed steak from the Riverina served as a prime fillet medallion. The Black Angus fillet is grass fed and I has a wonderful combination of great beefy flavour and tenderness while the Wagyu with its incredible marbling score of 9+ is one the most expensive cuts on the menu (apart from the tomahawk and the other 9+ Wagyu scotch fillet) and you can see why because it simply melts in the mouth. You probably wouldn't even need teeth to chew it it is that tender. And we should mention that we thought that the wine matches from the sommelier were excellent and every single one of them matched the food perfectly.
Truffled mashed potato $20
The truffle mash is double the price of regular mash but it's worth it because it is quite strong in truffle. It's creamy so it goes well with the contra steak in particular that isn't as rich as the wagyu.
House cut Fries with rosemary salt and aioli $8.50
So while everyone around us was having a very romantic time we were busy discussing fries. These house cut fries have a rosemary salt and a little pot of aioli and are satisfyingly crunchy. Mr NQN professes his love for the pale fries while I go for the crispy, almost translucent ones. Yep that's what you talk about when you've been married for a few years ;)
Chestnut Creme Brulee $18.50
There are five desserts to choose from and this evening I am a bit nostalgic for the classic Opera cake, a layered cake with chocolate and coffee layers. The layers in this Opera aren't the thin layers that I was hoping for. This is a modern version and the menu does say that it is their interpretation of it and is layered with chocolate cremeaux, hazelnut joconde and coffee chantilly.
Opera Cake $18.50 served with Pedro Ximinez "PX Gran Solera 25 years $22
I was delighted to see chestnuts on the menu and it's a creme brulee served outside of a ramekin. There is still the silky smooth texture and toffee top and absolutely we love the combination of mandarin creme, confit mandarin and braised chestnuts. Sublime!
It's just after 9pm so we make our way across the ground floor past the patrons watching a football game to the Crystal Bar where a burlesque show begins at 9:30pm. There's a technical hitch so it is late by 20 minutes but everyone is in a good mood and not bothered. Tables are best reserved as it gets very busy on a Saturday night. There's a large mostly female crowd-this is courtesy of four hen's groups that evening.
We sip on cocktails-a French martini for me and a Slap and Tickle for him. This is a deliciously sweet passionfruit cocktail that a lot of people seem to be partaking of. The show begins and not being a burlesque expert (I've only seen Dita Von Teese do her thing on youtube) it's not as "risque" and there is only one dancer that has pasties, the rest are in lingerie and elaborate costumes.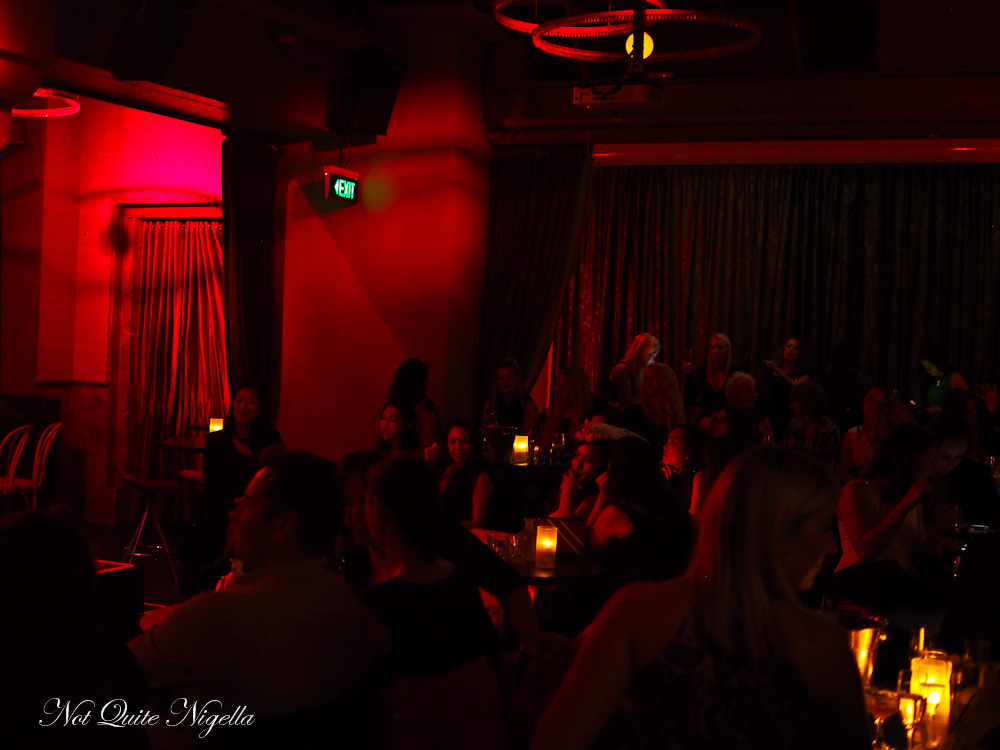 The dancers however are excellent and like I did with a strip show, I'm actually really focused on the costumes which are pretty fabulous and the music is also great. The dancers do two numbers followed by breaks of music and the show goes for about 1.5 hours in total finishing around 11pm. Just in time to get home before midnight!
So tell me Dear Reader, would you use a restaurant butler? Are you a fan of burlesque shows? Do you have a favourite steak?
NQN and Mr NQN were guests of GPO Dining
Prime
Lower Ground Floor, Sydney GPO Building, No., 1 Martin Pl, Sydney NSW 2000
Tel: +61 (02) 9229 7777
http://www.gpogrand.com/prime-steak-restaurant-sydney