This richly flavoured Indo Fijian curry is so very tasty that you almost can't believe the simple ingredients. With a simple base of onions, garlic, curry powder and curry leaves, you don't need to reach for any pre-made sauces to conjure up something delicious. And the curry leaf rice is one of the best rice dishes you'll ever try but so easy to make! As soon as I made these in a cooking class I knew that they were too good not to share with you Dear Reader!
I first tried making this curry at a cooking class at the Outrigger Fiji on Viti Levu. It's a chicken curry where you use bone-in chicken pieces and the rich gravy comes together easily.
The accompaniment of black mustard seed and curry leaf rice is one that I suspect you may make again and again as I have. The Outrigger's executive chef Shailesh Naidu told us that when they decided to serve it at the restaurant they had to keep refilling it constantly as guests loved it so much. It is utterly addictive I have to admit. I just had to remember how we made both dishes in the class as the recipes we were given were quite vague and the quantities and methods differed from how we did it.
As I work from home so much talking to myself becomes secondary in nature. Mochi doesn't seem to mind it, in fact sometimes I think she thinks I'm talking to her and she cocks her head to try and understand me. And I coached myself through recreating this chicken curry dish saying things like, "Hmm no I think they added this before didn't they?" etc.
Anyway that afternoon I saw someone I'd had a bit of an argument with the week prior. It wasn't a full on argument but cold, terse words were exchanged and that afternoon when she came to my door to drop off something it was clear that she was still holding a grudge. She was cold and refused to look me in the eye. It ended up being a mercifully quick exchange but she did manage to make some below the belt comments. But I'm never quick enough to think of quips to make and I was annoyed that I hadn't defended myself.
Straight after seeing her I had to pick up my parents to go out to dinner and we drove to pick up Mr NQN after work. Now my parents aren't much for smalltalk and are generally fairly quiet people. And within a few minutes I had forgotten that they were sitting in my back seat. I found myself talking to myself in the car saying out loud lines that I wish I had said to the woman earlier. I got quite carried away mimicking her tone and I was completely lost in a fantasy world where I had managed to get a few verbal jabs. I think this went on for a good five minutes before one of them cleared their throat and I realised that they were probably wondering who I was talking to!
So tell me Dear Reader, have you ever been caught talking to yourself? Do you ever replay conversations to yourself? Are you quick with a defensive quip?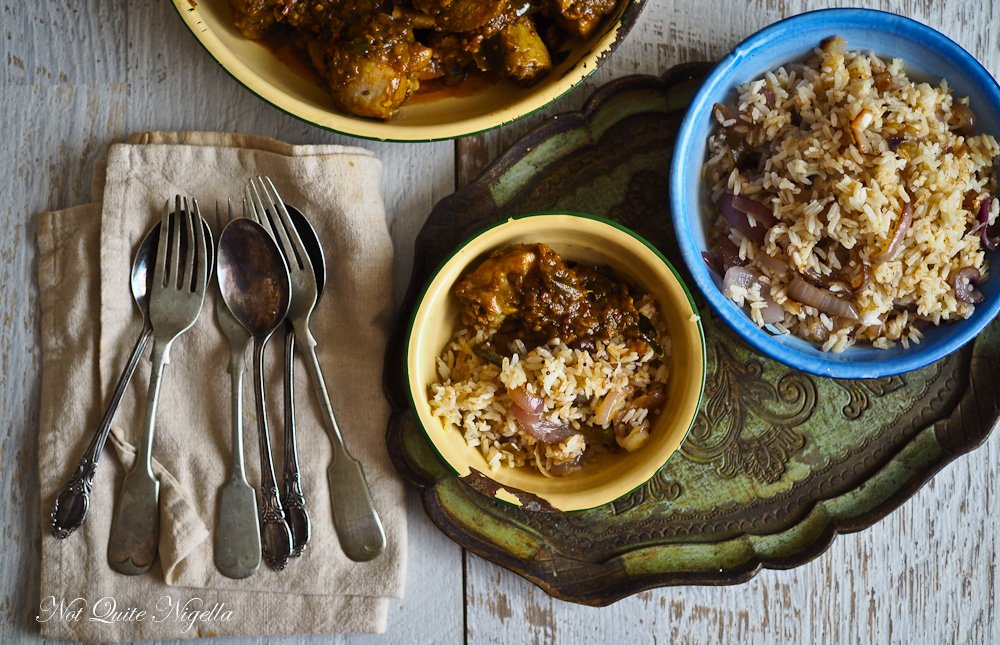 DID YOU MAKE THIS RECIPE? Share your creations by tagging @notquitenigella on Instagram with the hashtag #notquitenigella
Fijian Chicken Curry and Curry Leaf Rice
An Original Recipe by Lorraine Elliott
Preparation time: 15 minutes
Cooking time: 1 hour
Please note: The rice needs to be cooked the day before and then cooled
Oil or ghee for frying
4 tablespoons curry powder
2 teaspoon cumin seeds
2 teaspoons black mustard seeds
1 teaspoon fenugreek seeds
2 onions, peeled and finely diced
4 cloves garlic, peeled and finely diced
2 tablespoons grated ginger
4 dried chillies
1kg/2.2lbs. chicken drumsticks, cut into thirds (ask butcher to do this)
3 branches curry leaves, leaves only
3 chillies (small or large, depending on how hot you like it)
1/2 - 1 cup water
Salt and black pepper to season
1 teaspoon sugar (optional)
For Curry Leaf rice
2 cups uncooked long grain rice, steamed according to directions and then cooled and refrigerated
50g/1.7ozs. browned butter or ghee
2 onions, peeled and sliced
1 teaspoon black mustard seeds
Curry leaves from 4 sprigs
Salt to season
Step 1 - Heat the oil or ghee in a large pot. Add the curry powder, cumin seeds, mustard seeds and fenugreek seeds and saute until fragrant. Add onions and cook until softened. Add garlic and ginger and saute for a minute or two. Add dried chillies, chicken pieces and curry leaves. Add 1/2 cup of water and bring to a boil and then knock down to a simmer.
Step 2 - Place lid on the pot and cook stirring occasionally so that it doesn't stick. Add more water if needed. Keep stirring and adjust the heat and add fresh chillies, salt, pepper and sugar to taste. Simmer until chicken is soft, around 30 minutes. Leave the lid off if you want the sauce to be thicker or keep it on if you want to have more sauce.
Step 3 - Heat half of the butter in a frypan until sizzling. Add the mustard seeds and onions and cook until softened. Add the rice and add more cubes of the butter and the curry leaves so that the rice doesn't stick. Serve hot with the curry.