This story is part of my list of things to do in Siem Reap »
Miss Wong's
Visit cocktail bar Miss Wong's here while you still can because in three years time when the lease is up, owner Dean Williams wants to pack up and move to a different part of Siem Reap. Dean started the retro chic bar eight years ago on a dingy little street dubbed "The Lane" but now because of Pub Street parallel to it and passing time, it has now become a much busier street.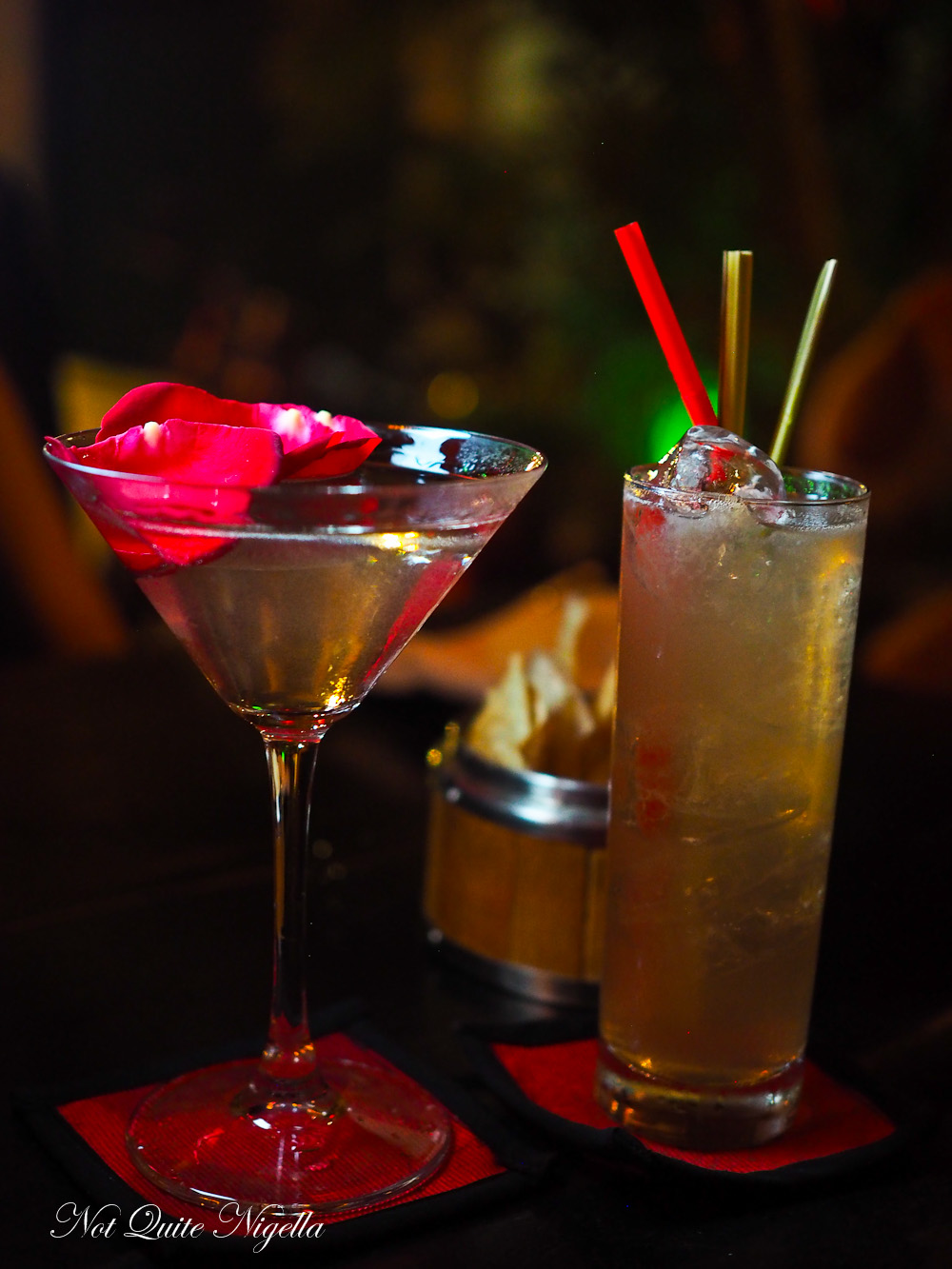 Rose and lemongrass martini and Tom Yum Martini at Miss Wong's $5USD each
Miss Wong has an enormous cocktail list of their own concoctions. For something pretty, try the rose and lemongrass martini served with rose petals but for some gutsy infusions, try the tom yum martini. Infusing spirits became something of a trademark when Dean wasn't able to access a lot of spirits and now it has grown into something of a signature. Oscar winning actress Marissa Tomei was said to be a big fan of the bar on her visit.
Asana
A little further down "The Lane" is Asana, a gorgeous relaxed two storey cocktail bar. You'll know it as soon as you see it as it also known as the "Old Wooden House". Run by Pari Ung she holds Cambodian cocktail making classes or you can simply visit for a cocktail. The house is a charming touch in the middle of Pub Street for an evening cocktail.
Complimentary snacks to choose from at Asana
Guests can either sit upstairs or downstairs on one of the many areas-there's an area for everyone. We planted ourselves on the rice sack lounges and had some terrific cocktails. These come with your choice of complimentary snacks (we chose hot rilletes on toast and fish cakes). A little black cat jumped up from a corner and said hello then disappeared down a hole no doubt to search for his next morsel.
Cocktails at Asana Bar $4.50USD each