This story is part of my list of things to do in Siem Reap »
Only the most steely hearts will not fall for Phare Circus, one of the most interesting circuses featuring some very talented young Cambodians. Most of us in Western society take for granted the idea that we can choose our careers and take the option of being an artist. For young impoverished Cambodians, this is something out of reach for them as they are often conscripted to work from a young age by the family needing money.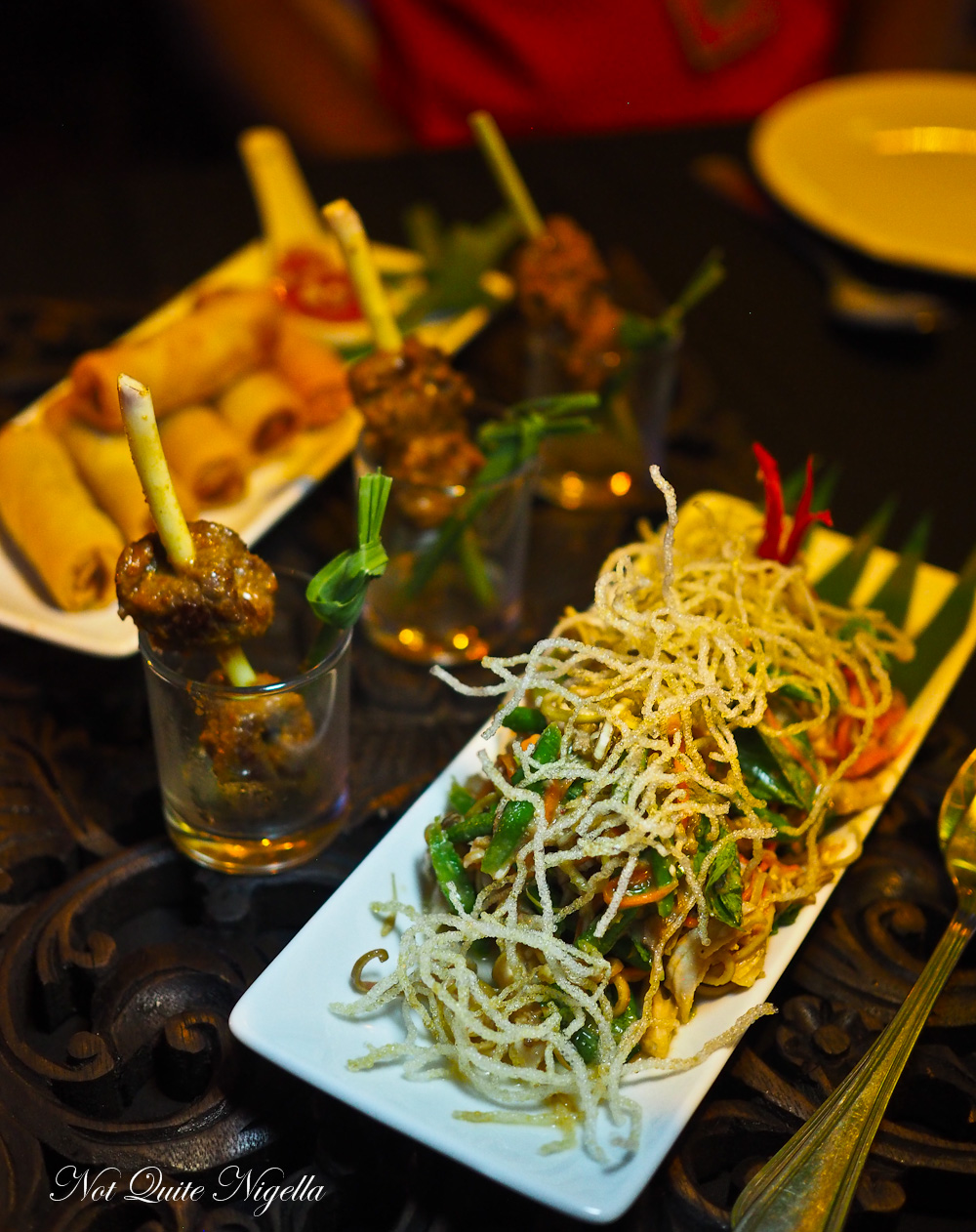 Spring rolls, beef skewers and banana blossom salad at Phare Circus Cafe
Originally started by 8 young artists after the Khmer Rouge regime, each show tells the story of issues facing the modern Cambodian and weaves politics and personal issues beautifully. The show itself is very impressive and it shows what can be achieved as the idea started with nothing. Before the hour long show you can also eat at Phare Cafe, a concession outside the Big Top where chef Sreyleak Proeum (who is married to guide Lim) makes wonderful Khmer cuisine. The $12USD set menu features banana blossom salad, crunchy spring rolls and tender beef skewers with a main of lemongrass beef or fish amok and dessert of a divinely silky duck egg custard with bananas.
Phare Circus trains over 1,200 young performers. Some will go on to become artists, some go on to become accountants. The very talented become part of Phare's rotating troupes. There are currently four troupes travelling around Cambodia and they have also travelled internationally to much acclaim. There are many success stories including Sothea Nem in the Sohka show that we are seeing today. His older brother Sopha Nem was the first Cambodian to be accepted into Montreal's Cirque de Soleil.
Each show is a unique treat that you won't find anywhere else. The energy, personality and skill of each performer and the two musicians and their tale will lift your spirits. It will make you think and it will leave an impression on you - as only the best artists do.