This story is part of my list of things to do in Siem Reap »
There are a few operators but we went with Beyond Unique Escapes located in Kandal Village because they were strongly recommended to us by Lara and we were not disappointed at all. Beyond's tours are very well thought out and the tours are all led by native Cambodians and they follow the edict of responsible tourism. They have well priced tours and are also able to do custom tours easily to fit your interests. Our interest is food as well as special projects. We did two tours with them.
A worthwhile half day trip is Beyond Unique Escape's Tonle Sap tour. Ask for guide Lim if he is available as he is an excellent guide who speaks excellent English and he's a foodie too - a private tour is best for this. Early is ideal for tours and many Cambodians start early and have a rest in the afternoon when the sun is the strongest.
Bamboo sticky rice
We start our tour at 7am and the first stop is at a street stall that makes bamboo sticky rice. The sticky rice is mixed with coconut milk, coconut flesh, salt, sugar and black beans and sealed with hay and banana leaves. It is then cooked for 1.5 hours. The seller that he stops at makes around 200 pieces a day and they will get $10-$15USD for that - that's considered a good day of business.
Lim shows us Prahok
Our next stop is Th'nal Chek market, a very local market where he shows us the national condiment Prahok made from dried, fermented fish. He tells us that the best prahok is made using snakehead fish. This is sold in jars by itself or mixed with Kreung, a fragrant spice paste made with lemongrass, galangal, ginger, shallot, kaffir lime leaf and zest, chilli and lemon ants. These are small red ants that taste like lime or lemon and each jar contains a couple of thousand ants. Each of these jars can last for 1-2 years and for the poorest people in Cambodia (whose household income is around $80USD a month) a meal often consists of this and rice.
We watch as people order noodle soup and vendors break off water lily stems and slice up the bitter sugar palm fruit. One sells a tangle of "floating heart" plant that resembles a herb. This is a plant that grows wild in the water. We stop by and try chopstick cake, a chewy delicious rice flour stick flavoured with spring onion as well as a Num Krouch, a round dumpling named after its orange shape. It has a rice flour outer and a sweet bean filling and is topped with sesame seeds. This too is hot but delicious.
Nom Pong Ansong donuts (left) and Nom Kong
Our last food stop at the market is at the front of the market. A stall sells Nom Pong Ansong donuts named after water monitor lizard eggs as well as Nom Kong (nom is the generic word that includes cakes, crackers and biscuits). This too is made of rice flour with a palm sugar toffee coating. Next to this is Nom Ansong Chiruk pork sticky rice cake with green beans and pork marinated in pepper sauce. It is wrapped in banana leaves.
We take a drive to Preakh Sromouch or the lake of ants. There are no longer thousands of ants (although watch out for the fire ants). We take a stroll and kids wave hello and we board a boat to Lake Tonle Sap, the largest freshwater lake in South East Asia. Remarkably, this lake changes current once a year. We sail past stilt houses as well as floating houses and watch children playing in the water.
Kompong Khleang
A childhood for these families is different in Cambodia. A 1 year old boy is busy learning how to stabilise a boat while a four year old is busy catching fish. Lim explains that there are problems within Cambodian society and drinking, womanising and gambling can be quite prevalent, so much so that women tend to hold the money and dole out an allowance to men. But it is also a society where men look down on cooking as "women's work" and that even famous chefs are looked upon with a certain degree of "femininity" no matter what their skills, stature or accomplishments.
The second tour is a combination of their Day In The Life Tour and a bike ride. What I really liked about the Beyond tours is that they're led by Cambodian people and you can really get the Cambodian perspective on things. When we were talking about the Killing Fields shrine, Sary the driver spoke up. Most of his family were murdered by the Khmer Rouge. It was literally everyone in his close and extended family except for his mother and siblings. To this day she is still understandably traumatised by the experience.
Wat Svay Romeat monastery
The first stop was a Buddhist monastery called Wat Svay Romeat monastery. Lim explains that the monks had just finished collecting and eating their breakfasts. Every day a monk takes a food bowl and stands outside the door of a house and waits for 2 minutes in silence. Sometimes they will be donated food by the house (which becomes an offering to the gods) and then they return back to the monastery with their breakfast which they share communal style. They may gather food this way either once or twice a day and they will eat until noon. After noon they will fast and the next morsel of food will be the next morning at breakfast where the ritual will begin again.
Rice seedling harvesting
A short ride or drive away Lim and Mr NQN stumble upon something happening on a farm and we stop. It's the transplanting of bundles of rice seedlings. This area is very community driven and many farmers own rice paddies. They grab bundles of seedlings, whack them against their feet to shake excess water from them and the tie them up into a bundle.It's back breaking work. These rice seedlings will be sold to be replanted on other farms. And the price for 40 of these huge bundles? $0.75USD for 40.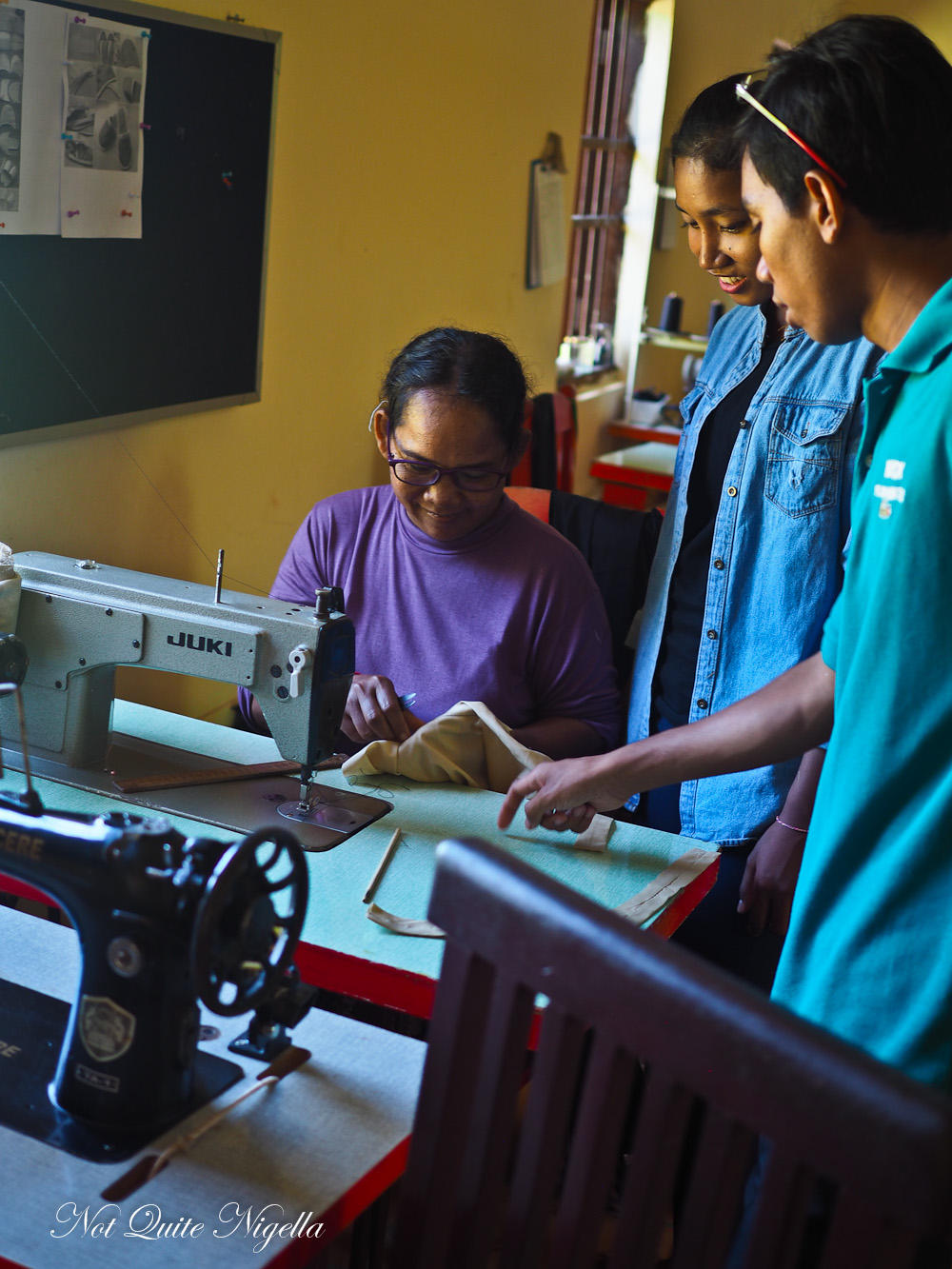 HUSK charity
Lim also shows us the work that he and his wife and an Australian couple Andrew and Fiona Jaensch do under HUSK charity with Beyond Unique Escapes. They chose this area to help build housing, start fair trade craft projects and help create clean water supplies. Cambodian families fall into 1 of 3 categories. Level 1 are the poorest who may not even have housing and of the 250 families in the Kompheim village, 38 families live at level 1, and there are 45 level 2 families.
As we walk through the forest four kids on two bikes are headed home after school. On the first bike a small boy is carefully holding a dove by its feet while the second bike has an excited boy who is holding the slingshot that presumably caught the dove. They are taking the dove home to eat for lunch.
Som and her daughter cooking lunch
We end the tour at Som's house, a woman who normally would be selling num or cakes by bike. She cooks us lunch-first there is cold tropical fruit followed by fried fish cakes and then a chicken and vegetable curry and a snakehead fish soup with lily stalks. Because it is a slice of real life you are sitting outside on the raised platform so it isn't exceedingly comfortable but gives you a tiny glimpse into their lives.