This story is part of my list of things to do in Siem Reap »
Siem Reap has several markets and which one you visit tends to be predicated upon how "local" you want the market to be. From the really local markets where there are few tourists where you can browse unbothered, to the trinket laden ones, there is a market in Siem Reap for every taste (including one that does a fabulously good num pang, the Cambodian version of a banh mi).
Phsar Cha or Old Market
Food markets can be confronting for anyone that doesn't like seeing where their meat comes from. The most easily accessible market is Old Market or Phsar Cha in the centre of the downtown Siem Reap and is perhaps the most high end market (read: the best if you are slightly squeamish). This is a market for the wealthier Cambodians to shop and there is a centre section with fresh produce. There is also an area for food to eat like noodle soups and snacks that change throughout the day. There are things like skinned frogs and things like that on display but there is a surprising lack of aroma to this market.
The market I really liked is Phsar Leu on Road 6 (the road to Phnom Penh). This is a local market with a few tourists and it is fascinating. You won't find many touristy trinkets so this is not the place to pick up souvenirs but you can happily and easily browse without being hassled at all. Inside the market are jewellery traders and cosmetic stalls and outside is the fresh produce section. On the front on Road 6 is the ready to eat food. I loved buying homewares from here including some retro printed melamine plates, tiffins and urns.
Phsar Leu market
Another favourite market is Phsar Polanka if you really want to see how locals live. Chances are you'll be the only foreigners there unlike Old Market. As well as buying produce and fresh meat they also go about their day to day lives having their hair washed or their nails done. A baby swings in a little hammock while his mum sells vegetables.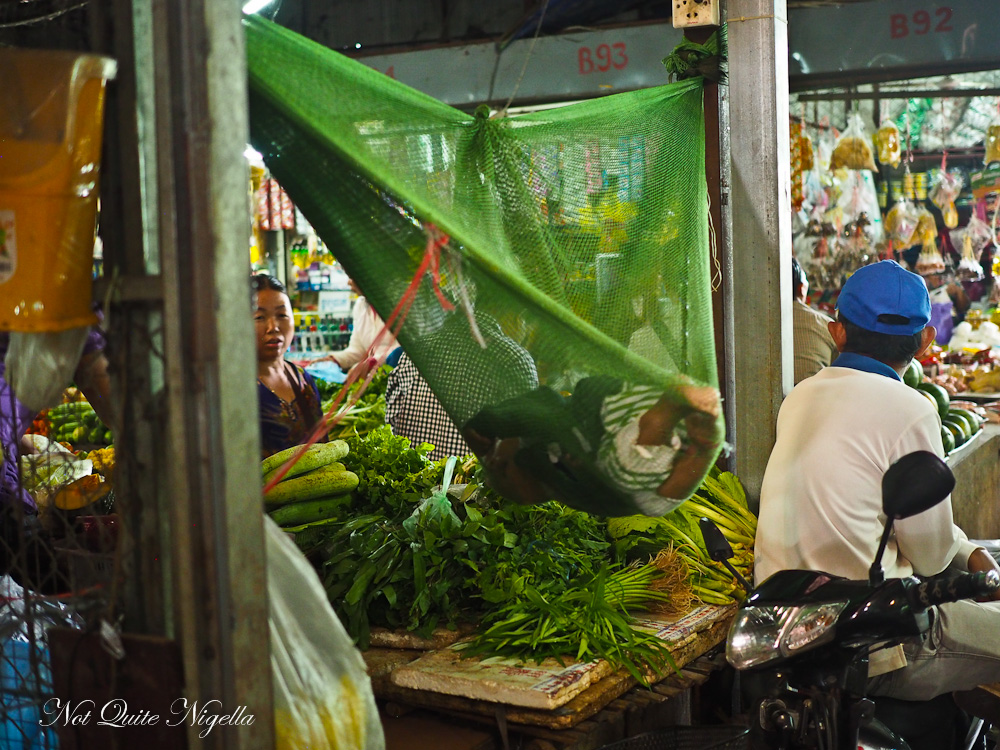 Phsar Polanka
Grab a num pang, the Cambodian version of a banh mi from the street seller outside. He is very friendly and is happy to explain what is in the naum pang. There are pate, cold cuts, aioli, vegetables and a generous serving of pickles and chilli sauce. It comes as two baguettes for $1USD. Further in grab a cup of iced Ovaltine and milk and crunch and sip away.
A Num Pang or a Cambodian version of a banh mi at Phsar Polanka-delicious and only $1USD!
« Find other things to do in Siem Reap
This post contains affiliate links. These allow me to earn a small commission but at no extra cost to you x.