This story is part of my list of things to do in Siem Reap »
Siem Reap has some truly spectacular restaurants but alas the top restaurant Cuisine Wat Damnak was closed for two months at the time of our visit. We had a fine dining experience at Malis, one of the most visually stunning restaurants.
Hidden Chreav duck $25USD
The service is gentle and deferential and you are led through the bar (6pm is happy hour where drinks are two for the price of one). Chef Luu Meng is Cambodia's biggest celebrity chef and he travels the whole region of Indochina and creates "Living Cambodian Cuisine" which means the Cambodian cuisine of today. This is not fusion cuisine but an elegant, fine dining Cambodian cuisine.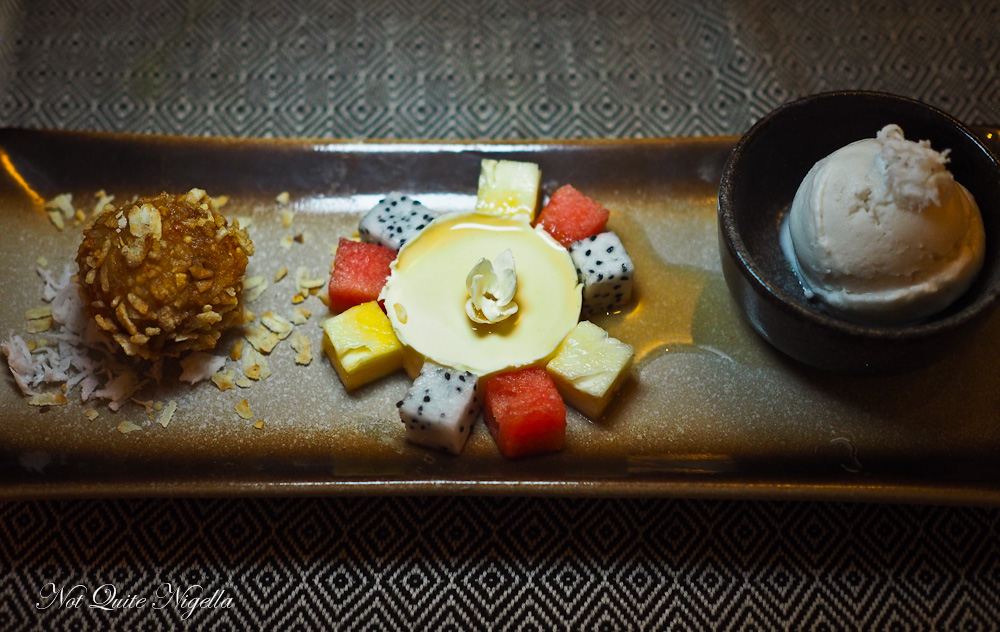 Jasmine scented mousse at Malis $3.50USD
Dinner is probably as pricey as it gets in Siem Reap and will cost around $100USD for two not including drinks. We ordered dishes like Royal mak mee noodles which are mixed at the table and feature pork marinated in Kroeung, a traditional curry paste curry paste including lemongrass, chilli, turmeric, garlic, shallots and ginger. We also had Hidden Chreav duck with black pepper sauce and red prawn rice, Fish Amok made with goby fish steamed in a banana leaf basket. The Bang Kang river lobster is more like a yabby and is marinated in a prahok and chilli paste, wrapped in foil and grilled until golden.
Kampot Pepper Brulee at Malis $3.50USD
Save room for gorgeous, delicate desserts like kampot pepper brulee (yes!) which has the famous Cambodian ingredient Kampot pepper. Or the restaurant's namesake (Malis means jasmine) is featured in a jasmine scented mousse that is wobbly and gorgeous and is served with coconut ice cream and a ball of crunchy rice 'Kamao Thort'.
Even if you can't make it there for dinner, they are also open for breakfast and lunch. Breakfast items are a mere $3.50USD each so if you're on a budget it's a good way to savour the atmosphere here without breaking open the piggy bank.
Crispy sticky rice with Natang sauce at Chanrey Tree $8.50USD
Located right next to Malis is Chanrey Tree an outdoor venue popular with upmarket overseas visitors. The atmosphere is warm and tropical as opposed to Malis's cool air conditioned comfort. The frogs legs Char Kroeung are excellent as is the peanut Natale served with a whole fried frangipanes. Service is very friendly and professional here and it is also a popular place with large tour buses.
Char Kroeung with frogs legs at Chanrey Tree $8.50USD
Even on a Monday night things are very busy at The Sugar Palm, a restaurant on Taphul Rd run by wife and husband team of Kethana and Bruce Dunnett. She's Cambodian and he is from New Zealand. The outdoor restaurant features food from Kethana family and the prize item to sample is her fish or prawn amok. Fish is of course the most traditional but the prawn is absolutely divine. Just make sure that you have a little patience as it is cooked to order which requires a 40 minute wait. But I'm betting that if you don't like Kethana's amok then you won't like amok because this is a wonderful version of it.
Prawn Amok at The Sugar Palm $8USD
Other popular dishes are her chicken curry, the eggplant stuffed with pork (they grow most of the vegetables for the restaurant on their own property) and Prahok Ki'tis. Oh and the watermelon and mint cocktail is a gorgeous and refreshing way to beat the heat too.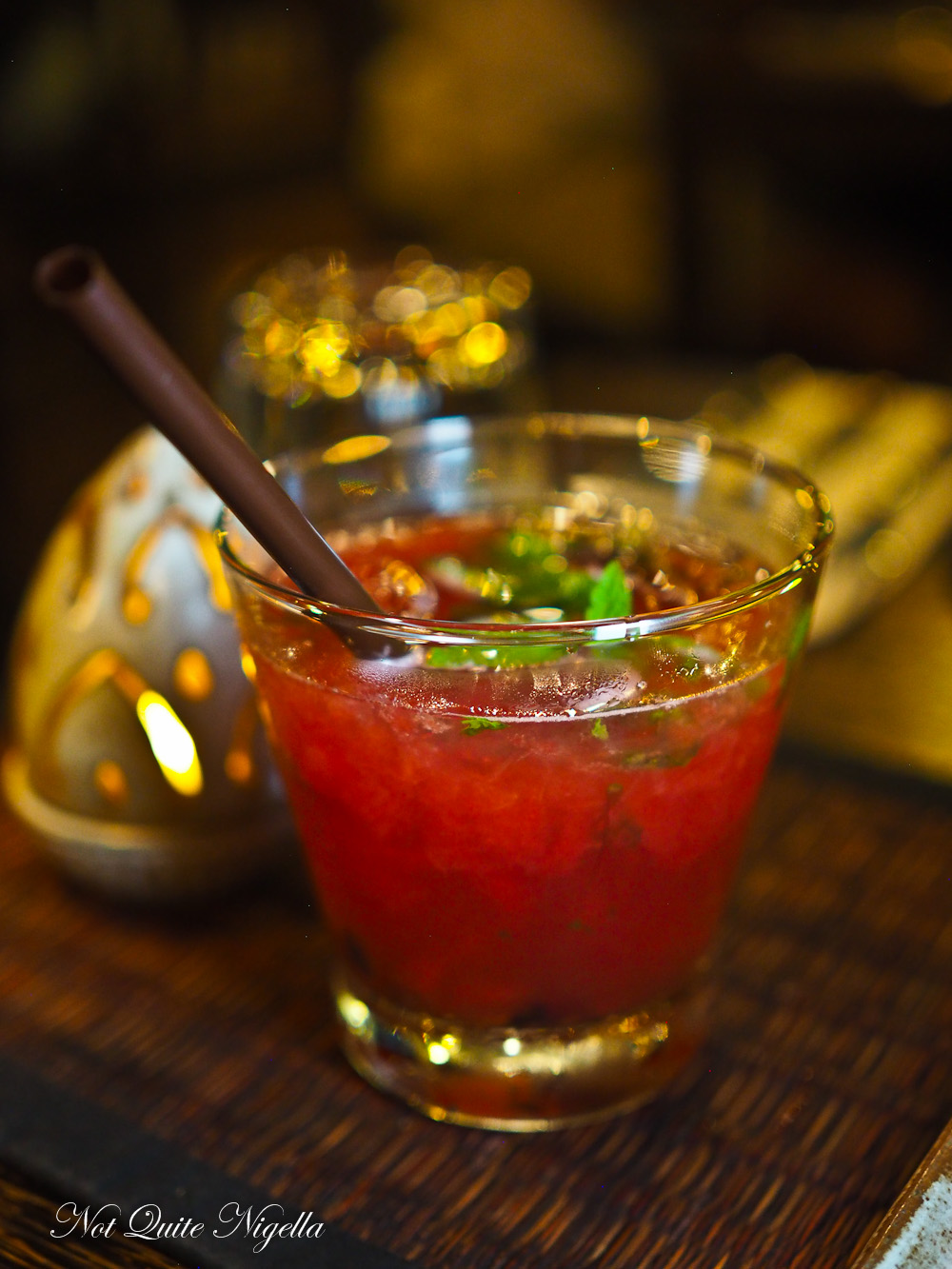 Melon mint cocktail at Sugar Palm $4USD
« Find other things to do in Siem Reap
This post contains affiliate links. These allow me to earn a small commission but at no extra cost to you x.