"OMG honey, there's a sandwich bar in Kensington! We're getting more places to eat!" I said excitedly. Okay it was literally one new place so I perhaps shouldn't get too excited but if you're a Sopranos fan the name will ring a bell. Satriale's sandwich deli is named after the one that Tony Soprano owned in the television series. And they make New Jersey Italian style sandwiches.
We are those annoying people, you know the peeps that walk into a place at 7:59pm and ask if they are closed when they close at 8pm. "Come on in, don't worry!" says one of the owners who we later find out to be Steve. This is his and business partner Gunna's first food venture and he chose Kensington because he lives across the road. Steves's other business background is in the entertainment industry.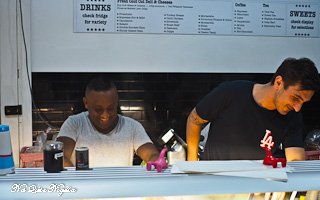 There's a glass fronted display of meats all imported from Italy. Diners can choose one of the pre-set options or make their own and instead of butter they can have tapenade (tip: get the tapenade for added flavour). There are ten types of meats to choose from, five cheeses and eight sauces as well as salads. They're hoping in the future to bake all the bread fresh on site but at the moment the bread arrives par baked and then is given its final bake each morning. The pickles used in the sandwiches are from Brooklyn Brine Pickles and the meats are imported from Italy.
Gunna (no last name) who used to work in advertising is the sandwich maestro. He'll also toast them for you and then add the salad after if you want because he doesn't want the salad to get soggy.
The concept behind Satriale's came from Steve's time living in the United States in Los Angeles and New York and specifically the Italian food eateries of New Jersey. He and his wife didn't want to eat burgers and instead flocked towards the sandwich delis of New Jersey. And while most patrons visit during lunch there is also a steady dinner trade too. Each sandwich is made to order and often the meat is sliced to order too so it takes a few minutes but not too long. You can also call ahead and pre-order a sandwich too.
We grab a root beer from the fridge while they get to making the sandwiches. The Satriale's Hero literally has a bit of everything: sopressa, coppa, jam, prosciutto, provolone, peppers, lettuce, tomato and vinaigrette. All sandwiches are served on your choice of bread (we chose white for this and rye for the New Yorker). The bread is soft and fresh and the filling a tangy mix of meats and pickles and salad. This is a great sandwich with real Italian New York flavours.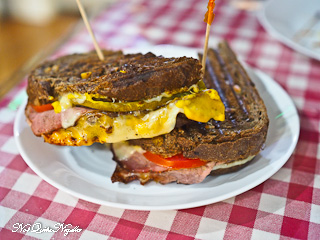 I love toasted sandwiches so they offer to toast the New Yorker for me. It's their version of a Reuben with imported pastrami (you can also have it made with roast beef), cheddar, tomato, pickles and American mustard. And it's very good indeed. I savour the crunchy bite and we enjoy it in contended silence, the only noise the traffic on busy Anzac Parade outside and the crunch of the bread in our ears. "We'll be back tomorrow night for more sandwiches," we say.
We return the next evening. Mr NQN is hungry so we order three sandwiches. The first is one from the hot sandwich menu (although they're happy to toast any sandwich on the cold sandwich menu too). It's the 4 cheese toastie with mozzarella, provolone, Swiss and tasty cheese on a rye bread and we add olive tapenade on it. It's good and I like the added savouriness from the olives.
The hilli Swiss bird is one of Steve's creations. It's thinly sliced chilli chicken with Swiss cheese which they toast and then add on the coleslaw later so that it doesn't get soggy. The coleslaw is a Macedonian style coleslaw which is very light and without mayonnaise. And even though I love mayonnaise this is one of my favourite sandwiches and I don't miss the mayo in the coleslaw. It has a good balance of flavours with just a hint of chilli.
But if you want something with a bit of everything Gunna's creation has turkey, hot casalinga sausage, red onion, olive tapenade, cheddar, mozzarella, pickles and mustard. And like the chilli Swiss bird is delicious in its simplicity this is delicious for the opposite reason in that it has everything.
Desserts are by Papa's in Haberfield but with our stomachs full we have to beg off. Instead we head home to watch some Sopranos with a recommendation for the sandwich episode.
So tell me Dear Reader, did you ever watch The Sopranos? Do you prefer cold or hot sandwiches? And would you go with butter or tapenade?
These meals were independently paid for.
Satriale's Sandwich Deli
146 Anzac Parade, Kensington, NSW
Open Monday to Friday 8am-3pm, 5pm-8pm
Saturday 9am-3pm, 5pm-8pm
Some Sundays
Tel: +61 (02) 8065 9850
www.satriales.com.au/