The Nook on Sydney Road in Manly serves up New York deli or American diner sandwiches and snacks along with cocktails. It's a small, intimate space where the music blares (and it's loud) with a strong list of sandwiches, burgers and hot dogs. They call it, "Classic New York swagger with Australian style experimentation."
I've got our friends Viggo and Louise to thank for all my Manly recommendations. They live there and are always on the lookout for new places to try. We are here at The Nook on 49th with them, Viggo's mum Madame Butterfly and their baby Henry.
When entering, it is like a restaurant when you pass the maitre'd station but the vibe when eating is distinctly casual. Sandwiches at night is an interesting proposition but thee are also hot dogs and burgers. Service is really lovely and friendly and they're not rushed when chatting to you although the place is busy.
Purple Lady $19 and Tatanka $15
We start with some drinks-cocktails for Louise and I, wine for Madame Butterfly and beer for Viggo. My drink is the "Purple Lady" with ink gin, cabernet merlot and pomegranate syrup with house sour mix. Louise's is the Tatanka with Zubrowka Bison vodka and cloudy apple juice with flaming cinnamon dust. Despite it saying "flaming" there's no trace of a flame and it tastes like apple pie. Likewise my Purple Lady is very pleasant and both cocktails aren't challenging, and are easy to drink.
Pop Tarts $12
The pop tarts come two to a serve with a cheeseburger filling. The pastry is nice and flakey and we're glad to see that they come out hot. They come with a pickle on top and tomato sauce and the mustard and ketchup adds to the cheeseburger flavour.
Tossed Sprouts $12
The Brussels sprouts came highly recommended. They're not bad, they're charred sprouts with a maple bourbon sauce, blue cheese and flaked almonds although I don't know if I would order these again.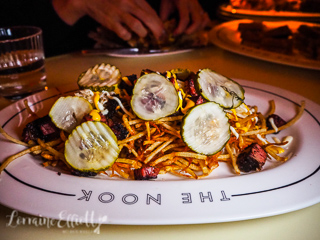 PK's stack $18
The potato chips here are like thin matchsticks that are topped with PK's burnt ends pastrami, Swiss cheese, McClure's pickles, house mustard and Lilie Q's bbq sauce. It's a little pricey for fries but the plate is quite large.
Mushroom Jazz $19
I actually preferred the sandwiches and burgers over the entrees. I promise that I'm not turning vegetarian but a lot of my favourite dishes lately have been vegetarian dishes. I think chefs are getting better at putting more flavour and texture into vegetarian food. The mushroom jazz came highly recommended from our waitress and it has not one but two panko crumbed portobello mushrooms stuffed with cream cheese, herbs, jalapeno marmalade, iceberg lettuce on a seeded brioche bun. It's so creamy, oozy and crunchy and full of flavour and it is the favourite for Louise and I.
PK's Reuben $19
I feel like I'll never ever become a true New Yorker because I don't love Reuben sandwiches that much. I mean they're fine but I don't ever crave them. But this number with a thick layer of sliced 36 hour pastrami, sauerkraut, thousand island dressing, sweet and spicy pickles, Swiss cheese and house mustards on a dark NY rye is really something. It's so good that it's everyone else's favourite. The key is with the wonderful, meltingly soft pastrami.
Liquor Chicken $21
I have a soft spot for fried chicken (or as the joke goes, many soft spots on me). This is a Southern style fried chicken fillet, enormous in its size peeking out from between two waffles with sausage and rye whisky gravy and pickled red cabbage on the side. The chicken is super tender and juicy. I only noticed after we got home that maple syrup was optional and we didn't get it and I think they should have just brought it out with a pot of it or at least checked if we wanted it (hell yeah!).
Piggie Smalls $22
As soon as the waitress mentioned that the Piggie Small was all about pork, Viggo's eyes lit up. It's a pork roll filled with pork four ways: chilli, fennel and sage porchetta, pork and apple stuffing, maple pancetta, bacon and garlic collard greens. I have to admit that as a fellow pork enthusiast I'm also a fan of this one. In fact I would throw none of these sandwiches out of bed (note to self: dinner party idea, eating in bed!).
Waldorf Melt $17
We were warned that this was a cheesy number (and that warning only served to make me want it even more). There are five cheeses on the Waldorf sandwich with provolone, Swiss, Monterrey Jack and French brie as well as charred shallots on bread with a walnut and parmesan crust on top. For all of its intensely cheesy goodness it's actually quite a mild sandwich especially compared with the rest of them. I think I was expecting a hit of apple or something fresh in it.
Diner Coffee $5
Having feasted and shared five sandwiches among five people (it's a thing with us) we order desserts. There are two desserts on the menu and a coffee. "What's so special about this coffee?" Viggo and Mr NQN ask. They've been too busy nerding it out among themselves talking about technology and they've missed our entire conversation about diner coffee and how this is Agent Cooper's coffee from Twin Peaks. It's by Barrel One and you get unlimited refills.
Triple D's Cheesecake $12
The slice of cheesecake is enormous (definitely American sized). It's a baked New York style cheesecake with hot, salted caramel popcorn on top. The cheesecake itself is very rich (naturally, it is cheesecake after all) and there's a blanket of caramel syrup and I satisfy myself by crunching on that delicious popcorn (seriously hot, buttered, salted and caramelled can't be beaten).
The Nook Ice Cream $9
We all really liked the peanut butter, maple and bacon ice cream. It's not too obviously bacony-the bacon they used isn't particularly smoky and just gives the ice cream saltiness like salted caramel.
So tell me Dear Reader, do you like chicken and waffles with or without maple syrup? And do you like the idea of sandwiches at night? Do you ever eat a sandwich for dinner?
This meal was independently paid for.
The Nook
49 Sydney Rd, Manly NSW 2095
Lunch Saturday– Sunday 12pm - 3pm
Dinner Tuesday – Sunday 5pm – late
www.thenookmanly.com/