Queenside Dulwich Hill is a café that's a little bit in love with sandwiches and coffee. Start with their cappuccino shake, an eye-catching burping, bursting bubble topped frappucino with chocolate covered bubbles that expand before your eyes. Then segue into their sandwiches that cut deep with pop culture references from the "Marble Rye", the "Freddy Got Fingered" fish finger sandwich or The Texas Coleslaw Massacre sandwich!
Jim Pappadakis and Antonella Treffiletti run Queenside and their chef is Patrice Moonen formerly of Cornersmith. When Patrice isn't in the house Antonella takes on the chef role. Queenside gets its name comes from their love of the game chess coupled with their location near Queen Street in Dulwich Hill. Before COVID-19 hit they held chess nights when the cafe was closed.
They make all of their sauces and fillings in house and the bread for their sandwiches is from Thoroughbread Bakery. There's a surprisingly large sandwich menu (especially considering their small kitchen) and there's also juices and salad bowls if that's more your thing. Monica narrow it down to five sandwiches because we just can't bear to cut out any of our choices.
London Fog $4.50 (left) and Cappuccino Shake $6.50
So first things first: the drink that bubbles and burps is the Cappuccino Shake. Jim explains the process that originally comes from Japan where cappuccino is blended equal parts milk, espresso and ice, with a touch of their salted vanilla syrup. Usually when things look great on Instagram the taste comes up short but this is as tasty as it is alluring and we both watch wide eyed as the bubbles expand and pop before our eyes. Also the drink is surprisingly low in calories as it is mostly aerated with a small amount of milk and a little sweetness from vanilla syrup. London Fogs are rare beasts in Australia but when I see one on a menu, I always order it because they're one of my favourite drinks from Vancouver, BC. It's an Earl Grey tea with steamed milk and vanilla syrup served in a diner cup.
Pickle Rick $11
The most popular item is the bacon and egg roll (called "The Harry" from When Harry Met Sally) of which there are many variations but Monica and I are interested in the more unusual and unique items. Monica's only stipulation was the Pickle Rick, an activated charcoal sourdough toastie with Maffra vintage cheddar and American cheese, schmickles, onion relish and Queenside's Szechuan sauce. It's a no brainer if you love a cheese toastie but the pickles and onion relish and lightly spicy Szechuan sauce save it from being too rich. Patrice's mustard zucchini pickles are called schmickles because "they look a little like shekels, and they're shmick... so schmickles," says Jim.
The Finegold $12.50
I don't about you Dear Reader, but as an omnivore, I don't necessarily expect my favourite item on the menu to be vegan but here I am professing my love for a vegan sandwich. Fellow sandwich lovers there's a lot to unpack here with The Finegold. It starts with the confit of mushrooms that are so wonderfully meaty in texture and flavour. There's also beetroot hummus, olive tapenade, schmickles, fresh mint, dill and parsley and to keep it tasty yet still vegan there's Mayer's dairy-free cheddar slices. And to finish this off there's a final flourish of crunch from pretzels on the sandwich that absolutely work (chips on a sandwich is a recurring theme here). Oh and the name? It's named after American chess Grand Master Ben Finegold who also happens to be vegan.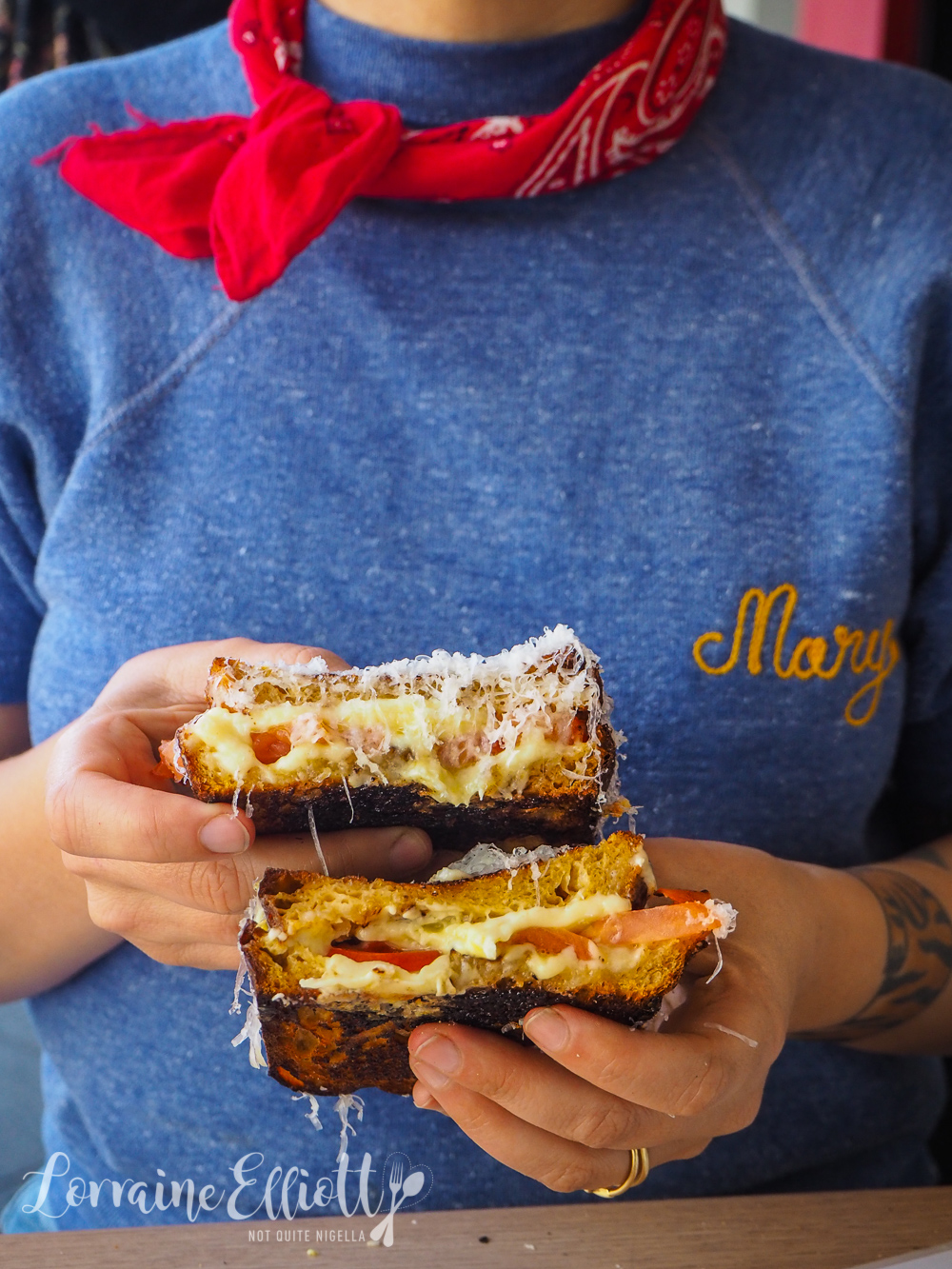 The Maria $11
Classic cheese toastie fans have The Maria, a sweet potato sourdough toastie with slices of fresh tomato, cheese and grated manchego on top. It's made even more moreish by the sandwich being toasted with browned butter on the outside.
The Leela $11
The Leela is unashamedly fishy (and we both love fishy). It leans into fishiness with house cured sardines, dill, furikake seasoning, bonito flakes and for contrast, sweet, juicy red and yellow cherry tomatoes all on a slice of toasted marble rye sourdough. And yes the marble rye is no coincidence; it was inspired by Seinfeld's The Rye episode.
Fool's Gold Waffle $9
For dessert we try the Fool's Gold that is a waffle toastie with peanut butter, bacon and grape jelly. What could have been a rich, cloying stop-at-four-bites number is made well with a thin, crisp waffles, peanut butter, Smucker's grape jelly and crisp bacon. It was inspired by Elvis and the couple's travel across the United States.
Freddy Got Fingered $11
Seriously what kind of gluttons order another sandwich after ordering five sandwiches? It's us. And I'm so glad that we did. The fish finger sandwich is a stack of beer battered fish fingers with a wonderful dill mayonnaise or special sauce, American cheese, cos lettuce and salt & vinegar pea crisps in a Martin's burger bun. It was inspired by the McDonalds Filet-O-Fish except it's so good it may ruin you for future Filets-O-Fish.
As we leave, they hand us a cookie from ButterBoyBakes and it's triple chocolate salted cookies which I go home and nibble on. I mean what's one little cookie when you've ordered six sandwiches?
So tell me Dear Reader, have you ever tried a bubble shake? Do you play chess?
This meal was independently paid for.
Queenside
1/727 New Canterbury Rd, Dulwich Hill NSW 2203
Monday to Saturday 7am–1pm
Sunday Closed
queensidedulwichhill.com