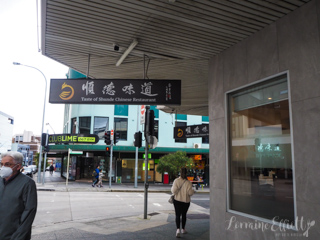 Taste of Shunde is a Cantonese Chinese restaurant in Hurstville (and Eastwood) serving up their own spins on yum cha favourites along with a classic yum cha selection. You can try items like deep fried milk, sesame taro squares, olive & rice dumplings. So what is the best time to visit this popular restaurant?
Shunde is a province in Guandong in Southern China with Guangzhou to the North and Macao and Hong Kong to the South. It's a city known for its Cantonese cuisine and that includes yum cha and its location at the Pearl River Delta means that fish plays a large part in the cuisine. Laura and I decided to visit Taste of Shunde on our way back from the Blue Mountains. As I'm still dodging COVID I figured that the best day to go would be Monday where it would be quieter. When we arrive we realise that that is only partly true. It is the best day to try Taste of Shunde but it is not quiet and the restaurant is pretty much full.
At Taste of Shunde there's no trolley service for the yum cha, it's done Hong Kong style with a menu and a piece of paper where you mark off the item number and quantity you want of each. There's a large selection of things broken up into steamed, buns, rice noodles etc and each item is colour coded according to the price in the style of sushi train. Tea and service is charged at $2 a person.
We start with my favourite dumplings and the one must order-these Shunde style shrimp dumplings. The dumplings, by the way if the photos can't convey this, are enormous. The prawns are fresh inside these and they're just good, sizeable versions of har gows. The skins are slightly different and less sticky than others.
Our top pick and the thing that we always look for but don't always find on a yum cha menu is the crispy rice noodles with prawns. Here the prawns are crumbed and deep fried rather than minced up but they're still absolutely delicious. We love the interplay with the soft rice paper roll, the crisp outer of the prawn and the tender prawn inside.
The sesame taro cake is something that caught our eye on their Instagram page. It's 9 perfectly sized cubes of taro surrounded by a sticky rice sesame layer. It's a touch more savoury than sweet. It's good, the best bites are the ones around the edge with the sesame as the taro can be a touch dry in the centre.
The chive and prawn dumplings are fantastic. With a good balance of greens and prawns they're very moreish and I would order these again in a heartbeat.
This is another item that we saw on their Instagram feed and were intrigued to try it. Deep fried milk is a specialty of Daliang district but this version is slightly different in that it isn't coated in breadcrumbs or batter. It's basically milk custard wrapped in white bread slices. It tastes mildly sweet, pretty much like milk with a jellied texture. The bread does soak up a lot of oil so it does tend to be a bit on the oily side so I think that the breadcrumb or batter version which is thinner would be better.
Laura has never tried chicken's feet so I show her how to eat them as they're a favourite of mine. These ones are good although I love it when they come with lots of sauce. These are served on gossamer thin hand made rice noodles that fan out but they really need some sauce because the noodles are quite dry otherwise.
I really enjoy steamed turnip cake and this one comes in a bowl rather than in square slices. There's pieces of dried shrimp and a little bit of lup cheong in there and you scoop it up with a spoon and eat it from the bowl like a thick pudding.
The last item to come out is the olive and rice dumplings. I wasn't sure what to expect but these are prawn dumplings with rice flour wrapping. The olive in them is tiny specks of olives that actually taste more like chestnut than olive to us.
So tell me Dear Reader, do you tend to order yum cha classics or look for unusual dishes? Do you like chicken's feet?
This meal was independently paid for.
Taste of Shunde
9-11 Crofts Ave, Hurstville NSW 2220
open 7 days 10am–3pm, 5:30–10pm
Phone: (02) 8385 9720