It was a sunny Winter's afternoon when the urge for yum cha hit me hard. It had been months, even 6 months since I last ate it and I knew where to head. My friend Sophia who lives in Hurstville (aka little Hong Kong) recommended Golden Sands yum cha. I had never heard of it but I was in for a treat.
Golden Sands is slightly hidden away from the main drag of Hurstville. Sophia tells me that her mother once owned a Cantonese restaurant and the dumpling master here used to work for her so Sophia vouches for the quality of the dumplings. It's busy when we get there and we join the queue but at 1pm the wait is a mere 5 minutes. Sophia asks me to go ahead and order which I happily do.
Unlike a lot of yum cha places the service is really friendly here. The trolley women (and why is that they're only women?) seeing a new table arrive converge and park our table in surrounding us with trolleys. One goes off to serve another table while two proffer plates in front of us. Noodles, duck, dumplings, fried whitebait are offered. The teapot is plopped down along with the chilli sauce and I joke to Mr NQN, "Do you want a Coke?" (it's our little joke). In a flurry that lasts what has to be less than 3 minutes our table is covered with steamers and plates. I breathe in. Heaven.
In terms of the prices, I couldn't keep track of what they were stamping so the prices below are guesses but there were 9 large dim sum ($8.80 each), 2 dim sum specials ($9.80) and 2 extra large ($10.20).
Chicken pies $8.80
The yum cha here is a little different and one of my favourite items are the chicken pies. With a noticeably sweet but very short pastry and a generous amount of chicken filling inside I wish I didn't have to share this with Mr NQN.
Congee $8.80
We figured we should probably have a bowl of pork and century egg congee. It's good, especially with the crunch from the deep fried won ton wrappers on top.
Combination dumplings $8.80
One of my favourite dumplings is the combination dumpling with seasoned mince pork inside. The filling reminds me of the filling in a ham sui gok and these dumplings are large and come generously sized with four per serve.
Har gow $8.80
The har gow are good with large pieces of tender prawn inside. I know that these are Mr NQN's favourite and he gets the extra one.
Spinach dumplings $8.80
The spinach dumplings are tasty but I do prefer the ones below with the scallop inside them as the scallops add so much texture and flavour to the filling.
Scallop and spinach dumplings $8.80
Siu Mai $8.80
Sophia's favourite dumplings are the siu mai. These are four large, bouncy textured dumplings. I usually like a bit more prawn in mine and they're quite mild in flavour.
One thing to note is the chilli sauce at Golden Sands is a bit different. I really loved it here and it is more like a chilli oil with a bit of an XO quality to it. Mr NQN prefers the more paste-like chilli sauce you can get at other places but that can taste a bit metallic to me.
Eggplant square $10.80
The eggplant squares are enormous pieces of soft eggplant topped with prawn mince and deep fried. They're coated in a spicy chilli salt crumb on top for texture. They are good but very sizeable and I think this might have been one of the extra large items but I wasn't keeping track of what they were stamping in the flurry.
Beef tendon $10.80
The bowl of glistening wobbly beef tendons caught my eye, as it were a shiny object and I were a magpie. I order one and they double checked that I wanted it. "Have you tried it?" they asked me. "No, first time!" I answered. They approved of my choice. Unfortunately, like when I went into advertising when I disappointed my Chinese parents, I must have disappointed them too. I can't say that I overly loved this. The tendon was chewy fat which is said to be good for the joints (I like melting fat like pork belly) and this goes mostly untouched, congealing like all my hopes for it.
Rice rolls prawns $9.80
Mr NQN's other favourite yum cha dish are the rice paper roll wrapped prawns. I'd like a bit more soy on this but they're good.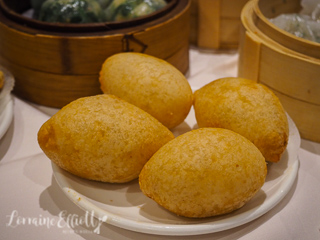 Ham Sui Gok $8.80
I always love the ham sui gok and although we usually don't order too many deep fried things, these are always an exception (these or the deep fried taro footballs or wu gok). I love the crisp sticky rice flour exterior and the soft mince filling.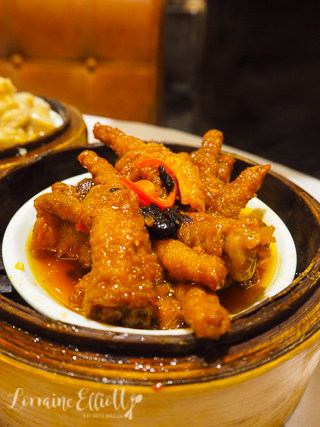 Chicken's feet $9.80
The chicken's feet are saucy with a rich, flavoursome sauce strong in star anise.
Pork ribs $8.80
Now the steamed pork ribs are usually a take or leave it item for me but I figure Sophia has been here so much so she knows what to order and she chose these. They end up being one of my favourite items. The pork and taro cubes have a delectable sauce on them that begs more sampling. I think I had half a dozen pieces of this which is really not like me.
It's 2:25pm and the restaurant seems to have mainly cleared out. There are a few remaining trolleys, one laden with mango pancakes, towers of colourful jelly and a big bowl of sweet soup. We're all so stuffed that we can only consider perhaps trying an egg custard tart. "Any last orders?" a woman asks and we ask for some custard tarts. She comes back a minute later with the sad news that they've completely sold out. "Next time come earlier!" she says.
So tell me Dear Reader, how often do you have yum cha? Do you get everything at once or do you eat a little and order a little at yum cha? What is your go to yum cha dish?
Golden Sands
Hurstville times plaza Level 2 127-141 Forest Rd, Hurstville NSW 2220 (parking downstairs, enter through back way)
Monday to Friday 10am–3pm, 5:30–11:30pm
Saturday & Sunday 9am–3pm, 5–10pm
Phone: (02) 9580 3188