There are sometimes sobering moments when you are travelling when your reverie is broken by something awful. The morning we were moving from the grand opulence of The Siam to Cabochon Hotel & Residence was one of them. We woke to reports of bombings in Phuket and Hua Hin. "What do we do?" I asked Mr NQN. News reports were delayed and sporadic, the media focused on the Olympics and we got our news from twitter and from other people in Thailand.
It was the perfect time to stay at the Cabochon, a "secret retreat" or a small eight bedroom hotel in the Walpole Building on Soi 45. Our taxi ambled down a narrow street until it could progress no further and we came upon the beautiful white colonial style building. It felt like we had entered the 1920's.
Inside is a treasure trove of unfolding rooms that are made for exploring. We are invited to take a seat in the library and sweet young coconut juices appear immediately as if they were expecting us exactly then. Although we are a little early, our room is ready. Service at Cabochon is wonderful, especially from staff member Rin. They are very helpful and thoughtful and nothing is too much trouble.
We are shown to our Executive Queen Studio room, a room of about 32 square metres. It's quite plain in character, perhaps how a room might have been in the 1920's. There are Belgian bed linens and nice antique looking furniture pieces.
The bathroom has a big copper tub and shower combination. This is very cute but not very practical for hair washing (also on the subject of practicalities: bring conditioner, there is only shampoo and shower gel). There is also a small sink and amenities are stocked in the cupboard in the small alcove outside the bathroom. Unless you are travelling solo, I would recommend upgrading to a larger room because this can be rather tight living for two people.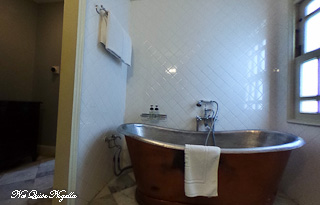 Please click and drag for 360 degree look
The rooms are quite dark as the bedroom is lit by a floor lamp and side table lamps and there is no luggage storage so you have to place your bags on the available floorspace. Stays in hotels are rarely perfect and there are a couple of issues during our stay. When housekeeping came to clean up, some of my toiletries were discarded because they considered them empty (they weren't). Also something that surprised us is that after they clean your room they do not lock the doors after them so anyone staying in the hotel can walk into your room. This happened both nights.
In our wing there are three rooms that share a common area with a lounge and a kitchenette. There is a fridge with complimentary Sprite, Coke and still water. On the top floor there is a rooftop pool. Also included in the tariff is free wifi. Downstairs is a restaurant called Thai Lao Yeh that focuses on food from areas like Chiang Mai, E-San, and Laos.
Breakfast is a serene affair. As much as I wasn't thrilled with the sleep quality that night (with a rather bouncy queen sized bed) I loved taking a seat in the sitting room that transforms to become The Joy Luck Club at night. There is a range of breakfast buffet items (three types of bread, two types of cereal, yogurt, fruit and congee with trimmings).
There is also a six item a la carte menu with Thai and Western items-the Thai noodle soup with pork & fish balls and the dried oyster and fish rice soup are excellent. It's hard to even conceive that in this tranquil, quiet setting lies busy Sukhumvit Road. And the year 2016.
Please click and drag for 360 degree look
So tell me Dear Reader, do you prefer boutique hotels or larger hotels? Have you ever been caught in a city or country while it was in strife? Would you feel uncomfortable having your room left unlocked or do you leave your door unlocked?
And just a little note: I've been working on a very exciting travel business that is launching very soon. If you've ever wondered what it's like to travel like I do, I promise that you'll get the chance to find out very soon to one of the world's most exciting gastronomic destinations! xxx
NQN and Mr NQN stayed at The Cabochon Hotel & Residence as their guest
Cabochon Hotel & Residence
14/29 Sukhumvit 45 Road, Klongton Nua, Wattana, Bangkok 10110
Tel : +66 2259 2871-3
http://cabochonhotel.com/
Cabochon Hotel & Residence is a member of Secret Retreats, a community of small charming boutique hotels across Asia.