If you look closely at the logo for restaurant 100 Mahaseth, the second zero depicts a bone marrow from the top down. That is the dish and the starting point for most diners at this nose to tail restaurant in Bangkok's Silom area. Here chefs Chalee Kader and Randy Noprapa give a unique spin on offal with Isaan flavours from the North and North East of Thailand. And the bone marrow may just be one of the best you'll ever eat.
Cries of "This is insane," come from a neighbouring table of chefs. There are only 8 tables at 100 Mahaseth so booking is recommended. It is also recommended that you come with a sense of hunger and adventure and you will be well rewarded if your tastebuds travel towards punchy, full flavours.
Chalee Kader is in the house and he comes out to chat to diners and deliver food. He was born and raised in Bangkok to a Thai Chinese mother and an Indian father. He had a brief stint in San Francisco completing a marketing psychology degree but always found himself working in kitchens.
100 Mahaseth came about in a roundabout way. "We were supposed to open a pho joint and we were sourcing so much beef and so many parts for the pho stock and we said 'What are we going to serve for dinner? We can't serve pho for dinner'". They decided on Isaan food from the North and North East of Thailand rather than doing general Thai food as it is a food he tends to eat on his down time.
He says of people in the northern region, "North are indigenous farmers that trade and exchange things. If they were to fall a cow or kill a pig they would have to use everything and between maybe 10 families in the village you wouldn't be able to eat the whole carcass in a day. Then preservation comes into the picture. All of the offal needs to be handled right away because that goes bad the quickest."
Offal too has fallen out of favour in a frenetic and modern city like Bangkok. Chalee explains, "Traditionally every family would have to eat it (offal) rich or poor, it was just part of how we were brought up...Food like this is getting adventurous which it shouldn't be. This is what we were brought up on and we should save it and have it on menus. At home my mom always made us to eat everything." He is still not a huge fan of liver though.
I ponder the blackboard and also take some suggestions from him and arrive at a mix of popular and adventurous. You can of course get regular steaks in a variety of cuts but there is much fun to be had with this menu. Cocktails feature Isaan rum or you can start your meal off with a shot glass of Chalee's moonshine or Yadong homebrew made with Jamieson's Irish Whiskey infused with spices and left to steep for 2-3 months. It's delicious and tastes like Christmas.
A plate of herbs and snacks are the first bites to arrive. There are deliciously crunchy pork rinds, a paste with Thai anchovies, chilli and onion, a tamarind jaew or condiment and an utterly moreish Thai chimichurri. He explains that for their Thai chimicurri they removed the oregano and olive oil and replaced it with all of the herbs that you see on the plate and used Thai rice bran oil.
The bone marrow is a must order. An enormous bone marrow is buried and roasted in charcoal and then topped with toasted perilla seeds, scallions, palm sugar, lime and lemongrass. For those that find bone marrow too rich or too much this is the perfect solution from the distraction of the crunchy, nutty perilla seeds (seen as the Asian version of chia seeds with its high omega 3's) and it has such a balanced freshness coupled with unctuousness that you find yourself scooping all of the marrow out and searching for more. It came about when Chalee had lots of perilla seeds in his other restaurant Surface that he started playing around with them. He paired it with bone marrow and found that he liked the crunch and that it mellowed the bone marrow.
My favourite thing when I visited Chiang Mai was the sai ua sausage at the main markets where we would make special trips just to buy more piping hot sausages straight off the grill (I think Mr NQN was getting sick of making special sausage buying trips). Here they serve sai ua in a little brioche hot dog bun. "It's something that we were just eating but we realised that it was really good," says Chalee. It's absolutely delicious, the flavour of the sai ua is so intense and complex that it really needs nothing else-save a little spoonful of Thai chimmichurri.
If you're looking for a crunchy beer snack then fried tripe is the perfect answer. The triple is braised in water twice and then in vinegar and left to dry over smoke off the grill and the hung dried in the chiller to remove all the moisture. It is fried and tossed in salt and fried garlic and served with okra leaves. If you have any reservations about tripe and the associated smell then this is the perfect dish to try as its just like chips dipped in chilli sauce.
Inside this comforting beef and koon stalk soup is a green leaf called Bai-Ya-Nang that they use to thicken the soup along with ground rice, lungs, spleen, penis, tripe, intestine, fermented fish for umami elephant's ear a sweet, spongey vegetable (there's an elephant ears plant in the corner of the restaurant). There's a layer of watermeal algae on top too. Watermeal is algae that grows on still water on ponds. You skim it off and then cook it on high heat and then wash it thoroughly.
The cassia leaf curry is a rich coconut milk free curry made with Bai-Ya-Nang and beef skin that has been dried. This is a rich curry balanced with green flavours from the Bai-Ya-Nang and the aroma from the beef skin. Umami is from the salted mackerel.
The menu is quite large but there is also a specials menu on the chalkboard and one of the most talked about dishes on it are the goat ribs. I didn't know what to expect from these but I take a bite into the enormous, meaty ribs and it strikes me immediately how full of flavour these are. The ribs are marinated for four hours with palm sugar and fish sauce and then grilled and served with cumin oil and sprinkled with roasted rice. Pickled shallots and fried shallots accompany the three meaty ribs and I finish two of the three ribs getting my hands and lipstick messy.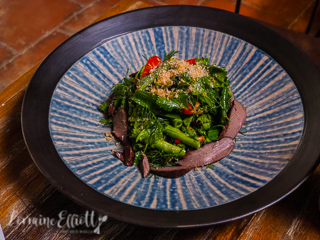 This is another specials board item. Chalee explains that to treat the pig's heart they take the heart and cure it in fish sauce and leave it to dry for a few days after which it develops a natural sweetness. They serve it with coriander salad and dill that takes away the blood aroma and flavour and it's a noticeably sweet salad that is also refreshing.
One of my favourite dishes is their version of kanom jeen or fermented rice noodles in soup. These are served with a pig's brain mousse in a coconut curry with pickled cabbage, sliced string beans, chilli and herbs. They imitated the flavour of flaked fish by crushing the pig's brain mousse and it tastes like a rich version of scrambled eggs and this is wonderful with bitefuls of crunchy pork rinds.
The signature dessert is the simply named "banana" and encompasses banana in many forms. There's grilled banana, along with rounds of sweet coconut milk braised banana stalk, a green dehydrated banana leaf powder that smells like matcha and a coconut and roasted rice ice cream and to finish some of the coconut milk syrup used to braise the banana stalk.
Chalee explains that the banana stalk or core is also sometimes used in curries and salads. And for that wonderful balance that Thai food is famous for, some coconut milk boiled with shallots and chilli. And not a bit goes back to the kitchen as we fight over the last spoonfuls.
So tell me Dear Reader, do you enjoy nose to tail eating? What is your favourite type of offal to eat? Have you tried Isaan food?
This meal was independently paid for.
100 Mahaseth
100 Maha Set Rd, Khwaeng Si Phraya, Khet Bang Rak, Krung Thep Maha Nakhon 10500, Thailand
Open 7 days 11:30am–12am
Phone: +66 2 235 0023