Feel like escaping the rat race, if only for a day and going for a drive out in the country for some fresh air? Lochiel House in Kurrajong is a gorgeous 1825 cottage that calls itself a cafe but the food is definitely more restaurant style and quality and worth a trip in itself.
"What do you want to do today?" I asked Mr NQN last Sunday.
"I don't know," he answered shrugging his shoulders.
"How about a little drive to the country?" I suggested. You see I had a place that I had earmarked for a while now and we had a whole Sunday to ourselves which was like finding a glistening diamond among the Christmas tinsel.
We bundled our little dog into the car, eager for her to see a bit of countryside too and took the 1 hour drive to Lochiel House in Kurrajong Heights. There were mango sellers on the way as well as other fruit and we stopped, bought, took photos of flowers and when our tummies rumbled too much we hurried to our lunch destination. I had booked that morning after checking that there was an outdoor area for dogs. There was indeed and so we booked a table for two outside.
There is also a lovely indoor area and if you can't cope with flies then indoors is probably the best bet. But outside you get a beautiful view of the garden which is replete with fluttering butterflies. The main house was formerly a farmer's cottage 200 years ago.
There is such a relaxing atmosphere and the other couple outside chat to us about their dog and I take some walks in the garden between courses.
Service is friendly and amenable-even the reserved sign is welcoming. When Mr NQN swats away flies they bring him some spray unprompted. They serve breakfast until 11:30am and the menu has Asian accents to it. It has now been reopened by young couple Tayla and Nathan Parker. Nathan did part of his apprenticeship here many years ago when it was under the ownership of Anthony Milroy and Monique Maul who both worked at Rockpool and Nathan recently worked at Ms G's which has also influenced his cuisine.
I was intrigued by the coconut crumb on the eggplant so we ordered that. It's half a long, large eggplant topped with shredded coconut, mushroom butter compote and shiso furikake. And despite it sounding like it may not go together the flavours do in an unusual way. The eggplant isn't melty soft like say a nasu dengaku, it's a bit firmer.
The Okinawan Ricotta Gnocchi is small ricotta gnocchi served with cubes of guanciale, pumpkin, crispy sage, Grana Padano & brown butter. I fell for this dish completely. The guanciale brings the whole dish together and I also loved the sweet pumpkin element. In fact we ordered some bread so that we could scoop up every last drop of the guanciale and butter.
I don't mind paying for bread when it has a nice butter to it and the paprika butter is delicious with the toasted sourdough bread.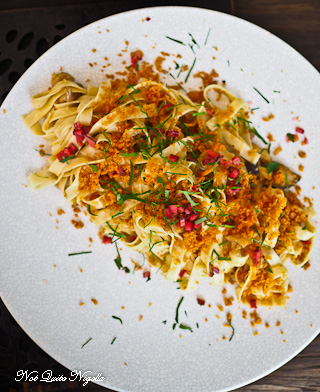 The pork belly which was my first choice is out so we go for the hand rolled Fettuccine pasta. It is served with an Agliolio or garlic, parmesan and oil seasoning, wild mushrooms, grana padano cheese and shiso. And it's pretty fabulous and generous in size. Mr NQN murmurs his appreciation at this dish hungrily hoovering up the strands of pasta.
Our other main is the jerked chicken, served charred and with a shallot relish on top with triangles of grilled flat bread and pickled cucumber. The chicken is very tender but it does miss the beats of the very spicy jerk-when I've had jerk sauce it has left my tongue on fire (in the very best way).
Recently, after a disappointing spate of potato dishes described as crispy but not, I've started questioning the word crispy on a menu to the waitstaff. "Are they really crispy?" I ask. They promise me that these potatoes are crispy. As soon as they set them down I can see that they are indeed. In fact they're some of the crispiest, most satisfying crispy potatoes I've had. They're served with grated grana padano and garlic salt on top. There's not a dud one in the bowl-I should know because I practically ate the whole bowl.
I'm a fiend for XO sauce so when I saw it on the breakfast menu but was unable to order it, I was a bit disappointed but no matter they use it on the roasted mushrooms along with copious cloves of confit garlic and rosemary. These are also fantastic with a great balance of flavours.
It was a very warm day so a sundae seemed the best way to cool off. I read out what I ordered to Mr NQN "We're getting a strawberry swirl ice cream, pieces of bruleed banana, berries and banana praline," I said to which he replied, "What? How many desserts are you getting?". This is an enormous dessert, easily shared by two with all of the above components. It is said to come with a chocolate wafer but ours didn't (it was fine without it, I just noticed that it didn't).
I have to admit that my heart was stolen by this version of a pavlova with a wonderfully chewy raw sugar meringue with baked in dried figs and walnuts. It is served with a scoop of vanilla bean ice cream, strawberry slices and thick cream. It's heavenly and I adore the extra chewy texture to it and the surprise crunch of the nuts inside and rich cream.
By now it's around 3pm, time to head back to the city. And even if we were here for just a couple of hours, it did our souls good.
So tell me Dear Reader, do you ever get the sudden urge to get to the country? Or if you live in the country do you ever get the sudden urge to visit the city?
This meal was independently paid for.
Lochiel House
1259 Bells Line of Rd, Kurrajong Heights
Tel: +61 (02) 4567 7754
Monday & Tuesday Closed Wednesday - Sunday 8am–4pm
Friday and Saturday 6-10pm
www.lochielhouse.com.au/
Dog friendly area outside