It was a weekend away for Mr NQN's birthday that saw us going off the grid and staying in solitude at the Love Cabins Wollemi Wilderness Cabin. These unique award winning cabins are like no other and offer complete privacy and solitude.
"I think we are off the grid, like seriously off the grid," says Mr NQN. He looks around at our remote cabin in the woods and smiles. If anyone appreciates a bit of solitude it's my introverted husband especially on his birthday.
The Love Cabins are a collection of half a dozen or so cabins situated in the Bilpin and Berambing area of the Blue Mountains. They range from a treehouse to caves to cabins like these. The Wollemi Cabin isn't on the map and we follow signs to get here circling a lagoon and arriving at the cabin.
The cabin is unlocked and I feel a little like Goldilocks opening up the bear's cabin door when I enter. I've always been fascinated by the idea of staying in a log cabin having seen them on countless tv shows and movies. The Wollemi Cabin is a timber slab cabin that opens up to a kitchen, living and dining area. Large glass sliding windows frame a gorgeous view of the Wollemi National Park spread out below.
It is so private that the first thing that they tell guests in the compendium is that they can sit by the fire naked and only the native wildlife will witness it.
There's a kitchen with a microwave, oven, cooktop and a fridge freezer. These are all empty and you do need to bring all your provisions with you.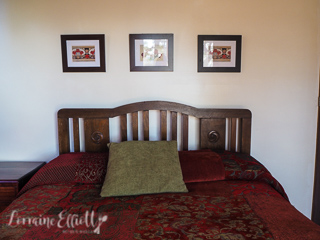 There are two queen bedrooms, one of the bottom level and one on a loft level. The latter upstairs bedroom requires a bit of dexterity as the ladder is steep with large spaced rungs.
The bathroom has a bathtub shower spa bath combo and a compost toilet which isn't as confronting as it sounds. It's just a little odd not flushing a toilet but it is well maintained.
It feels a bit chilly so we tend to our first task: the fire. The fireplace is the only heat source for the whole cabin so you will need someone who can build and maintain a roaring fire, otherwise during winter months it will be very cold.
Mr NQN and I have a deal. I keep him well fed and in return he makes sure I'm always warm. He sets about with his first task: making a fire in the fireplace. He spends the next few hours tending to the fire and making sure that it progresses to a roaring one.
Entertainment wise, there is a television and books available. There is no wifi and internet flicks from 1 bar 3G to 1 bar 4G if you're lucky. Because of COVID-19 there is no towel service so you'll have to bring those along with all toiletries and food and drinks as only salt, pepper, tea bags and oil are provided.
Speaking of food, at 6pm a car arrives. As the cabins are so remote and the nearest place to get food at night is probably an hour's drive away, guests can choose in-cabin catering. Caroline, a local caterer at Come By Chance has arrived with our selection for dinner: osso bucco with citrus and mint gremolata, couscous, carrots and broccoli. On the side are home made rolls and butter. She also brings warmed plates. It's a substantial sized portion and satisfying.
For dessert I pre-ordered apple pie because it is Mr NQN's favourite dessert and it is his birthday after all. The apple pies have a fantastic short crust and plenty of apple slices. They come with scoops of vanilla ice cream. We sit by the fire eating our apple pies.
The next morning Caroline arrives with our freshly made breakfast. It's a plate of ricotta and citrus pancakes and yogurt with fresh fruit.
My choice is the savoury one with avocado toast on slices of crunchy sourdough bread. One half has bacon and a poached egg on top while the other has basil pesto and feta cheese.
Another morning we try the baked pita bread cup filled with caramelised onion, roasted tomatoes, maple double smoked ham, basil leaves and baby spinach. These are hearty, country sized breakfasts and could conceivably take us through to dinner (especially if your only task is to potter around the cabin).
All of the breakfasts are very tasty but my favourite breakfast of hers is the fantastic Croque Madame on sourdough bread, poached egg, Mersey Valley Vintage cheese bechamel, double smoked ham and dijon mustard.
Coffee wise, she brings plunger coffee and teabag tea but you can also avail yourself of the strawberry or mango smoothies which are both very good.
One of the special treats is an in-cabin massage. Massage therapist Gina will set up her massage table in front of the fireplace so that you remain snug and warm during the massage.
Gina has been doing massage for 40 years and practises a combination of shiatsu and Swedish massage. She also spends a lot of time on areas that I asked her to like my head and hands. I drift off at times, only to wake up and startle myself to realise that my only plan that afternoon is a nap on the couch.
So tell me Dear Reader, what is your idea of a perfect birthday? Do you like solitude or are you more of a social person?
Wollemi Cabin
lovecabins.com.au/Wollemi-Cabin.aspxs In cabin dining: Dinner $189 for 2 courses and wine/beverages x 2 people. Breakfast $74.50 for 1 course and beverages x 2 people