Mayfield Garden is the culmination of a vision of one man's and one family's dream. Formerly a sheep farm, it has been transformed into a garden, cafe, kiosk, workshop space, produce store, nursery and event space.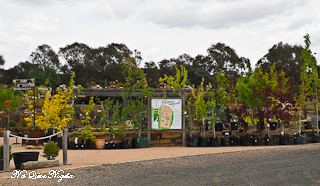 Located in Oberon, 3 hours from Sydney it is a 160 acre cool climate garden (said to be the largest in the Southern hemisphere) that is open all year round. The garden is coupled with a nursery as well as a cafe and kiosk. The kitchen is led by chef Dan Child and they work three months ahead to ensure that the produce grown is reflected in the cafe and kiosk menu.
80% of the food on the menu comes from the property whether it be fruit, vegetables, beef or lamb. It is set on a large working farm and has 60 staff on hand to tend to the expansive property. It is the dream of merchant banker Garrick Hawkins, originally from England, and the gardens have a manicured, sculpted look about them.
Mayfield Gardens was for many years a private property and garden but after opening up the property for a charity event one year where they saw thousands of visitors, Garrick received so many letters of thanks from the visiting public that he decided to make it a public garden to share. And it is now dog friendly so we could bring Mochi along!
The main area near the tickets is home to the kiosk and the cafe (complete with three resident peacocks). Near here is where the workshops are held as well as seasonal events like Mulled Wine & Swine where a whole pig is cooked on the spit or the summer version Sangria & Swine. There's even an event called Nude & Nourish with life drawing classes. There was even goat yoga (not a typo) where people did yoga while goats milled around them.
But after a three hour drive from Sydney we need a drink and something to eat. We settle down with Mochi in the outdoor section.
We start with drinks, a Crush Berry Punch with orange, mint, Stone Pine Vodka and sparkling wine, a refreshing and crisp drink. The Twelve Dollar Milkshake also peaks our interest. It is made with Stone Pine Choca Mocha liquor, chocolate fudge, milk and malt and it's fabulous. We start our meal with some items to share. There is a Thai Style rare roast kangaroo with green mango, paw paw, garden herb and pomegranate salad which is all about fresh, piquant flavours, a good crunch and tender kangaroo.
I enjoy the grazing plate with salami and prosciutto from Oberon butcher, a Trinity camembert, fantastic house made tomato relish, pickles and crispbreads.
Our mains are a Mayfield beef fillet which is wonderfully tender with a creamy Paris mash, shallot jus and roast vegetables from the garden including cherry tomatoes and Dutch carrots.
Our lamb is similarly tender. In fact it's surprising that it could stand up because it is so meltingly soft. It needs a bit of seasoning but once it gets a lick of salt, it is fantastic Served with celeriac puree, smashed peas, broad bean salsa and jus.
I'll admit I don't often love trifle but I make an exception for this. It's rich in a fudgey chocolate cake, chocolate ganache, crumbs and berries. It's also enormous so I can't finish it, try as I might.
The honeycomb bombe is a honey semifreddo covered in meringue and baked. It comes with lashings of salted caramel sauce and squares of honeycomb. It's a sweet dessert but balanced with the salted caramel.
After lunch we go for a wander through the property to the Water Garden (note, it closes at 4:30pm with the last entry at 3pm so leave enough time to explore these).
The 15 hectare gardens are designed to be explored - at no one place can you see everything at a time. Maps can indicate where to go or you can just wander. You can start at the obelisk where a bride and groom-to-be are posing for a shoot. It is also the location for the properties concerts and events.
Or wander the paths, seeing where they take you. It's picturesque at every turn and I'm almost embarrassed to say that the first thing I think of is how much instagrammers will like it.
So far, it seems like it has kept its status as a bit of a little secret. Theres a bluestone bridge, the cascading waterfall that just begs a photo, the copper tree fountain sourced from the Chelsea flower show as well as a maze, gallery building and pond.
The 5,000 acre property was purchased in 1984. The greater property which is not always open to the public includes the family's weekender home called Mayfield House. This has an aviary, glasshouse, Chinese pagoda, croquet court and rose garden. One of the most photographed sites on the property is actually inaccessible for everyone but the family and friends of the owners.
The Chapel was built by Garrick for his daughter's wedding. It also affords a great view of the gardens below. During the spring and autumn festivals, you can access some of these areas for 16 days.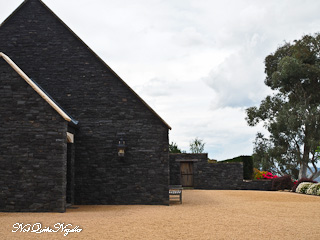 It's then that you can take a red row boat and row it across the lake. Picnics are set to come in the new year with the cafe providing picnic baskets.
One of my favourite things is the hedge maze. It can take anything from 10 minutes to an hour to find your way in and once you do, be sure to ring the bell in the tower at the centre to let them know that you've reached it. But don't forget, what goes in must come out and although it took us 10 minutes to reach the bell tower, it took us 20 minutes to get out!
We walk back to our house, the guest house that is rented out to retreat guests and friends of the Hawkins family where there's a spread waiting for us. It's from the Communal Feast event menu and features a soft, slow braised venison bourguignon redolent in spices and with a lovely sweet edge to it.
There's also a vegan salad using ingredients from the kitchen garden, vegan "ricotta" and a champagne vinaigrette. To complement the venison there is a side of sweet potato mash and crispy potatoes with herb butter.
The next morning we meet chef Dan at the kitchen garden where he picks items that he needs for the kitchen that day. He cuts beetroot, picks herbs, edible flowers and rainbow chard. If he doesn't have time to do this, they send a list to one of the three kitchen gardeners to procure items from the garden.
Blueberries are coming up and when produce is in full bloom the gardeners will let people know on chalkboards what is free to be picked and eaten by guests. The only things that don't really grow here are tropical fruit.
The nursery is another draw for customers as they propagate all of their plants here. Because they get frost at night, they've found that plants propagated here can grow anywhere as they're frost resistant so their plants are guaranteed (although I'm sure I could challenge their guarantee the way I kill plants ;)).
We try three of the four of the breakfasts on the menu. The bruschetta is a very pretty number decorated in edible flowers. There's a smashed avocado salsa with two slices of dark ale sourdough served with two poached eggs.
I really liked the celeriac roesti which is more like a pancake than a traditional roesti. It's topped with plenty of diced, fried chorizo, flavoursome roasted mushrooms and a smoked paprika hollandaise with pieces of fried kale on top.
The mixed berry French toast is a large stack of French toast with vanilla mascarpone, quince and rosewater syrup. It's as tasty as it is pretty.
We spend more time in the garden and the house before partaking in some lunch from the kiosk. Here the wood fired oven make pizzas like a lamb pizza with yogurt sauce and crunchy soy crisps. I have a special love for their salads with such a variety of fresh leaves. The Capri salad has leaves, olives, feta, tomatoes, onions and black ale sourdough croutons. The lamb pies are also delicious. These are shrouded in flakey pastry and served with their fantastic tomato relish. We enjoy our time here so much that we don't want to leave. We just want to keep exploring and eating.
So tell me Dear Reader, do gardens interest you? Are you a god gardener? Had you heard of Mayfield Garden before?
NQN and Mr NQN were guests of Mayfield Garden but all opinions remain their own.
Mayfield Garden
530 Mayfield Rd, Oberon NSW 2787
www.mayfieldgarden.com.au/
Entry fee: $20 per person
Autumn festival: April 14-29 2018, emtry fee $30 per person