We've probably all heard of gingerbread men but have you ever tried a speculoos man? Speculoos is a heavenly Dutch spice mix made up of cinnamon, nutmeg, cloves, cardamom, ginger and white pepper that imparts a wonderful aroma to cookies. If gingerbread or pumpkin pie spice is your sort of thing, then speculoos is king!
Speculoos or speculaas cookies are a weakness of mine. While I like gingerbread, I find speculoos spices make these cookies so much more moreish. Traditionally, speculaas cookies are served on December 5 and 6 to celebrate St. Nicholas' Day. St Nicholas was a wealthy man (upon whom Santa Claus was based) who was born in the late 3rd century in Patara, an ancient city on the Southern coast of Turkey. He spent his whole life giving to the poor and when he passed on the 6th of December the people wanted to honour his life. I realised that a delicious idea would be to combine speculoos and gingerbread men.
Speculaas cookies seem much more widespread in Europe and North America but the flavour combination came about with the Dutch spice trade. Usually the dough is rested overnight which allows the spices to really infuse the dough. I've added in another secret weapon here: browned butter. Speculaas biscuits use regular butter but the rich nuttiness of the browned butter goes perfectly with these cookies. And this is a pushy recipe if you love gingerbread!
I handed these out at a Christmas party recently. When I introduced them as "speculoos men" everyone's brow furrowed. "A whaat?" they said and I explained what speculoos was before biting into them, usually head first.
A writer friend of mine Ute recently had a bit of a "Whaat?" moment. She had just arrived at a media lunch where she sat down and a waiter offered to pour her a glass of champagne. She had a headache so she said, "No I'll have a glass of sparkling water."
The waiter paused-this was at Sydney's most upmarket restaurant and they're not in the business of second guessing guests. But he cleared his throat uncertainly and said, "Err ma'am, we have champagne..."
Ute shook her head slightly annoyed. "I'll have sparkling water PLEASE," she repeated. The waiter stared at her, she stared back at him for a few moments and he looked from side to side not knowing what to say. But then it dawned on Ute, "Oh dear, did I just ask for sparkling wine instead of water?" she said laughing. "Yes ma'am," he said smiling.
I handed Ute one of these cookies. Hopefully they made her headache go away!
So tell me Dear Reader, do you know/like speculoos spices? And are you making Christmas cookies this year? And would you eat them head first or arm or leg first?
DID YOU MAKE THIS RECIPE? Share your creations by tagging @notquitenigella on Instagram with the hashtag #notquitenigella
Speculoos Gingerbread Men
An Original Recipe by Lorraine Elliott
Preparation time: 30 minutes plus resting time (between 1 hour or overnight)
Cooking time: 30 minutes
113g/1 stick browned butter*
220g/7.77ozs brown sugar
1 egg, at room temperature
1 tablespoon vanilla bean extract
250g/8.83ozs. bread flour
2 teaspoons ground cinnamon
1 teaspoon ground nutmeg
1 teaspoon ground cloves
1/2 teaspoon ground cardamom
1/2 teaspoon ground ginger
1/2 teaspoon bicarb of soda
1/2 teaspoon salt
Pinch of white pepper
To decorate:
1 egg white
150g/5ozs. sifted icing sugar
Green food colouring
Licorice allsorts, cut into thirds
m&m's
Browning the butter. Simply place butter in a saucepan and heat on medium heat until bubbly and nutty smelling. I always keep a supply of browned butter in the fridge around Christmas time.
Then cooling and setting it
Step 1 - Beat the butter and sugar together until paler and fluffy. Add in the egg and vanilla and beat for 1 minute. Whisk the dry ingredients (flour, bicarb, spices,salt and pepper) together in a jug or bowl and then add to the butter mix and mix in on low speed.
Step 2 - Roll out between two sheets of baking paper and cut out gingerbread shapes. At this point you can rest this overnight in the fridge to allow the spices to infuse the dough. Then the next day place the cookies on a tray in the fridge for 45 minutes. Preheat oven to 190C/380F and bake an inch apart for 15-18 minutes or until done. Cool completely.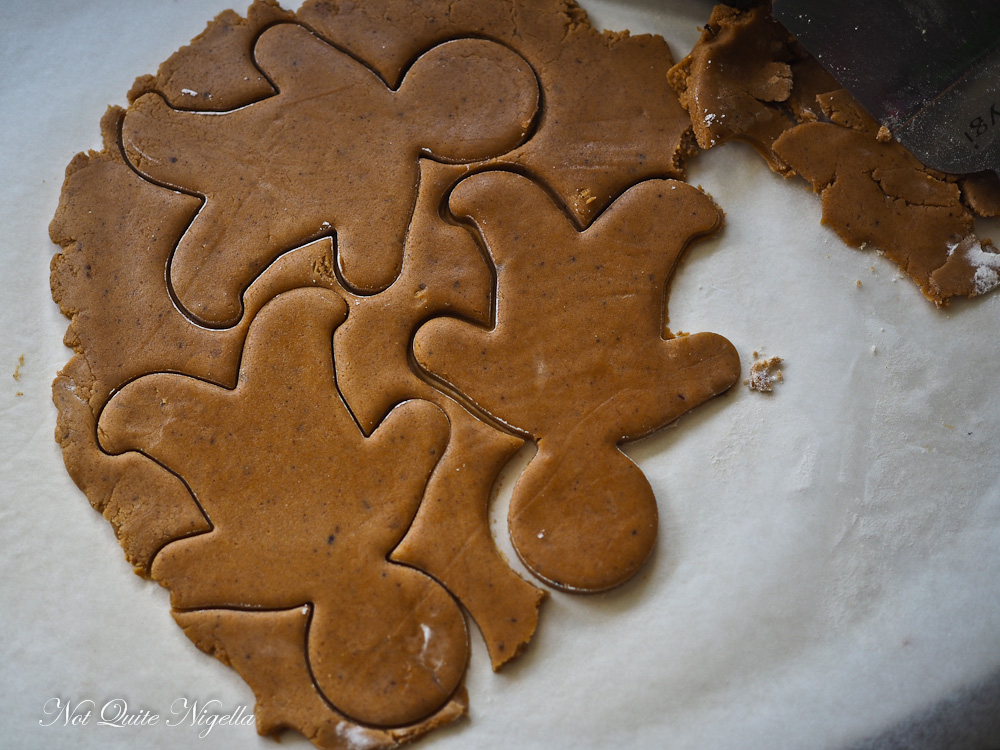 Step 3 - To decorate mix the egg white and icing sugar with a tablespoon or two of water to create a pipeable icing consistency. Pipe white royal icing for face and arm/leg details and use a little royal icing to adhere the licorice allsorts and m&ms to the cookie. Then colour a little green and make the bow detail.