It was a Monday night at Bondi Beach. A failure to get a table at a pop up eatery meant that we wandered around the corner and grabbed a table at Drake Eatery. Sitting on the corner of Curlewis and Gould Streets it is a friendly neighbourhood eatery serving up tasty dishes and salads.
Everyone new to Drake that walks through the front door struggles with the front door handle. We know because we just did and so does everyone else following us and we only notice because we are facing the door and watching them. "That's got to be bad feng shui," I think to myself.
Louise, baby Henry and I are waiting for Mr NQN and Viggo to arrive from work. I'm dead tired from the previous days' activities so we go ahead and order. Service is friendly although the combination of me being tired and Louise being distracted by Henry means that we totally forget that the bread that we ordered never arrives.
Lavender Martini $17
Once the food and drink arrive I perk up. Louise orders a lavender martini which is pretty fab. It is made with White Light vodka, lavender and lime. You can definitely smell the lavender but it isn't too strong and its aroma is tempered with the lime and star anise.
Thyme gnocchi $19
Two dishes come out first just as Mr NQN and Viggo arrive. The thyme gnocchi is pan fried for a bit of extra crispness and served with plump golden raisins, skinned hazelnuts, roasted cauliflower and Gippsland blue cheese. It's a good start to the meal and best when you get a bit of everything in a mouthful.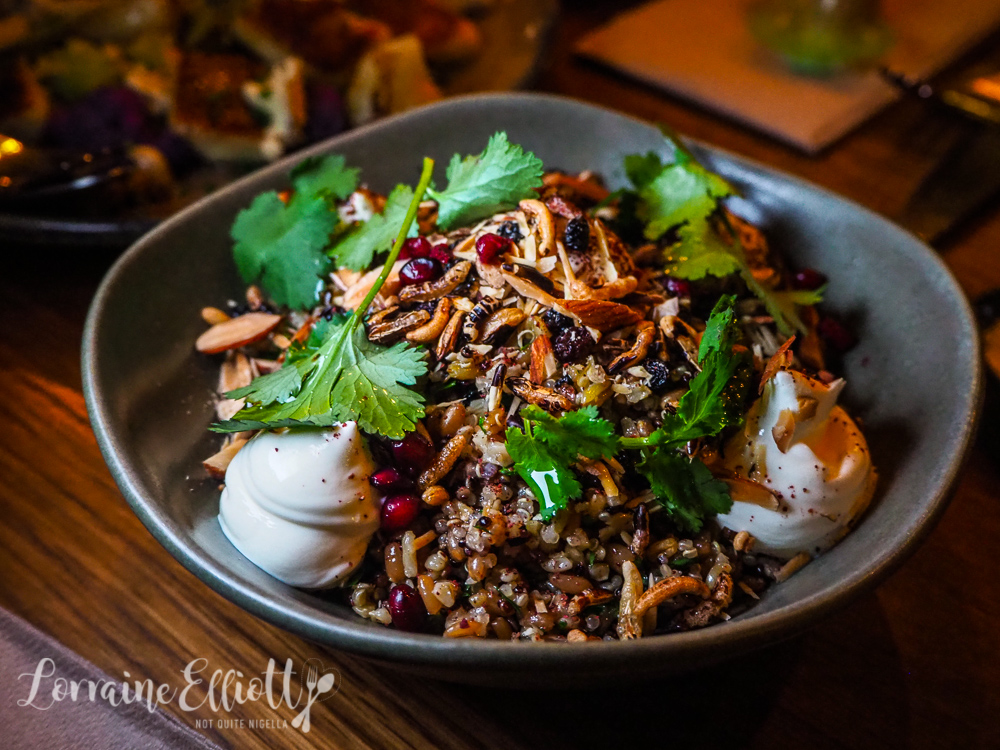 Spiced grains, almonds, labne $12
The spiced grain salad has almonds, labne, almonds, currants and pomegranate. There was just a bit missing or a bit too much grain for the additions. It's actually really good once I mix up some of the golden raisins and hazelnuts from the gnocchi into this.
Gooralie Pork Belly $35
Whenever we see pork on the menu we have to order it because Viggo loves pork. The pork belly comes as a thick slice and cooked in a masterstock with celeriac puree, very thinly sliced apples and pepitas. The rind has a crunchy crackling while the meat just melts in the mouth.
Lamb cutlets with pesto and lemon
The lamb cutlets come three to a serve and are lip smackingly good with a strong char flavour from the grill. They come with a flavoursome pesto, lemon wedges and roasted yams. The cutlets are meaty as they're not trimmed yet they are not overly full of fatty parts so we enjoy these immensely.
Brussels sprouts, mint, honey, truffle parmesan $15
I also really enjoy the Brussels sprouts that are served with fresh mint, a hit of sweetness from honey and an aromatic truffle parmesan.
White Chocolate and Honeycomb parfait $15
I don't think we ever say no to dessert no matter how tired we are. The most popular dessert is the white chocolate and honeycomb parfait. The creamy white chocolate parfait comes topped with honeycomb pieces, nuts and more white chocolate on a bed of thick salted caramel. It's sweet yes, but the crunch factor is moreish and delightful.
Pistachio and Olive Oil Cake $15
Louise was curious to try this cake so we ordered it too. It's a very moist pistachio and olive oil cake with whipped ricotta, Montenegro (an amaro liquor made with botanical herbs and citrus) and thin slices of sweet candied citrus. By themselves the elements are fine but not overly exciting but together they make for a really lovely dessert.
And for this tired soul, dinner was finished in one and a half hours!
So tell me Dear Reader, do you often just want a quick dinner and to be in bed early? And do you always order dessert?
This meal was independently paid for.
Drake Eatery
Curlewis St & Gould St, Bondi Beach NSW 2026
Phone: (02) 9130 3218
Monday to Friday 7am–10pm
Weekends 8am–10pm
drakeeatery.com.au