On a warm Autumn day we visited Sydney's newest poke place called Hooked on Poke on Bondi Beach's Glenayr Avenue. On offer there are poke bowls, a wine list of boutique wines, sakes and surprises to come! So what is the poke like and how is it different from the poke places?
Marcus Lalak always had the dream of eating in his own place. After stints working at North Bondi Italian and El Bulli ("The small one in Surry Hills" he says) he decided that he would rather be in the kitchen cooking and eating what he loved to eat.
Enter poke, the healthy Hawaiian dish that is rapidly becoming an obsession in Sydney. We adore it so much that we did a poke challenge to try and find the best poke in Sydney. Poke means chopped and it is usually raw tuna cubes marinated in soy, limu, sesame and spring onions or other sauces. In Hawaii it is served as it is but outside of Hawaii it's served more as a poke bowl with salad or rice and other vegetables.
The poke here at Hooked On Poke is different-the fish isn't marinated, it's dressed with the sauce just before serving and it isn't all mixed together, it's served with individual ingredients showing to enhance the presentation and it also travels better this way too (home delivered poke is very popular).
Marcus explains that the salmon that he uses in his poke bowls is from Tasmania, the tuna from Western Australia and the snapper from New Zealand. Marcus keeps his fish in a high humidity fridge set at 1-2 degrees celsius so just above freezing. There are five sauces and my favourites are the Sriracha mayo and the house dressing made with soy, yuzukosu and sake. All sauces are gluten free. Pickles are made in house and we try some of the five "HOP faves".
Tofu $18
Surprisingly I really like the tofu bowl with sesame dressing and sweet potato fries for crunch that sits on a base of rice. The bowl contains tofu, sweet potato, beetroot, green beans, carrot, cucumber, ginger and sweet onion.
Salmon $21
I like the concept of the salmon bowl with salmon, avocado, cucumber, edamame, dashi daikon, wakame, tobiko and white miso dressing and green tea soba. The flavours are good but the soba is too soft for my liking and I wanted a bit of spice to this.
Tuna $21
The spicy tuna poke with green beans, beetroot, dashi daikon, kimchi, wasabi peas, wakame and spicy soy dressing packs a good chilli hit. This is another favourite bowl of mine with the bolder sauce.
Chicken $19
The coconut chicken poke bowl (it's cooked chicken, not raw ;)) is creamy but a touch mild and perks up with some soy or chilli. There are slices of tender chicken breast, cucumber, dashi daikon, green beans, edamame, sweet onion, coconut flakes and a coconut and lime dressing that reminds me of Fijian kokoda dressing.
Snapper $21
The snapper is brought out with the house dressing and it is paired with delicious miso roasted cauliflower, carrot, green beans, sweet onion and tobiko. I sometimes find snapper a bit bland in poke bowls but this has a good flavour to it from the well balanced house dressing.
My Build Your Own Bowl $19
But out of all of the options I actually prefer the build you own bowl. I mean it's the kind of thing that you have to think about long and hard and the next day I returned to try a build your own bowl having contemplated the menu at length (you clearly need a different hobby - says everyone else). Having tried the condiments I like a mix of the Sriracha mayo and the house dressing (because sauce is life! ;) ) with salmon cubes on white rice with sweet potato, pickled cucumber, sweet onion, miso cauliflower and is topped with tobiko. I adore this combination and it's everything that I want my poke bowl to be. If I were to change anything I'd swap out the pickled cucumber for pickled ginger and I'd add more chilli (because chilli is life too!).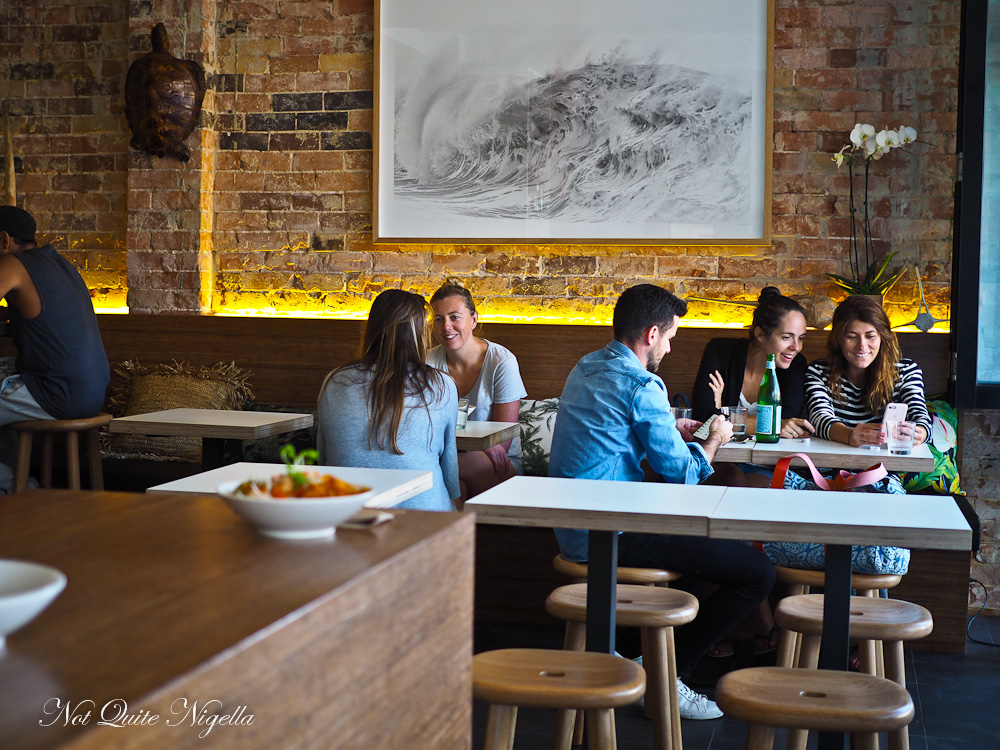 There's also miso soup on the menu and here it is vegetarian. It mimics the flavour of a regular miso soup except with a touch of ginger. He makes a base of eggplant, daikon, onion, carrot and ginger.
As expected the clientele are young and fitness conscious. And Marcus says that with winter coming, in a few weeks time there will be hot poke (beef cheek) as well as poke tacos.
So tell me Dear Reader, are you sauce fiend? What food is life to you? Do you tend to go with suggestions or do you like to choose your own food components?
This meal was independently paid for.
Hooked On Poke
145 Glenayr Street, Bondi Beach
Tuesday to Sunday 11:30am–9pm
Monday closed