Bondi has a new café with heart. Heart Café is owned and run by Eastern Suburbs not-for-profit, Wayside Chapel to help provide employment opportunities for young people who may be struggling to gain employment.
Under the Wingspan project, people will receive paid 12 month hospitality traineeships at the cafe and trainees receive a Cert II in Hospitality paving the way for a future in hospitality. This is a permanent venture, not just a pop up and while they operate a café at the Kings Cross Wayside Chapel location, this is the first café for the Wingspan project.
I knew nobody better to visit Heart Cafe than with my big hearted friend Monica. Usually Bondi Beach is heaving with people but on the day that we visited was actually a rainy day so that meant that it was easier to get a park and a seat.
Inside the cafe it is very busy with one the window seats available. We sit perched on the window seats busy chatting away and our lovely waitress is very patient with us never hurrying us or anything. In fact the poor thing has to come back around 4 times. The breakfast menu runs all day and there's also a lunch and drinks menu.
There are a few things that aren't available-the spiced chicken that I liked the sound of isn't available as are the arepas but that's perhaps due to Christmas suppliers closing down.
Currently none of the staff are trainees as the trainees are still in their Employment Readiness stage of their employment training. They are expected to be onboard in the Heart Café for their paid traineeship in February or March 2019.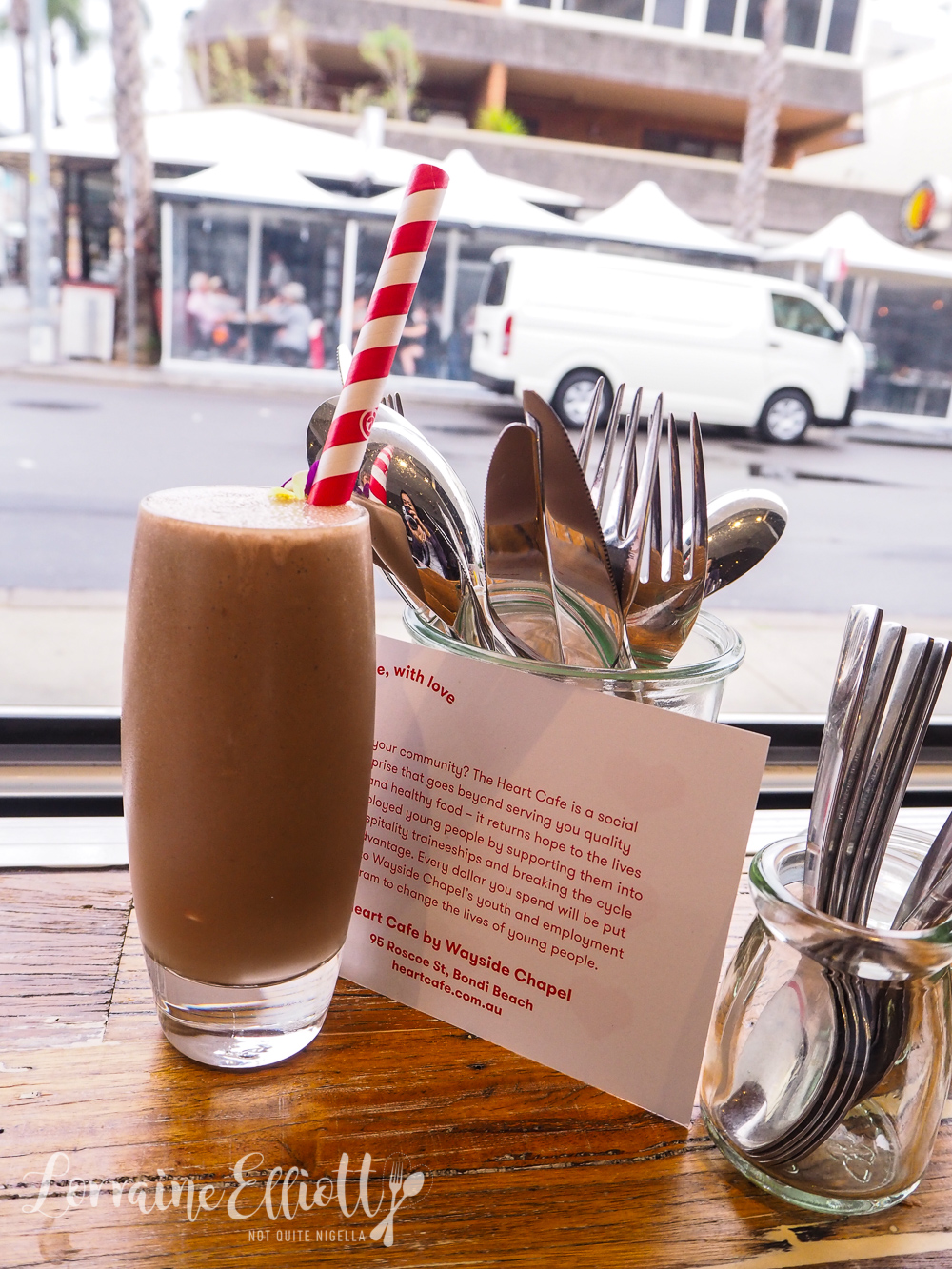 Charlie Brown $5
I start with a kids shake lured by the thought of peanut butter. The Charlie Brown has peanut butter, dream almond milk, cacao and cacao nibs as well as banana and dates to sweeten it. It's quite a healthy tasting smoothie whereas I think I was hoping for something with a bit more of a peanut butter hit.
Bacon and Egg Detox Roll $10+ Haloumi $2
I did a double take because usually a detox food item in Bondi is serious stuff. But here it's perhaps more tongue in cheek as it is an activated charcoal brioche bun (the detox bit) filled with crispy bacon, a fried egg, rocket and house made tomato relish and in my case halloumi. It's a pretty damn good roll, although I don't know how much of an actual detox you might get from it ;)
Zucchini Corn Fritters - $15
The best selling item are the zucchini corn fritters. There are two fritters stacked one on top of each other filled with zucchini, corn, roast capsicum, avocado, ezme (Turkish salsa), rocket, chipotle and sumac labne as well as spiced and fried square of haloumi. It's tasty with lots of flavours and the fritters aren't very oily as they're a softer sort of fritter.
Andean Chips $10
We also ordered the Andean chips because I like to be reminded of my trip to Peru. The menu says that they are tri-coloured hot chips but there are only two as I guess the Tasmanian purple potatoes were out of season. There are sweet potato and white potato served with romesco sauce and toasted nuts on top. The fries themselves are really good and crispy although I would have loved aioli with them (they don't have aioli). I think I was also hoping for the insanely crazy chips they make in Peru that come with half a dozen sauces because sauce is life.
Miso marinated mushrooms and eggs $16
Monica's choice is the miso marinated roasted shiitake and Swiss mushrooms that really pack a flavour punch. They're served with goat's curd, edamame mash, poached soft yolked free range eggs, roasted tomatoes and slices of sourdough toast. The mushrooms are strongly flavoured while the rest is less so giving it a good balance. There's no room to try pastries or sweets but perhaps we'll be back-on another rainy day!
So tell me Dear Reader, do you like to visit places that are also social enterprises? What do you think of the idea behind this cafe?
This meal was independently paid for.
Heart Cafe
95 Roscoe St, Bondi Beach NSW 2026
Open 7 days 7am–4pm
Phone: (02) 9581 9150
heartcafe.com.au/