Want to whip up something delicious for morning tea but don't have a lot of time? These one bowl matcha, white chocolate and lime muffins require just 10 minutes preparation and are delicious for lunchboxes and pretty enough for guests. Or just for you by yourself with a cup of tea!
I was so in love with the white chocolate, matcha and lime combination from the cheesecake that I really just wanted to repeat it all over again. Even matcha ambivalent Mr NQN loves this combination-the lime lifts the slightly bitter matcha and the white chocolate sweetens it.
For those of you that aren't familiar with the difference between matcha and green tea, it's top grade green tea leaves that have been stone ground so that you get the entire goodness of the tea leaf. It is high in antioxidants and caffeine too and contains catechins which aren't found in a lot of foods. It's better for you than green tea because you are eating the whole leaf. The bitterness can put some people off though-I always like it sweetened and served in a latte.
I made these one day before we went out to lunch with Louise and Viggo. Now Viggo is a gentle guy who I have a lot of time for and Louise is a super helpful gal but can have a sharp tongue that takes some getting used to. She looked at Mochi across the table and said, "Don't take this the wrong way..." and instinctively I held my breath. She often precedes a biting comment with this sentence. She took a deep breath, repeated it and then she said that Mochi was looking a bit fat.
WUT.
That's my dog.
Mochi is a lot of fur and underneath it all she's a tiny little thing and I got a bit protective. And I know what it's like when a parent criticises your own child because Mochi is like my child. So of course I defended her. We had lunch (starting with a matcha latte because I do love matcha) and then went our separate ways.
As we were walking away after saying goodbye, Louise yelled "And take your fat dog with you!" Yep sometimes her sense of humour takes some getting used to...
So tell me Dear Reader, do you have a friend who is critical and free with their opinions? How do you respond to it? Have you ever tried the matcha, white chocolate and lime combo?
Did you make this recipe?
Share your creations by tagging @notquitenigella on Instagram with the hashtag #notquitenigella
Matcha White Chocolate & Lime Muffins
An Original Recipe by Lorraine Elliott
Preparation time: 10 minutes
Cooking time: 25 minutes
Makes 12 muffins
Degree of difficulty: very easy
2 cups cake flour
4 teaspoons baking powder
1 cup caster or superfine sugar
Pinch salt
1 cup soda water
2 tablespoons matcha powder
1/2 cup oil
2 eggs, lightly beaten
2 tablespoons lime juice
1 teaspoon vanilla
1.5 cup white chocolate chips with 1/4 cup reserved for sprinkling on top
Step 1 - Preheat oven to 160C/320F and line a muffin tray with liners. In a large bowl whisk the flour, baking powder, sugar and salt until well combined. In a jug measure the soda water and dissolve the matcha powder in it. Add the oil, eggs, lime juice and vanilla and whisk to combine. Make a well in the dry mix and pour the wet mixture in the centre in 3 lots. Then stir in the chocolate chips.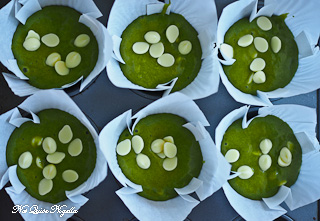 Step 2 - Use an ice cream scoop to divide the mixture into the lined cavities and sprinkle the reserved extra choc chips on top. Bake for 25 minutes.