I made a total of eight matcha cheesecakes before I arrived at this Matcha White Chocolate and Lime Cheesecake recipe which I consider to be juuust right. Call me fussy but I didn't want to give you just any matcha cheesecake recipe. I wanted to give you THE matcha cheesecake recipe!
Matcha is a high grade Japanese green tea powder that has a cult status with many. Not only does it give savoury and sweet foods a wonderful flavour but it also colours them a beautiful green and it packed with antioxidants. I was inspired to make this cheesecake by The Q on Harris' matcha cheesecake. This isn't a replica recipe though. I don't know how they make theirs. I just know that this combination of white chocolate, matcha and lime are fantastic together. I decided to call this cheesecake Clara.
So I had some matcha to use (Konomi Matcha kindly sent me a packet of theirs-thank you!). And then I started experimenting, and experimenting and experimenting. I wanted to get the deep green that Q on Harris have but I found that I had to add to much matcha and it would turn bitter. Also a baked matcha cheesecake turns grainy rather than creamy when cooked. Perhaps it's the amount of water mixed with the matcha because you only get that bright green if it is mixed with water (rather than milk or cream). And that doesn't even include the drama with the Oreo crust. Theirs was solid and high, mine leaked butter everywhere when baked. Should I use Oreos with the icing or without?
I bought so many packets of Oreos and bricks of cream cheese I almost gave up. But you know me right? I never give up on a recipe. I am tenacious AF if nothing else. All of this testing was over the space of 1.5 months and my mother got a lot of matcha cheesecakes to serve at her weekly church social. And then I realised that perhaps it wasn't a baked cheesecake. And that all of that lovely matcha flavour that I had before baking would be best preserved with a no bake cheesecake!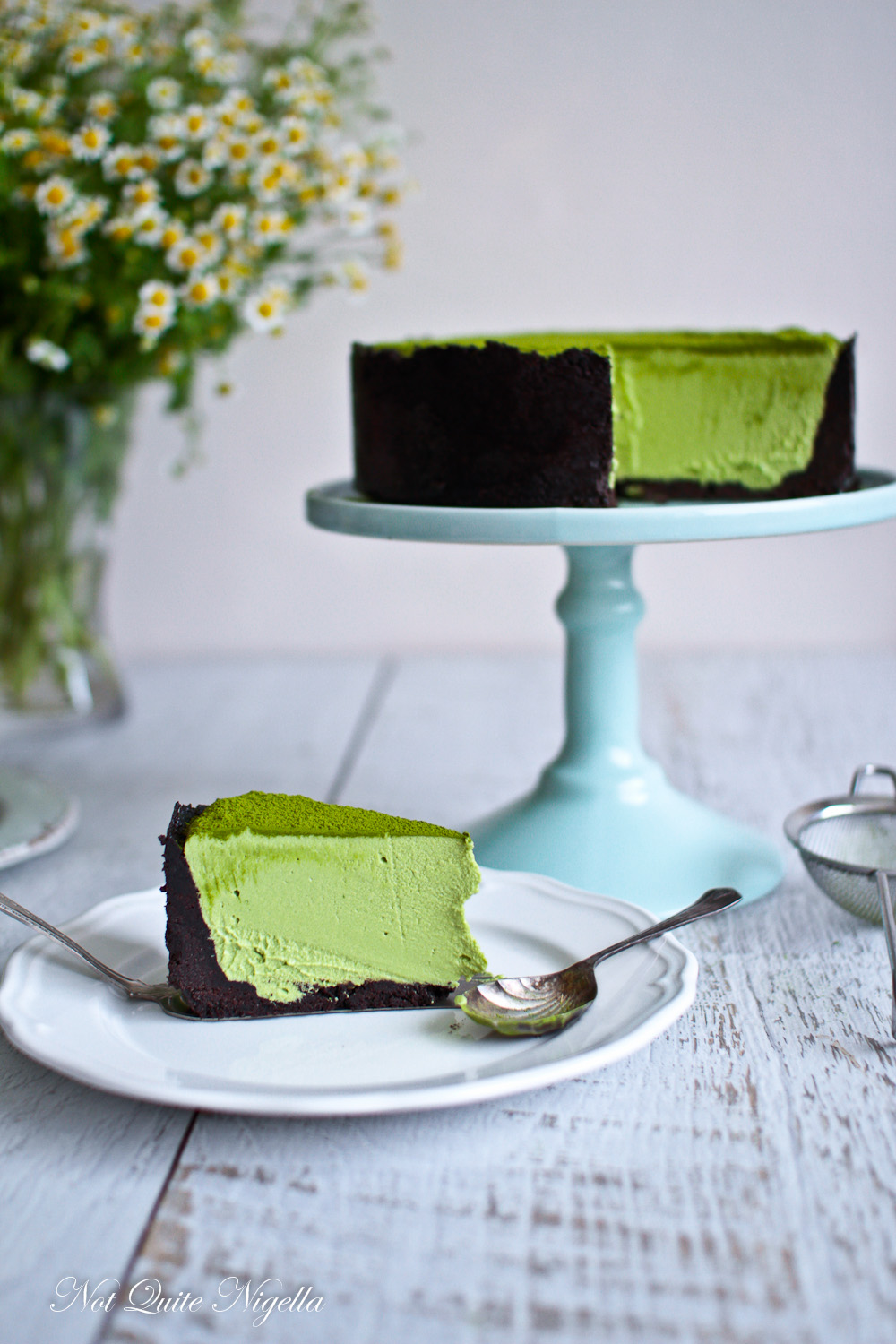 Speaking of turning colours, I turned colours recently. Mr NQN and I were in an Uber in Melbourne. Usually we have no issues and prefer Uber to taxis but this driver was just awful (Mr NQN's technical term for the guy was "knob end"). He asked us what we had done in Melbourne and then chastised us telling us that we had missed out on a really, really crucial Melbourne experience: food trucks. He later revealed (it was a long ride to the airport) that it was his food truck that he was referring to. "So what do you do for a living?" he asked us and Mr NQN replied. I didn't like the guy so I kept quiet.
After giving Mr NQN his opinion on his job he then asked Mr NQN, "So what does your partner do?".
This was WHILE I WAS SITTING IN THE SEAT RIGHT NEXT TO HIM.
I tuned my head to look at him-did I just hear what I thought I heard? Was he referring to me as if I weren't there? Was he being racist or was he being sexist? The previous conversation flipped through my mind quickly. He had spoken to me so he knew that I spoke English (yes some people still assume that I can't speak English) so he was just being plain old sexist.
Or as Mr NQN said, he was being a plain old knob end.
So tell me Dear Reader, how often do people make rude assumptions about you? And what is the most number of times you've tried a recipe to try and perfect it? Are you part of the matcha cult?
DID YOU MAKE THIS RECIPE? Share your creations by tagging @notquitenigella on Instagram with the hashtag #notquitenigella
Clara, A Matcha White Chocolate Lime Cheesecake To Die For!
Rated 5.0 out of 5 by 1 readers
An Original Recipe by Lorraine Elliott
Preparation time: 30 minutes (plus 4 hours or overnight setting time)
Cooking time: 0 minutes
400g/14.1oz. Oreos
150g/5oz. butter, melted
454g/16ozs. white chocolate (best quality)
50g/1.7ozs. butter
500g/1.1lbs cream cheese, softened
1 cup cream, divided in two
4 sheets gold gelatine
4 tablespoon caster sugar
3 tablespoons matcha powder mixed with 4-5 tablespoons water to form a slurry
Finely grated zest of 1 lime
1 teaspoon matcha powder to decorate
Step 1 - Line the base and sides of an 8inch/20cm springform tin. Process the Oreos (filling and all) in a food processor until you get very fine crumbs. Mix in the melted butter. Press into the prepared tin on the base and sides. Place in the freezer while you make the filling.
Step 2 - Melt the chocolate and butter until smooth in a double boiler. Cool for a few minutes.
Step 3 - Soak the gelatine leaves in cold water for 5 minutes, then gently squeeze out the water once it is soft. Then heat half a cup of cream until hot and stir in the gelatine. Cool for 5 minutes.
Step 4 - Beat the cream cheese and remaining half the cream with the caster sugar, matcha slurry mix and lime zest. Add in the gelatine cream and white chocolate mixture and whisk until smooth. Remove the base from the freezer and pour the filling into the base. Refrigerate until set (four hours or overnight). Just before serving, sieve extra matcha powder on top.
Here are some of the cheesecakes