A cheesecake style filling enclosed in a crepe with a berry and cherry sauce on top? Greet your mother or loved one with a breakfast they will remember. Better still, you can cook these ahead of time and leave the final step til the morning. The crepe has a creamy, silky filling and a crispy coating on the outside!
These are a perfect item to serve on Mother's Day (in my humble opinion) as they're a little bit special and a little bit unusual. And also starting a day with a cross between cheesecake and a crepe can only promise a good day.
I don't know about you lately but for the past few weeks I've been feeling a bit tired. Exhausted really. I know it's actually of my own doing because I am a workaholic. But then I found that my friends were all the same. I had plans to meet up with a friend on a weeknight. I had already postponed plans once and I couldn't postpone again because that's a bit rude but I was dead tired. Maybe she'll forget? I wondered.
The day before she messaged me to ask if we were still on. Sure! I said and I asked her about details. And then she asked if we could have an early night because she wanted to be in bed early. The words were like words from heaven. I was so relieved to hear that. So we met up at the early hour of 6pm (I did wonder why the bar was so empty but then soon realised the time!) and by 8pm we were headed back home again. It was just what we both needed. And then it let me get up early to put the finishing touches to these blintzes!
So tell me Dear Reader, have you felt like you need a really, really, really long sleep lately? What is your absolute favourite breakfast to wake up to?
DID YOU MAKE THIS RECIPE? Share your creations by tagging @notquitenigella on Instagram with the hashtag #notquitenigella
Cheese Blintzes
An Original Recipe by Lorraine Elliott
Preparation time: 15 minutes
Cooking time: 30 minutes
Makes 7-8 blintzes
For Crepes:
3 eggs
1 cup plain all purpose flour
1 1/4 cup milk
1 tablespoon caster or superfine sugar
Pinch salt
50g-75g/1.7-2.7ozs. butter
Filling
1 cup ricotta Cheese
1 cup farmers cottage Cheese
1/2 cup cream Cheese
1/4 cup caster or superfine sugar
Finely grated zest of 1 lemon
Vanilla extract
Step 1 - Place all of the crepe ingredients except for butter into a blender or food processor and process until you get a smooth mixture without any lumps. Pour into a jug and allow to sit at room temperature for 1 hour. This is important to make sure that the crepes have a delicate texture and do not turn out tough.
Step 2 - Meanwhile clean out the food processor and blend all of the filling ingredients together. Taste for sweetness, if it tastes like a lemon cheesecake filling then you've got it right. Set aside. And don't worry if it seems like there is too much filling, it always seems that way to me whenever I make these.
Step 3 - Heat a crepe pan on medium heat and add a little butter. Take 1/3 cup of batter (my pan was 28cms/11.2inch but if you have a smaller pan use 1/4 cup) and smooth out the batter to reach the edges. I find it easier if I take the pan off the heat and pour and tip in a circular motion as soon as it hits the pan. It may take 1-2 crepes to get this just right.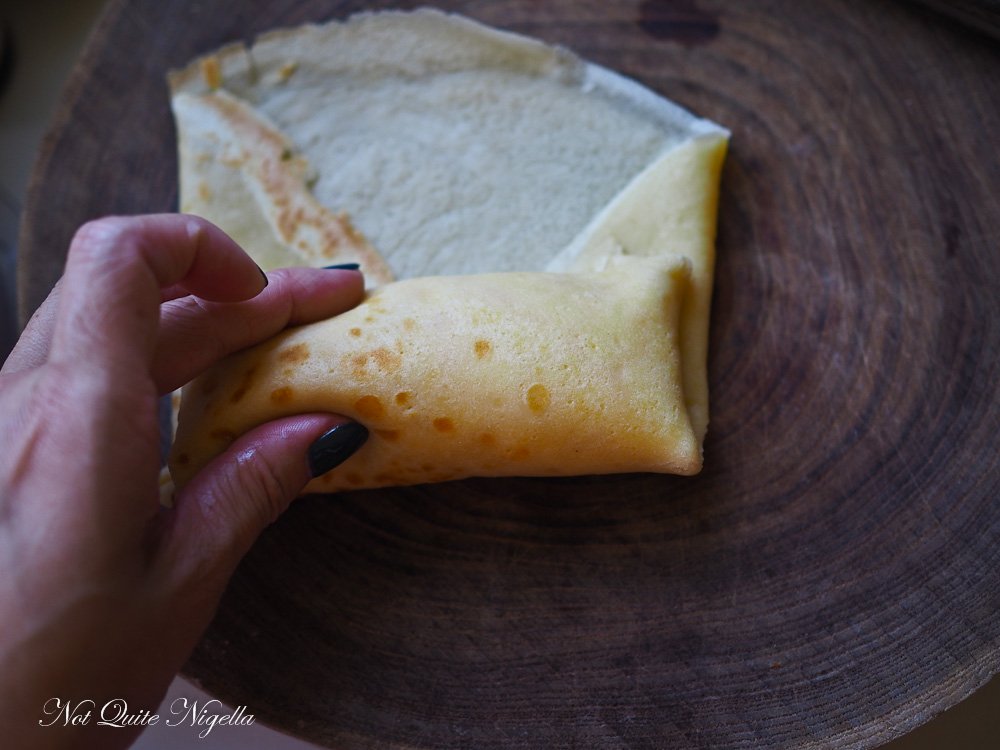 They see me rollin'...
Step 4 - Place on a large plate or platter. Then when you've finished, place two heaped tablespoons of the filling in a log shape towards the bottom centre of a crepe. Roll up from the bottom folding in the sides and roll up. Heat a bit more butter and pan fry the crepes until crispy on both sides. Serve with a jam-I mixed berry jam with fresh black cherries.