A new Chinese restaurant near the South Eastern end of Hyde Park Madame Shanghai serves pan Asian dishes in a sophisticated, seductive setting. By day there is a dumpling selection and by night there are dishes like silky tofu are served with ice plant and thousand year old duck egg or tempura jasmine smoked fish on the menu.
I've got this thing about birthdays. I love them, especially other people's birthdays. I love buying presents and the celebration (which usually involves food). But when it comes to my birthday, sometimes I actually forget.
My birthday falls on or near Mother's Day depending on the year. And I had emailed my mother to find out what she wanted to do. But then she reminded me about my own birthday before it. Oops.
So we made plans to visit Madame Shanghai, the newest restaurant from the Lotus group. It's located where the now defunct The Resident was. It was an interesting location-sort of in the middle of not a great deal. The restaurant is newly opened but already a table for 6:30pm was hard to procure.
The Shanghai born chef is Chris Yan who emigrated to Australia in 1996. "I grew up in a small countryside village outside of Shanghai with pigs, chickens, ducks, and a fruit and vegetable garden in my backyard. My passion for food is inspired by his grandmother's home cooking. She taught me that the best seasoning comes from a "less is more" approach. I came to Australia in 1996 for freedom of my sexual orientation and to find love," explains Chris.
A woman in a cheongsam greets me at the door. Part of the problem with The Resident was the sliding metal door, they seem to have remedied that by keeping it open. The space is attractively and lushly decked out and bears no traces of its former self. There are two types of tables, ones opposite the pass that are flooded with light or the darker tables in the main restaurant area where we are seated that have a more seductive air to them.
During dinner service there are some yum cha items available both savoury and sweet. And in case you need it, there is a chatty sommelier that is happy to suggest wines. And my parents are looking forward to this meal as they only just got back from a trip to Shanghai.
Spontaneous Combustion $20
I figure I should go for a cocktail since we're celebrating and I order a Spontaneous Combustion (circa 700AD) made with Rum, Gunpowder Gin, fassionola, guava, citrus, beachcomber bitters. It's delicious but like an iceberg, it is mostly ice underneath the surface which is a disappointment.
Shanghai Silken tofu $16
The food fares better and service is very friendly. The tofu practically has us scooping the bowl for the las dregs of the sauce. It is a silken tofu served with crystal ice plant (a salty succulent), chilli oil and soy dressing and a thousand year old duck egg. All of the flavours together are wonderful, the creamy egg, the silky tofu and the pungent and the multi note sauce.
Tempura Jasmine Smoked Fish $18
If you're expecting a battered tempura this isn't it. It's fried but not really battered much at all. The fish is soft and melting and comes smoked with jasmine tea with five spice.
Yunnan Rd Cumin Chicken Hearts $16
Chris explains, "Yunnan Rd is another famous street food market in Shanghai. I remember back in the 80s, the markets sold white cooked chicken, salted duck, and pork chops with rice cakes. Today, there are many more restaurants that use charcoal barbecuing to cook lamb, beef, pork, and squid. Chicken hearts with chilli flakes and cumin is a very popular dish on Yunnan Road, so I decided to include a similar version on the Madame Shanghai menu." I didn't expect to love the chicken hearts as much as I did but they're zingy and full of flavour. The chicken hearts are tender and served with a chilli lime sauce as skewers. They're pricey given the amount of meat on them but they end up being a favourite.
Prawn and calamari dumplings $12
The scallop and calamari dumplings are from the yum cha menu. They're actually quite good with plenty of fresh, bouncy textured seafood although presentation wise it's pretty plain and we were hoping for some pretty pleating.
Xiao Long Bao $12
The xiao long bao are full of soup and nicely satisfying and hit the spot nicely.
Tongchuan Rd Wok Fried Pipis $32
Chris says, "Tongchuan Rd was a big fish market in Shanghai, famous for supplying live seafood. The pipi dish is a representation of my time spent at the market restaurants with my family." These wok fried pipis come with a black pepper butter and pickled birds eye chillies. Mr NQN likes these but I think I still prefer good old XO sauce pipis with vermicelli. They're good thought, just not wowing.
Beef Short Ribs $26
The beef short rib is more of a Thai take on beef short ribs. There is a large bone on the plate but it is largely decorative although my mother uses it to mix the herbs, beef and chillies together in a Flinstone's way. The beef is tender and it has a nice spice and sauce to it with plenty of coriander and chilli.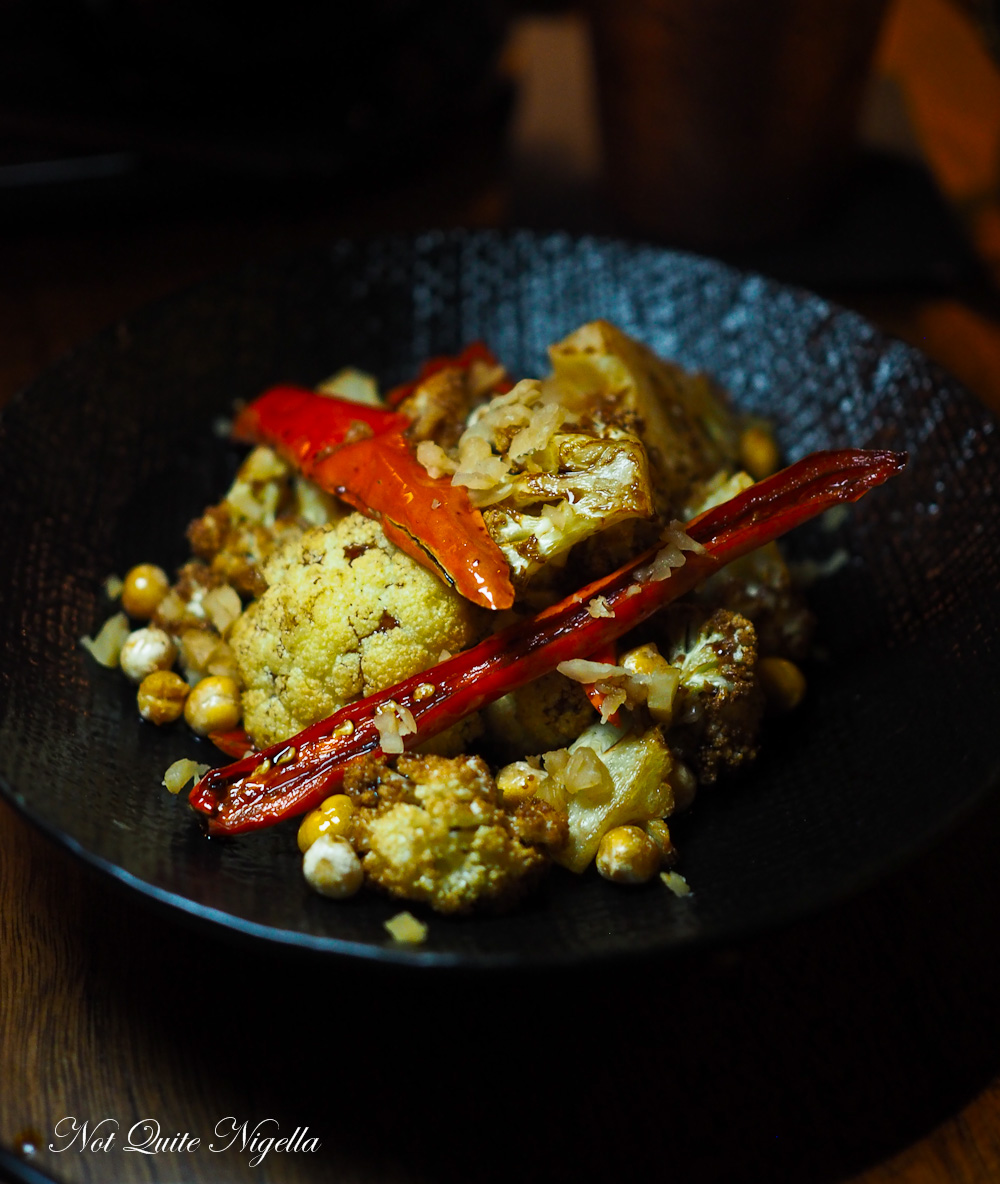 Fried cauliflower and chickpeas $16
The fried cauliflower with hot long red chillies and chickpeas are caramelised with a pungent chilli and aged vinegar sauce.
Madame's fried rice $15
My family started ordering fried rice over steamed rice as the cost of steamed rice per person seemed to exceed the effort to make it vs fried rice (it's been a family debate, trust me). This has plenty of egg omelette and some nice big chunks of char siu roast pork in it.
Ruby Jewels $15
It's dessert time and the dessert menu has three items plus 3 yum cha items. I love cheesecake and this is white miso cheesecake although that is quite muted and there is passionfruit and cassis. It's a nice dessert with tangy passionfruit and creamy cheesecake.
Madame's Gold $17
Designed to look like a gold bar Madame's Gold is the crowd favourite. It is a chocolate mousse layered with a peanut ganache and rum caramel. Even though we've had a lot of food it is such a moreish dessert, light enough to warrant a third or fourth spoonful. Pastry chef, Tiffany Jones describes the dessert as, "Madame's Gold is symbolic of Madame's love of the high life and indulgence of the finer things in life...she's an independent woman who uses her gold bullion to sustain her lavish lifestyle."
Giant fortune cookie $7
The giant fortune cookie is loaded with bling. It's dipped in chocolate and then edible glitter sprinkles and a few pop rocks (although the latter are quite muted). I crack it open to reveal the fortune inside. It says, "Run!". I'm guessing they want guests to settle their bill first ;)
So tell me Dear Reader, are birthdays important to you? Have you ever tried chicken hearts and what did you think of them? And do you pay attention to your fortune cookie fortunes?
This meal was independently paid for.
Madame Shanghai
18 College St, Darlinghurst NSW 2010
Phone: (02) 8318 8618
www.lotusdining.com.au/restaurant/madame-shanghai/
Tuesday & Wednesday Dinner: 5pm – 10pm
Thursday & Friday Yum Cha: 12pm – 3pm, Dinner: 5pm – 10pm
Saturday & Sunday Yum Cha: 11am – 3pm, Dinner: 5pm – last reservation at 9pm
Monday closed