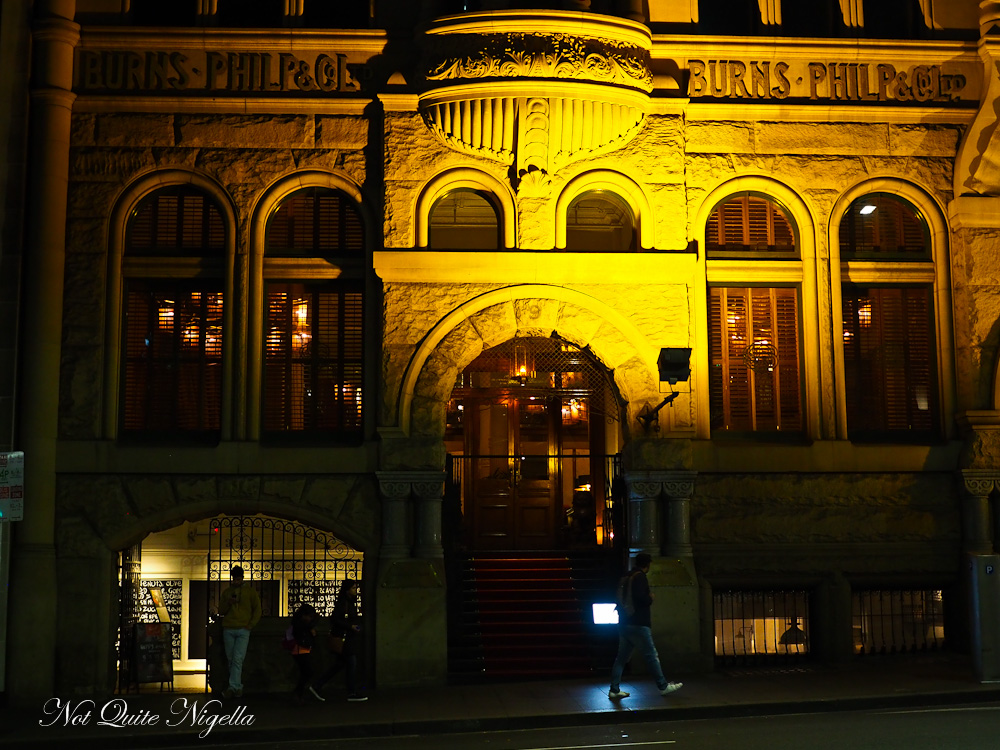 The newest incarnation for 11 Bridge Street restaurant is Jade Temple, in a rapid expansion for Neil Perry's Rockpool brand. As the name suggests the food is Chinese with favourites like Peking Duck as well as a creative take on dumplings.
We are visiting for Mr NQN's birthday with my parents. Not that they do birthdays here as they tell me over the phone. That's okay... we're here for the food.
Service here is...how do I describe it - it's very awkward, it's like they don't feel entirely comfortable yet. You know when a couple that you're friends with has had a fight and things are tense and they can't hide it? It's like that. And we all pick up on it separately. And our waiter is positively disdainful of us for some reason but the table next to us is showered with laughter and smiles. As I said, weird.
But we're here for the food I keep saying. But before I get onto that I should talk about the decor because it is a Neil Perry restaurant and they do take great pains to make things look nice. Designer Grant Cheyne installed antique, cast iron Chinese guardian lions at the entrance and the handmade bamboo shades sway and remind me of the Raffles bar. The menu was created by Neil Perry and head chef Peter Robertson.
Prawn toast with ham $12
The first thing that arrives is the prawn toast, a Jenga pile of slender slices of chopped prawn meat on bread. They're pretty good and served with a sweet and sour sauce.
Chicken wings $19
We were big fans of the chicken wings, juicy little drumettes of the most succulent chicken meat with a sweet and sour sauce. We could have easily eaten half a dozen of these delicious little beasties.
Prawn wontons $28
There are eight prawn wontons per serve and they are good with plenty of fresh, bouncy prawn on the inside and a divine sauce that is worth spooning up and drinking.
1/2 Peking duck $48
We order half a Peking duck that comes out with the crispy leg and 8 portions of boneless meat and skin as well as 8 pancakes, cucumber and shallots and hoi sin sauce. As it's Mr NQN's birthday he gets the duck leg. There is no second course with the Peking duck here which is perhaps why they give you the leg although I do love the sang choi bau.
Small pipis $25+$4
There's quite a lull in food between the duck and the rest of the food while the restaurant gets busy. The pipis come in two sizes, 250g and 500g and we go for the smaller size as we have ordered so many dishes. This is a good size and the pippies are coated in a delicious thick garlic and chilli sauce with crispy noodles. They're not quite the vermicelli ones that we prefer but the stars are the pippies in this dish.
Pi Pa tofu $25
I normally adore pi pa tofu which is tofu stuffed with prawns but these ones aren't our favourite. They're strongly flavoured but I usually love the interplay with the blandish tofu and the richly flavoured sauce.
Fried chicken stuffed with 8 Treasure rice $39
Similarly the 8 treasure chicken, aka chicken stuffed with rice sounds great but the chicken is a bit dry and the best flavour actually comes from the vegetables sitting at the bottom in the sauce. I think we were all expecting something a bit different from the description.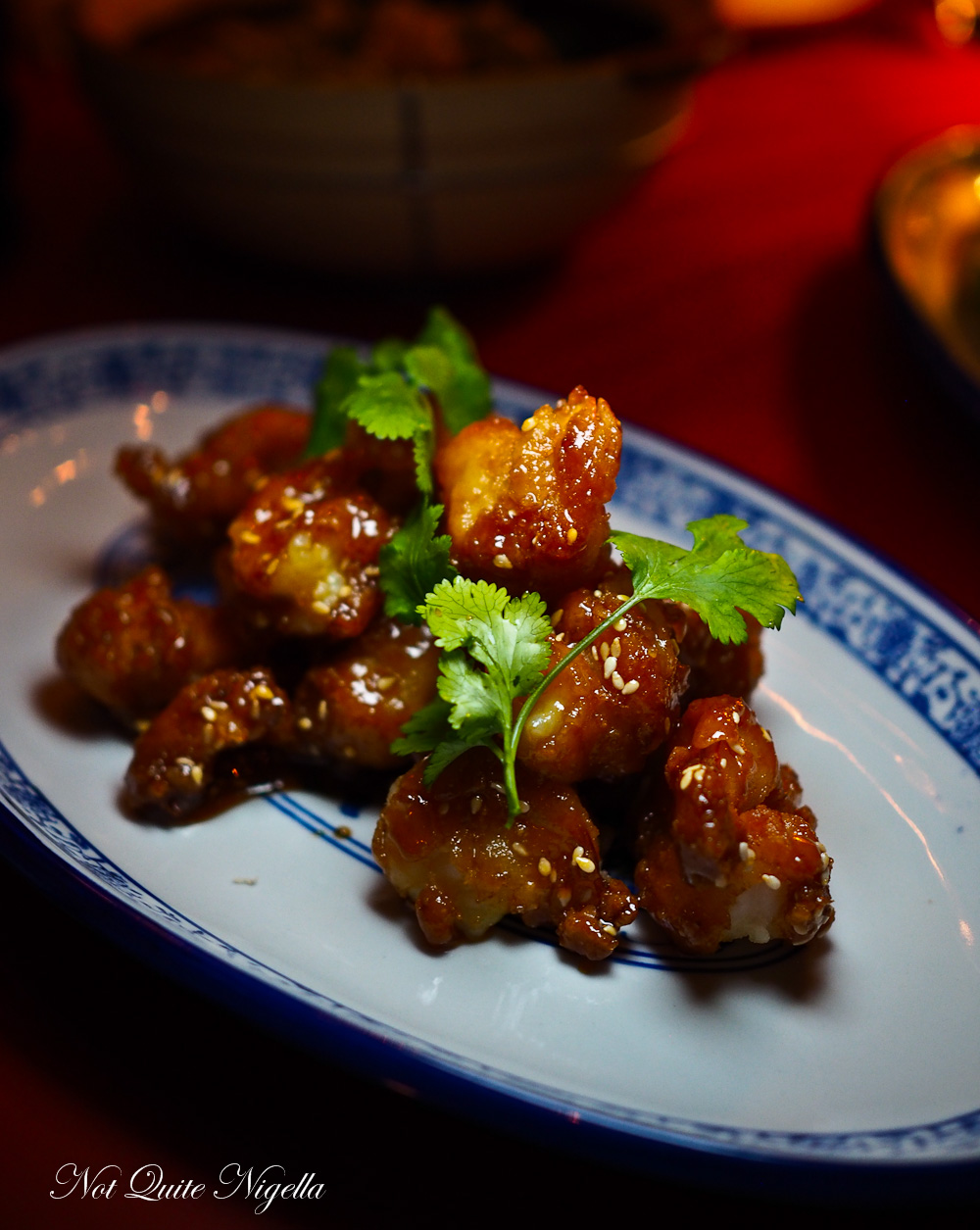 Honey prawns $36
I have to admit my favourite suburban Chinese dish is honey king prawns and these are delightful. With a sticky honey sauce and sesame seeds and succulent prawns I have to stop myself at three prawns.
Gai larn $19
Our last dish that comes out is the gai larn and by now we're all a bit too full for vegetables. They're steamed quite soft. My mother who holds many opinions on Chinese food, remarks that they have cooked them for a while longer than she usually does.
Special Fried rice $19
The fried rice is nice enough although I'm not sure what makes it special as that's the only one there is.
Alas, we don't quite have enough time to have dessert which is a shame as no doubt it would be interesting beyond deep fried ice cream.
So tell me Dear Reader, do you notice odd service dynamics? What is your favourite Peking duck second course-soup, noodles or lettuce cups?
This meal was independently paid for.
Jade Temple
11 Bridge St, Sydney NSW 2000
Phone: (02) 9252 1888
www.jadetemple.com.au/sydney/menu/
Open 7 days 12pm-3pm, 6pm-11pm (10pm Sundays)