The Chinese Gardens of Friendship is the location of one of the newest Chinese restaurant in Sydney. At the Gardens by Lotus during the day you can eat dim sum but at night the menu is a more comprehensive affair. There is charcoal grilled wagyu beef, Singapore chilli crab and lion head dumplings along with serene views of the gardens.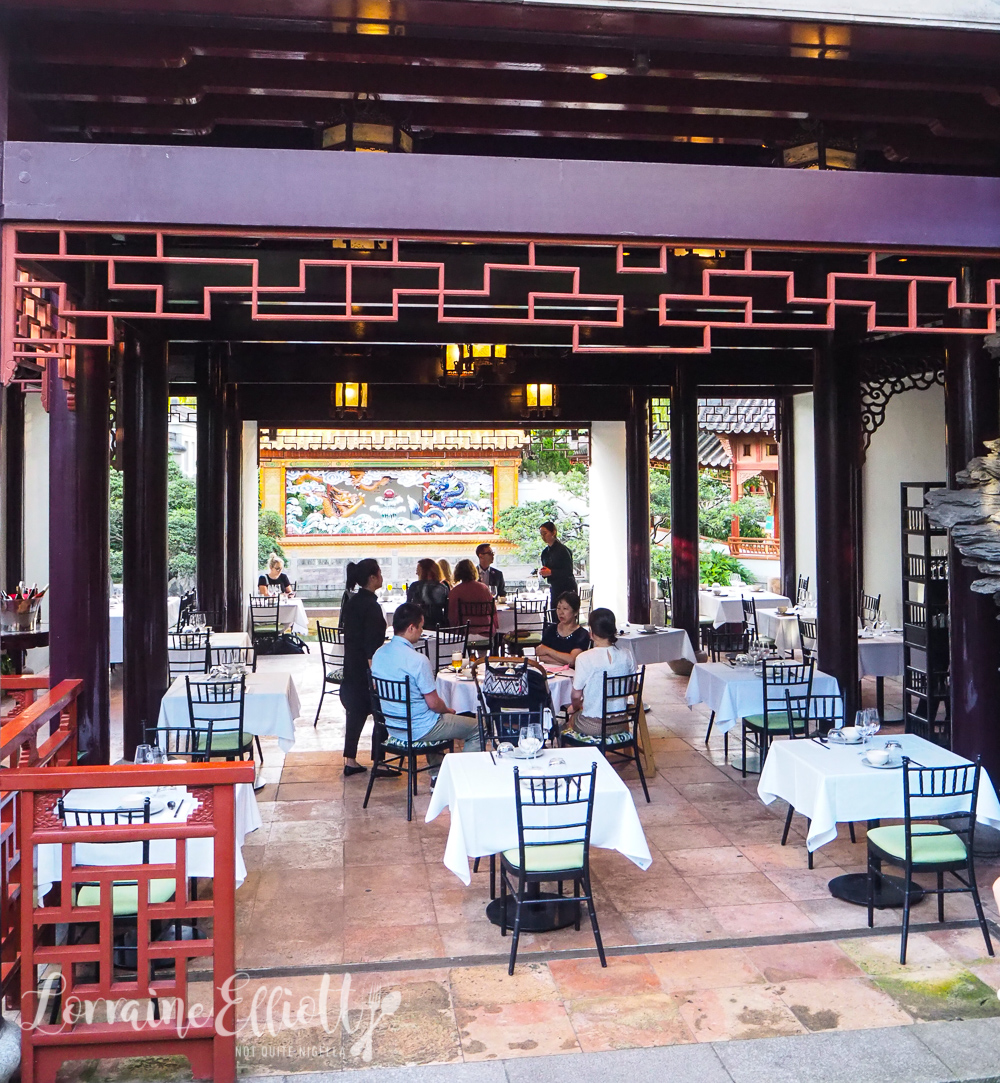 It's been over a decade since I visited the Chinese Gardens in Darling Harbour. Tonight, I'm meeting Sophia and we're trying the new Lotus at Darling Harbour branch. Open for just three months, the restaurant was formerly a cafe. Now there is indoor and open seating.
The restaurant operates separately from the gardens and has a separate entrance but if you want to go through to the gardens to take photos, you have to pay the $6 entry fee and at night the gardens are closed. There is still a small section of the gardens accessible to photograph. Tip: for a great pic of the gardens go up to the private dining room balcony).
We take a seat and start with some oysters-four fresh Coffin Bay oysters with the special secret Lotus sauce-a sweet and tangy number sort of like a less acidic ponzu sauce.
Sichuan style wagyu beef $
Then comes out a dish that they highly recommended to us. The Sichuan style wagyu beef and it's tender and wonderfully smoky from the charcoal. The chef cooks this al fresco just nearby us.
Chargrilled king mushrooms with Sichuan spice $
Our next plate are the chargrilled king mushrooms with Sichuan spice served as slices on skewers. They're meaty and with a slight char from the grill. The Sichuan spice is mild on these.
Fried rice with prawn and Sichaun chilli $19
The fried rice comes out next and it's quite good although I think I was hoping that it would have a bigger punch of flavour especially from the Sichuan chilli which I don't really taste. I add some of the sauce from the wagyu though and this fixes it quite nicely.
Sichuan style lion meatballs in steamed tomato $18
I was curious to see what these meatballs were like. They're nicely spicy with a good kick to them. They're massive hence the lion's head name but tender and well cooked.
Singapore Chilli Crab $100 (market price)
The Singapore chilli crab is one of their signature dishes. It's a large mud crab sold market price served in a red tagine, the lid removed at the table to reveal the large crab and plenty of sweet and lightly spicy sauce. Sophia isn't into chilli (we're working on that ;) ) but this isn't that spicy.
The crab is served with four steamed mantou buns on the side and a set of crackers and pickers for each of us. We get messy and dig into the pieces of fleshly, meaty crab. I don't even care that the neighbouring table is so close and are probably looking upon me horrified as I lick the sweet sauce off the crab shell.
The Gardens Dim Sum Platter $22
The dumpling platter that we ordered seems to have gone astray so we chase it up, the thought of dumplings in both our heads. The dim sum are fat, squat specimens full of seafood and pork with a scallop on top along with flying fish roe. The prawn har gow have a good amount of chunky prawns in them although the skin does break up on the way to the mouth. The mushrooms dumplings are a surprising favourite and just melt in the mouth. Usually I find a lot of vegetarian dumplings a bit of a runner up prize, not quite as exciting as the seafood or meat bundles.
Cherry and Chocolate Parfait $9
It's dessert time and there are four desserts plus some ice cream flavours. While I usually don't go for rich chocolate desserts this chocolate parfait is so lovely and light that it doesn't weigh us down at all. It sits in a crunchy chocolate and cherry rubble on the base for a crunchy texture.
Mango pudding $9
I have to admit that when they set the mango pudding down we both thought that it looked both tiny and disappointing. But it's our favourite dessert. The mango cremeux is wobbly and meltingly soft and covered with a creamy coconut glaze. There's also some mango fruit leather on top but the real key here is the texture of the pudding.
So tell me Dear Reader, do you like yum cha at night? And would you prefer to go during the day and also visit the gardens or would you prefer at night?
NQN and Sophia were guests of Lotus but all opinions remain her own.
The Gardens by Lotus
Chinese Garden of Friendship. Pier Street, cnr Harbour St, Sydney NSW 2000
Monday & Tuesday 11am–3pm
Wednesday to Sunday 11am–3pm, 6–9pm
Phone: (02) 9247 6868
lotusdining.com.au/restaurant/the-gardens-by-lotus/