A rainy day forecast called for something warming and fun. Chinese hot pot to be specific! KJG Shangcheng hot pot in the quieter side of Sussex Street in Chinatown is located down a small arcade. With soups and things to dip, we dip, sauce and slurp to our heart's content!
When I walk into JKG Shangcheng Hot Pot King I realised one thing: I am damn near terrified of a quiet, empty restaurant. Usually hot pot places are rollicking fun. Steam shoots up from tables, people dab food in, scoop out their goodies and it's a convivial group activity. There's one single table at 1pm on a Sunday, two girls and the rest of the place is empty. I immediately want to flee to a place that is busier.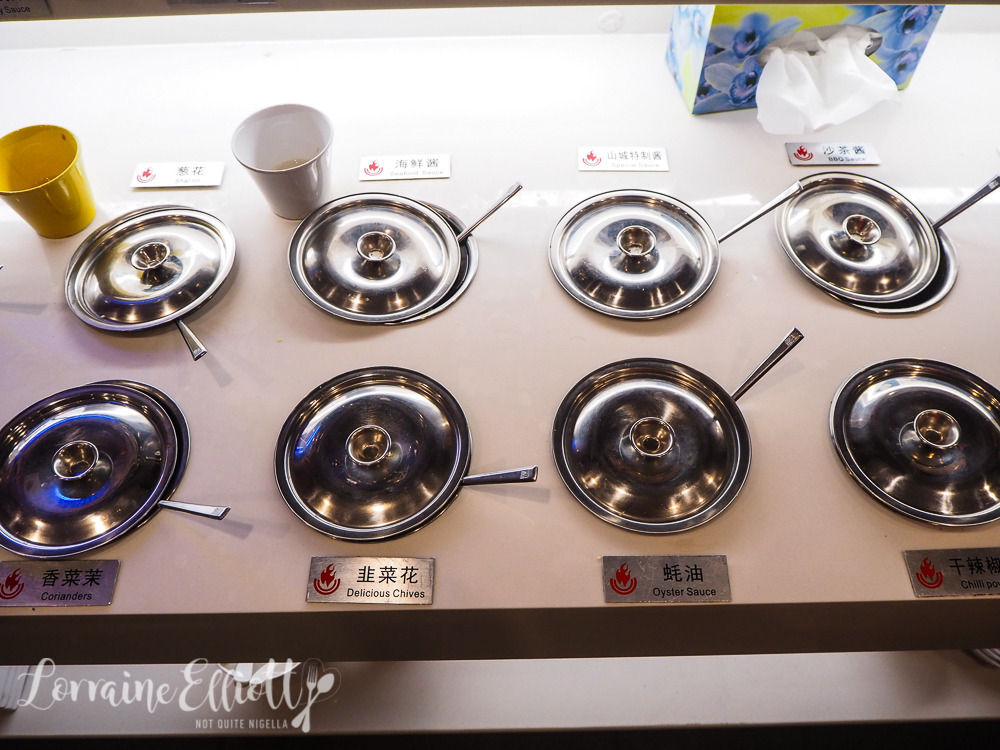 We sit down and they pass us the iPad menu. Ivy, Ryan and Mr NQN leave me to the task of ordering. I don't claim to be an expert but I know what I like in a hot pot. Since there are four of us I order four different soup options: spicy soup with beef oil, chicken soup, mushroom soup and tomato soup and we also request less oil. "I am so hungry I could eat an ass out of a dead skunk," says Ryan.
The food comes out quickly by the time we've finished sampling from the sauce station ($3 per person but seriously why wouldn't you?) and availed ourselves of all the tasty sauces.
First things first: the soups. They're all good but my surprise favourite is the tomato soup that Ryan also likes. Ivy likes the spicy beef while Mr NQN likes the chicken soup. As for the sauces, there is actually a good range of them. My favourite is the mysteriously titled "special sauce" which is a sesame chilli based sauce.
Money bags $8.80
The money bags come first-these are actually frozen to the core so they take a long time to cook. There is minced fish inside a tofu skin. Once they cook through they're delicious.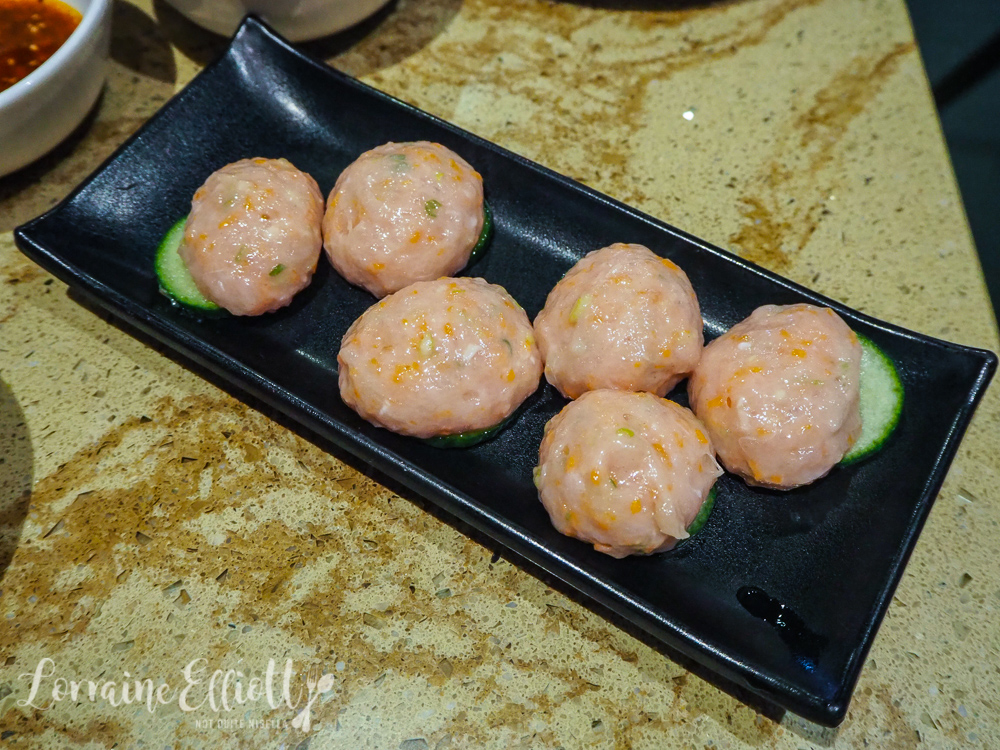 Crafted Chicken $7.80
The names are either deliberately quirky or just utilitarian but the crafted chicken is chicken balls on cucumber slices. These are also very good-plump and can withstand overboiling (which can happen when you forget about a morsel). These are also fresh and not frozen.
Legion of the balls $10.80
Yes I ordered this because of the name and because I wanted to say, "I present you with the Legion Of The Balls!". But also because balls in hotpot are fantastic. There's a range of meats, I'd like to tell you what they are. I believe they are pork, beef and chicken but I could be wrong and service is largely absent.
Shangcheng special spicy beef $11.80
Everyone's favourite beef is the Shangcheng special beef. It's ridiculously tender and has a light marinade to it. I wish we had ordered two of these. It also cooks very quickly if you're hungry.
Wonton $6.80
"What's this?" Ryan asks. "Won tons," I answer and I'm reminded of the rissole scene in The Castle. The wontons are very tasty and although frozen, take less time to cook than the money bags.
Sweet Potato Noodle $5.80
A discovery from the last hot pot were these sweet potato noodles. They are stiff but once you dunk them in and they cook they quickly turn into a slippery delicious noodle. They're my favourite and Ivy's.
Handmade noodles $4.80
The handmade noodles are also a good addition for a bit of starch and it thickens up the soup. Usually with hotpot they're attentive making sure that your pots are topped up but they didn't do any topping up at all.
Mushroom plate $17.80
I love mushrooms in hot pot and these cook very well, especially the king brown mushrooms that taste quite meaty especially in the tomato based soup.
Seasonable vegetables $12.80
I always like to order a couple of big plates of vegetables with all of that meat and seafood. These are good as they cook quickly and go well with the soups.
It's not the best value hot pot and service is pretty much non existent. There's no dessert like at Spice World and the atmosphere is a bit dingy unlike say at The Dolar Shop or Yuxiang in Eastwood but I have to say that there are no complaints about the food!
So tell me Dear Reader, do you get the urge to flee when you walk into an empty restaurant? Do you have a favourite item at hot pot?
This meal was independently paid for.
JKG Shangcheng Hot Pot King
8A, 363 Sussex Street, Haymarket, Chinatown, Chinatown, Sydney
02 8318 2201
Open 11:30am-11:30pm 7 days a week