The word dainty has nothing to do with the diminutive or cute nature of the food at Dainty Sichuan. In fact the food at Dainty Sichuan is a powerhouse of chilli, garlic and strongly seasoned Sichuan flavours!
The very popular Melbourne restaurant has finally opened its doors in Sydney's World Square and they've already mastered the crowd system. The peak times are weekdays just after work (to avoid queues, try visiting after 7:30pm weekdays) and weekends.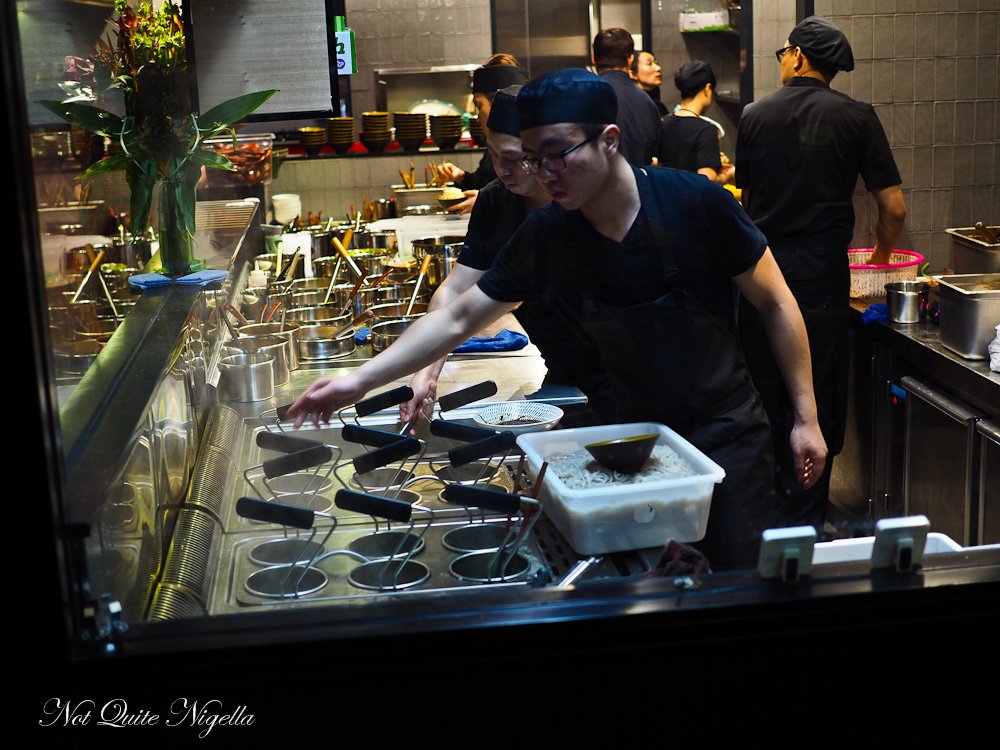 Otherwise once you join the queue you will be handed a menu and they will take your order via tablet. Once your table is ready (2's are much faster to seat than 4's) you go in and pay your bill and take a number to your table. Within a few minutes your first bowl of noodles will arrive.
Chongqing Spicy Noodles with Beef $16.80
The main event at Dainty Sichuan is the noodles. Sichuan food is characteristically spicy through the generous use of chilli oil and Szechuan peppercorns that produce a numbing effect. Sichuan food can be further sub-divided into four local types including Chongqing (along with Buddhist vegetarian, Chengdu and Zigong). The best seller is the Chongqing Spicy Noodles with Beef that are thin wheat based noodles served in a rich, spicy chilli laced saucy broth. Now these are hot and if you're going to order a range of things to share, try these last because the Szechuan peppercorns in this will effectively numb your tongue a bit. The beef comes in large but soft chunks that soak up the soup.
Chongqing Spicy Noodles with Minced Pork and Peas $16.80
These minced pork noodles are the next biggest seller. These were a bit more nuanced-hot and spicy yes but the addition of minced pork and chickpeas give it a good amount of textural variation. These are slightly less spicy than the beef ones and Louise, Viggo, Mr NQN and I like these better.
Yumberry drink $5.50
Drinks will arrive sometime during the arrival of all the food. We ordered a Yumberry drink just based on the name and Viggo orders a Coke as he had heard that it comes from China. The Coke is a regular Coke (from Australia) and the Yumberry drink tastes like Ribena.
Beef Potato Noodles $12.80
We try the potato noodle version, a good option for those that can't eat wheat noodles (although they're not always gluten free). I love potato noodles in japchae and other stir fried dishes. In soup they're very slippery and I prefer the wheat version. And a tip: don't wear white because you may end up with chilli oil on your clothes!
Stewed Pork Feet $5.80
For those that aren't as interested in noodles, there are other things on the menu but they are more of the offal variety. The stewed pork feet come out two to a serve with gloves to eat them with. We grab one trotter with a gloved hand and raise it to our mouths. The meat is very soft, gelatinous and fatty. I like it but I like it even better dipped in a bit of the chilli sauce from the sticks.
Chicken and Beef Skewers $7.80
This reminds me of being in China and seeing all sorts of goodies on sticks at the night markets. The parts of the beef and chicken on the skewers are tongue, heart and meat but there are also skewered quail eggs, cauliflower, black fungus and potato. The strong, scarlet chilli sauce effectively overtakes any natural flavour so if you're not really one for offally flavours you might enjoy these.
Stewed Pork Belly with Rice $13.80
If you're going for a full on chilli fest with the noodles I recommend getting a milder dish to recalibrate the tongue. The cubes of pork belly are stewed in a soy based sauce and served with Chinese greens, half an egg and steamed rice. The bowl of plain rice would prove to be a savior for Mr NQN who was finding the chilli a bit challenging. "I think it's because I've got a cold," he says perplexed that he can't handle the chilli.
Chilled Jelly With Brown Syrup $5.80
He is relieved to find that the desserts are all chilli free and we choose four out of the five. The one that resembles a goldfish bowl in the pictures actually comes out in a large bowl and it's a sweet jelly with black sesame seeds and a mild sweetness. It's actually quite nice indeed and refreshing on the palate.
Rice Jelly Pudding with Brown Syrup $5.80
The one that Viggo dubs the "blob fish cake" is a mild rice jelly pudding with brown sugar syrup. It's a bit more bland than the chilled jelly above which we all prefer.
Glutinous Rice Cakes $7.80
I'm not such a huge fan of jelly. I prefer the glutinous rice sticks with soybean powder on them and a bit of the brown sugar syrup. They're super crispy on the outside, sort of like a sweet version of a potato chip.
Fried Pumpkin Cakes $6
But my favourite dessert are the deep fried pumpkin and red bean cakes. The first bite tastes mostly of oil but once you get into the red bean and sweet pumpkin it's very moreish.
So tell me Dear Reader, have you tried Sichuan peppercorns in a dish and do you like the numbing effect? Would you enjoy a spicy restaurant like this?
This meal was independently paid for.
Dainty Sichuan
Ground floor, World Square
Open 7 days 11am-10pm