The Herring Room in Manly on Sydney's Northern Beaches is a seafood restaurant located just near the water. The restaurant is divided into different rooms to suit different moods and the menu given the name features house specialties like whole red snapper and blue eyed cod moussaka.
The original plan for catching up with Viggo and Louise was for dinner together the night before. There is however a lesson that Viggo learned: 5 day leftovers can turn even if they are heated up and smell and look fine. So instead of a Saturday night catch up, we postponed it to Sunday lunch once he was feeling better - namely a long Sunday lunch.
18°C/64.4°F winter days remind me of why I love living in Sydney. The sky was blue and we happily take a seat at The Herring Room's outdoor patio area. While there are outdoor heaters, there is no need for one. The Herring Room's owners also have The Sardine Room in Potts Point.
Both Louise and Viggo had visited here a few weeks ago for his birthday so they had already sampled a lot of the menu. We order some of their favourites although the presentation and taste did differ somewhat from the Friday night three weeks earlier when they visited. Service is really lovely and accommodating.
The school prawns are simply flash fried and served with a garlic aioli on the side with sea salt sprinkled on top. There was said to be lemon zest but this was quite light so that I couldn't really taste it.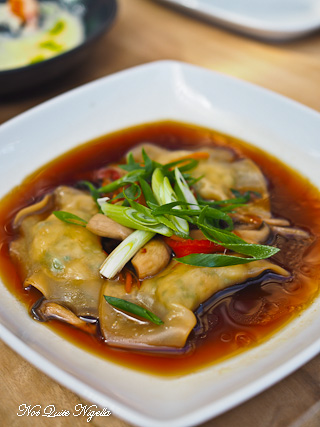 The prawn, coriander and ginger mousse wontons are quite good. They come three to a serve which is a tad pricey but they are quite large and are served in a wild mushroom broth.
This is really unusual. A soup that isn't quite like a soup at all, it's like a fluffy version of cold soup flavoured with pumpkin, sweet potato, coconut, cumin and garam masala. The flavour reminds me of a home made soup but the presentation should perhaps be mentioned on the menu if you're hoping for a rich bowl of liquid soup. It was sitting atop a wedge of roasted pumpkin.
This is said to be the restaurant's signature dish. It's a squid ink ravioli served with a liquid egg yolk filling. It is topped with crab meat and salmon roe and served with a lemon beurre blanc. The pasta is a little firm and it ends up being more of a soupy sort of experience chasing up the golden liquid from the centre with the beurre blanc.
Because it was lunch and we were already quite full, we ordered three mains between the four of us and that was quite ample indeed. The blue eyed cod moussaka is a dish transplanted from The Sardine Room. There are thick pieces of blue eyed cod, eggplant, creamy mash, cinnamon and breadcrumbs. I find the cinnamon a little jarring as it invokes flavours of sweetness but it is good otherwise.
This is one of those dishes that apparently looked quite different from the time that Viggo and Louise visited. This needs a bit more seasoning and when I make beef bourguignon I am usually a lot more generous with the red wine. I do like the sides though especially the aligot mashed potato that is enriched with cheese. There is also beetroot, braised spinach and pickled onions.
My favourite main however is the whole baby red snapper that is designed to wow. It's quite a sight when brought to the table, appearing as though suspended mid-swim. You can either have a sweet soy glaze or red Thai curry sauce and we opted for the latter. Snapper is an easy fish to fillet too with a good amount of meat to it. This is my favourite dish of the whole meal.
I love the sound of these flavours together and actually separately they are really nice because the jelly is not very noticeable compared with the rest as the dark chocolate is quite thick. There is also cherries, a scoop of vanilla ice cream and roasted pistachios.
The tart shell is crisp and thick with a generous serving of rhubarb inside. It is served with pistachio icecream.
This is everyone's favourite dessert (this and the snapper were my picks) and it's soft crumbled orange and honey biscuits served with maple stewed dates, orange blossom mascarpone & hazelnut praline. The mascarpone is wonderfully light and this is a perfectly balanced dessert.
And like all good long Sunday lunches, it ends around 5pm! Just in time for dinner ;)
So tell me Dear Reader, do you enjoy long Sunday lunches? Do you eat dinner after them or do you skip dinner? And how are you spending this weekend?
This meal was independently paid for.
The Herring Room
94 Pittwater Rd, Manly NSW 2095
Phone: (02) 9977 2572
http://theherringroom.com.au/menu/