"Be alert, not alarmed," I said to myself. It is Saturday night at Burger, Liquor, Lobster at the Manly Wharf Hotel and to call it busy would be an understatement. Loud dance music plays and I realise what a different environment this is to the cafes and restaurants that we usually frequent. I will also say that nothing, and I mean nothing gets in the way of our little group's hunger when it comes to lobster rolls.
It's a warm night with just enough breeze to cool - the perfect weather to be by the beach. Burger, Liquor, Lobster is the newest eating establishment on Manly Wharf. Part of the Manly Wharf Hotel it takes up the space that Chur Burger left. There are a few long share tables and service here is self service at the bar and pick up at the window.
Mr NQN and I are there first which mean that we are constantly trying to keep the spots for our friends. Seats near the bar are a premium as it is so busy. You can of course take your food further into the pub to eat.
"Are these taken?" and "Yes sorry," we repeat over and over until everyone arrives. We've had time to peruse the menu which is neatly broken down into three main sections: Burger (five types), Liquor (five cocktails) and Lobster (lobster and crab dishes). With our group of six it's a case of "one of everything please" (unfortunately the vegetarian burger isn't available then) and we take our buzzer to the table to await our dishes and cocktails.
"Get me a Little Mermaid," Nick says gruffly to much laughter. He tries to do his best Sly Stallone impression but when his and Ceri's Little Mermaid arrives, his face falls. I don't know what he expected with a name like that but it is pink and it is served in a martini glass and just very girly. It contains Beefeater 24 gin, lemon juice, ginger syrup, raspberries, egg white and marjoram and is refreshingly tart. The 40 Knots, chosen by Belinda mainly because it contains Goslings Black Seal Rum which speaks to her Ryan Gosling obsession, ends up being strong but delicious with flavours of Cherry Herring liqueur, lime, ginger syrup and ginger beer.
The Coco Loco is made with 1800 Coconut Tequila, Cointreau, lime juice and Orgeat or almond syrup. It's sweet and light but also mostly ice.
All of our food arrives at once and Mr NQN scoffs that there is no way that we can divide a burger into six. "Puh-lease," Belinda says raising an eyebrow at him reminding him of our burger chase around Sydney. She and I grab knives and cut away.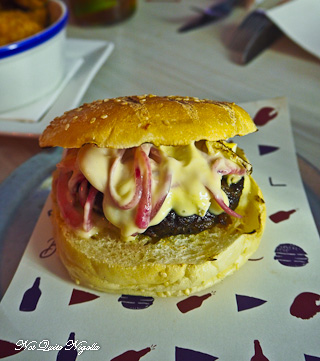 Our first burger is the lamb burger. With a nice char to the minced lamb patty it is paired with pickled red onion, feta, plenty of aioli and a mint and rosemary sauce with just the right amount of sauce to patty to bun. It's the favourite burger for many at the table.
Next is the chicken burger with marinated chicken breast, a mint and shallot coleslaw and a chilli and lime mayonnaise. It's tangy and more Asian flavoured than the other burgers and the chicken breast is tender.
I wasn't quite as smitten with the pulled pork burger. It comes with a BBQ bourbon sauce, a red slaw and fennel mayonnaise. The pulled pork is soft but the flavours are a little watered down or mild.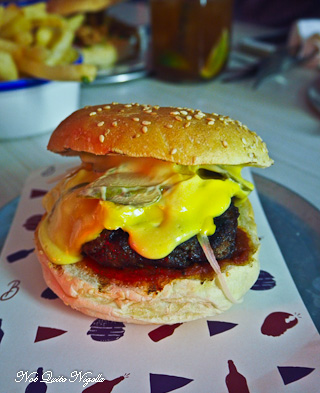 The beef burger is a classic beef burger with smoked tomato chutney, melted cheddar, onions, pickled and American mayonnaise. This one is also popular at the table.
In our eagerness to order everything we hadn't noticed that the lobster roll was actually a deep fried lobster. I have a weakness for the non deep fried version and whilst this is good with plenty of tender lobster and generously sized too I really wish that it a classic lobster roll with steamed or boiled lobster, creamy mayonnaise and crisp lettuce.
The crab burger is filled with crispy tempura soft shell crab - a couple of the legs almost reaching out like fingers. It comes with a Singapore chilli sauce and Asian slaw. It's crunchy and soft and spicy at the same time and we enjoy this.
The prawn roll ends up being one of my favourite rolls as it is filled with fresh tiger prawns with avocado, iceberg lettuce and cocktail sauce. It's a classic roll done well with large, fresh prawns.
The popcorn lobster is lobster that is dredged in flour, corn flour, rice flour and panko crumbs before being deep fried and seasoned with salt and pepper. It's very tender and well priced and appears to be the same lobster that is on the lobster roll. The menu does say that all meals are available wrapped in lettuce for those wanting low carb.
Teri echoes all our thoughts when he proclaims the sweet potato fries as among the best he has had. Hand cut and made on the premises they're crunchy and yet light and fluffy on the inside. They come with some garlicky aioli that matches them perfectly. The golden fries are also crispy perfect and despite me wanting to just try these I keep dipping them in the aioli and going back for more.
There are three salads available on the menu and we go for the lobster cobb salad. Again it uses the same deep fried salt and pepper lobster and it is paired with cos lettuce, cherry tomatoes, egg and corn. It's a little difficult to eat in such a small bowl and a large bowl would have been better.
There's no dessert here and with decibels rising and a swell with more patrons we depart into the cool breeze of the night.
So tell me Dear Reader, do you prefer deep fried or steamed seafood? And do you tend to go to buzzy or noisy places or quiet places?
This meal was independently paid for.
Burger, Liquor, Lobster
Manly Wharf Hotel Restaurant, 21 E Esplanade, Manly NSW 2095 Phone:(02) 9977 1266
Open 7 days 11:30am-midnight
Also located in Paddington: London Hotel 85 Underwood St Paddington, NSW 2021
Tel: +61 (02) 9331 3200
http://burgerliquorlobster.com.au/