A couple of weekends ago I paid Perth another visit to do some research for a series I have been writing for Adina Apartment Hotels' Checkedin portal with former Perth local Mrs Skarsgard. It has been a long time between Perth visits-the last time I visited Western Australia was in 2011. The food back then while decent was very expensive but with the mining boom came a boom in the food scene. Post mining boom, prices are now reasonable and the standard of food is very high with restaurants that I wish would open up in Sydney. Take a peek at 5 fabulous eateries (and check out Checkedin for the complete list!).
1. For Brunch
The town of Scarborough is known for its beaches but don't let the suburban look of the strip mall deter you from visiting Doric Street Kitchen and Bar. The food is fresh, luscious and colourful-dare I say it is perfect for Instagram.
The menu is a mix of Modern Australian cafe offerings-eggs benedict, avocado on toast, buttermilk pancakes but our eyes are drawn to the savoury offerings with a strong bent towards Asian dishes like kimchi burger, bibimbap and ramen. We order savouries mentally saving our tummy for the eye widening selection of cakes on offer. There's a display on the counter full of pretty, wholesome cakes from red velvet, lumberjack, carrot and coconut as well as shelves of cakes. They're a mix of brought in and house made.
We start with juices-a Lemon Ginger Blast for me (good for a hangover the girl at the neighbouring table tells me) which tastes healthy but still good. The sweeter Troppo is made fresh with mandarin, strawberry, apple and pineapple.
The most popular item is the salmon bruschetta on a slice of toasted ciabatta bread, house done beetroot cured salmon, lemon ricotta, a perfectly poached eggs, crunchy asparagus and a fennel salad it's full of flavours and crunch.
It's a toss up what we like better though with the Bibimbap with rice, seasoned vegetables, bean sprouts, marinated beef slices, carrot and a fried egg we mix this up with the spicy sauce and it too sings with flavour.
I also order a well made matcha latte to go with the carrot cake. Sometimes I worry about large cake selections if things are still fresh but this is wonderfully moist. With a thick layer of cream cheese frosting and rich in spices this is as pretty as it is delicious.
2. For Incredible Italian Food:
Mrs Skarsgard who lived all over Perth and WA until she was in her 30's remembers when Perth people would never venture out for dinner in the city for dinner. How times have changed. Lalla Rookh is an Italian restaurant with chef Alexandra Haynes. It is located on St Georges Terrace in the city CBD.
It's a gorgeous space with a large bar area with plenty of rooms and nooks to sit. You do need to book for the dining area as it can get busy during peak times. People can go with the El Capo menu which is 6 courses from the chef, many of which do not appear on the menu. But the control freak in both of us (plus the fact that we had completely stalked the menu and wanted certain dishes) meant that we decided to do our own version of the El Capo shared menu.
We start with three dishes from the Piccolo menu. The tuna, pickled fennel, pomegranate and orange dish is perfection. It's the sort of dish I will be recreating at home and it is as beautiful as it is tasty with pink peppercorns, a sweetness from the orange and pomegranate and finely shaved fennel (sometimes I find fennel too thickly sliced).
The grilled octopus is wonderfully tender with a buttery squid ink aioli and sliced, roasted kipflers. It's another dish that I want to recreate at home too as it begs another and another taste.
Our third piccolo dish is a divine ox tongue dish, thinly shaved on a skewer, given lightness from herbs like marjoram and oregano as well as lemon. The meat just melts in the mouth.
We decide to share a pasta as well as a meat main. The paccheri is long hollow tube pasta with a soft oxtail ragu. There is said to be cocoa and pine nuts added to this but to me it's more a slightly browned butter flavour to it. We love mopping up the sauce with the downy soft slices of focaccia.
It is hard to choose a main because they all sound good but our fantastic waitress didn't steer us wrong all night with dishes so we went with her recommendation. The pork neck tagliata is seared and baked pork neck with a slightly sweet edge to it. it sits on a silky onion puree with sweet caramelised radicchio and slices of tangy pickled turnip. It's a perfectly balanced dish with rich, sweet and tangy covered and it's with regret that we can't finish it. But there are more meals to be had!
3. For Tasty Vegan:
Vegans are well catered for at The Raw Kitchen in the area of Fremantle, a more alternative area about 30 minutes' drive from Perth CBD. The main street of Fremantle or Freo as everyone calls it is similar to Melbourne's Brunswick Street with plenty of places to shop and eat. The Raw Kitchen is located at the quieter end of High Street.
The Raw Kitchen is a bit of a lifestyle emporium as well as a cafe/restaurant. There are classes on how to how to ferment plus there's a store that sells things that you never knew even existed (glass straws?) and other handy things like beeswax wraps, gardening tools and artisan crockery.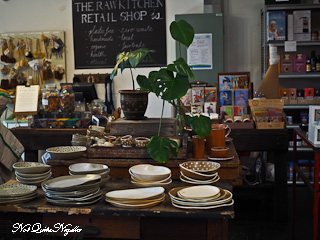 It's a huge warehouse space where you can grab a booth for two, a table, a lounge or hide out in a shipping container. The menu is entirely plant based vegan with a mix of snacks, plenty of drinks, larger meals (both raw and cooked) and of course raw, vegan cakes. All food is 100% gluten free, dairy free and plant based.
We start with some drinks, a ginger kombucha and a Mango lassi shake. All of their almond milk is made on site fresh and the mango lassi has mango, lemon juice, vanilla, agave, ice and almond milk. It has a good level of sweetness although it isn't as thick and creamy as a regular mango lassi. I wish we loved the kombucha but it's a really strong hit of tang and a bit too strong for us.
We have three items on a mezze plate with toasted focaccia bread. It's not exactly focaccia, it's more like a gluten free flatbread but Mrs Skarsgard who has issues with gluten is quite delighted with this. We spread some white bean and harissa dip as well as a pea, mustard and mint dip and herbed cashew "goats" cheese. They are all really good but I especially like the two dips-the white bean one is wonderfully smooth while I like the hint of sweetness in the pea dip.
I'm a huge corn fan so I had to order a bowl of this charred corn dish because I also wanted to try the mushroom bacon (the thinly sliced black stuff on top). It's actually delicious and served with black beans and a chipotle cashew mayonnaise. It's a hearty dish that packs a punch of flavour and even vegan-phobic Mrs Skarsgard is impressed. She was very skeptical about this stop before the food came.
Okay we over ordered here but I was starving when I arrived and by the time this rolled around I didn't realise how much we had ordered and the sizes of the meals are quite large. The TRK bowl has quinoa, avocado, satay sauce, pickled cucumber, edamame, sauerkraut, pickled beetroot, coriander, marinated tofu and sprouts. You need to mix it all together and it's a crunchy, colourful bowl with lots of textures, pickles and sweetness to it.
I had a lot of love for the yellow coconut curry, an enormous bowl with cubes of local lupin tempeh, shavings of raw white cabbage, broccoli, sweet potato, lime, chilli, shallots and a side of quinoa which goes surprisingly well with the sweet coconut curry sauce.
And no meal is complete without pie right? We see many slices of the lemon meringue pie go past so we order a piece to share. The meringue isn't done with aqua faba it's actually coconut and the whole thing does taste like lemon meringue pie. My favourite bit however it the tart case with the sweetness from dates and dried apricots.
4: For Fine Dining Perth Style:
Petition Kitchen is a modern Australian restaurant open for breakfast, lunch and dinner. And even on a Sunday night it is very busy so you are definitely best to book ahead. Located on the corner of St Georges Terrace and Barrack Street, service is fantastic and knowledgeable.
When is broccoli the star of the menu? The signature dish here is the chopped broccoli salad with a range of toasted grains and walnuts and a light crumbling of sheep's feta. It's nutty, crunchy and good and apparently people come back for this time and time again.
We really had eyes for the organic beef tartare with crunchy harissa chips and sour cream. It's their take on a beef tartare and it's pretty damn fabulous. Did I mention these harissa chips? They're spicy, wafer thin and super crunchy. It doesn't even need the slices of grilled bread on the side as it obscures the flavour of the tartare (something wafer thing would have been perfect).
This main is really a dish for 2 or 3 people as it is very sizeable. Not just one beef short rib it is three pieces that have first been flavoured with a host of spices before being sous vide and then roasted so that it is wonderfully tender. It is topped with fermented chilli and served with a spiralised carrot salad with kim chi and sesame that cuts through the unctuousness of the beef. The idea is to grab a piece of warm flatbread given, top with beef and then carrot and eat and enjoy. Heaven.
We resist the temptation to have a Hot Toddy with absinthe flamed spices and instead settle on a slice of the malt cream pie. With a smooth creamy filling and a malty, thick biscuit base and old skool cream frills it's an intriguing pie unlike any other.
5. For the sweet tooth:
Tender are the days at Perth's Measure Dessert Bar in Mount Lawley. It's their 8th day of trading when we visited and they are packed with many hoping that they could drop by but being turned away without a booking or being seated in the front room with a restricted menu. Measure is the baby of ex MasterChef alum Karmen Lu.
As mentioned it is early so some desserts are good but need refining so we need to cut them some slack-plus it was overwhelmingly popular so things were frantic. The Earl Grey is very gently Earl Grey mainly in the form of bergamot truffles that are you are instructed to eat first to permeate the earl grey flavour. The pairing with dark chocolate really dominates the flavour over the floral tea.
The lychee raspberry mocktail is nice but needs a bit of acidity whilst the hot chocolate has a generous punch of Grand Marnier and comes with a large square of fresh marshmallow. The stellar dessert is the beignets, tiny squares that are both vegan and gluten free and made using coconut flour and drizzled with salted gula melaka caramel. The occasional beignet is stuffed with these too. Mrs Skarsgard finds them highly addictive.
So we came we ate and we were very impressed with the Perth food scene. Want to read the full list? Hop onto Checkedin.com, the TFE Hotel portal with the complete and delicious list of Perth's best food including Bread in Common and Toastface Grillah! And don't forget you can enter to win 2 nights accommodation at any Adina Apartment Hotel in Australia or New Zealand. Click here to enter!
So tell me Dear Reader, which place did you like the sound of? Have you visited Perth recently or do you live there?
These meals were all independently paid for.
Doric Street Cafe & Kitchen
2/11 Doric St, Scarborough WA 6019
Phone: (08) 9341 3198
Lalla Rookh
77 St Georges Terrace, Perth WA 6000
Phone: (08) 9325 7077
Petition Kitchen
State Buildings, Corner St Georges Tce & Barrack St, Perth WA 6000
Phone: (08) 6168 7771
The Raw Kitchen
181A High St, Fremantle WA 6160
Phone: (08) 9433 4647
Measure Dessert Bar
642 Beaufort Street, Mount Lawley, Perth, WA