"So who here is afraid of water, heights, spiders or snakes?" our guide Sean from the Margaret River Wine & Discovery Tour Co. asks our group.
I raise a finger gingerly. "Is there a biking component because you've just listed all the things that I can't do except for bike riding". He is not joking. I am clearly going to be out of my depth today.
And by depth I mean water depth. We are on a combination of Sean's most popular two tours, a discovery tour and a Wine Maker's tour. We will start the morning off with a canoe ride down Margaret River. "By river, it's a bit overstated" Sean from Margaret River Discovery tours says. His tour happens to be the top tour for the Margaret River on trip advisor and he has exclusive access to certain parts of the river including this canoeing portion. And according to Sean, a vast percentage of locals and West Australians have never actually stepped foot on the Margaret River itself.
Brian the editor from News Ltd's Escape (who wrote his story about our trip here) pipes up and tells us that every time he has been on a canoe it tips over without fail citing his body shape as a reason for why (long body, short legs). Which of course means that Sean pairs Brian and I up together. I look at my canoe buddy with some trepidation. Would we prove the rules wrong? Sean offers up a morsel of hope that he will be in the canoe too and tells us in the entire time that he has held these, he has never had one tip over. So I have the opposing forces of Brian vs Sean at play. And I am the meat in the sandwich-and I was never a fan of soggy sandwiches.
We make our way in the Land Rover to the banks of the river and don our life jackets. Before we get in the canoe he tells us a few golden rules in order to avoid ending up in the water (don't stand up or move suddenly in the opposite direction) before we board the canoe and he gently pushes us into the river. There are three canoes and two pairs go in the other two canoes and I take the "Pochohontas" position in the centre (i.e. the "do nothing" one). It's clear that I am not in any position to steer the canoe.
We glide out onto the water and watch as schools of mullet swim under the water. One flicks its tail up in the water and the rest glide past us. We spot a Pukeko or a swamp hen and an eagle's nest but most of the action is in the water. The river is abundantly full of fish which is all edible and despite the promised cyclone, the water is calm and flat and it could not be more ideal for our adventure.
And with an enormous sigh of relief there is no upturned canoe, no soggy wet threesome shivering on the banks of the Margaret River and we keep Sean's record of no overboards intact. We then make our way to one of the most well known wineries in the area. Wine making in the Margaret River has only been around for the past 40 years. Prior to that surfing was what the area was known for whereas now wine and food sits alongside the surfing. There were five "Founding Father" wineries: Vasse Felix, Cape Mentelle, Cullen, Mosswood and Leeuwin but now there are 10-15 top class wineries and over 100 cellar doors in the area. Although less than 3% of the total of Australian wine is produced in this region, about 30% of premium wine is produced here which is why it has such a great reputation.
Cape Mentelle was started by David Hohner who was formerly of the Cloudy Bay label and it was now owned by huge conglomerate LVMH. We make our way to the Warcliffe winery where there are 100 hectares of vines growing and Robert gives us an overview of operations. Their farming and horticultural principles are based on long term and organic and biodynamic principles although they are no certified so.
When the vintage is over, they let a 300 head herd of sheep loose to eat up all of the leaves to fatten up in this fenced off area. He explains what it is that makes the region so unique to wine and the main thing is the consistent temperature-it never exceeds 1c-30C and this is no doubt partially due to the Indian ocean that blows the coastal breezes throughout the area. They also has a low vigor soil with a low yield and low humidity.
He shows us where the grapes are processed and then stored in the French and American oak barrels. The new French oak barrels are bought for approximately $1400 each and they use them for a period of 4 years (industry averages are 4-10 years). After that they are passed onto artists or sold back to Bunnings for $50 each. They use the French oak somewhat for flavour but mostly for oxidisation and the inside of the barrels are charred to "toast" the wood and they use a medium toast. And during the tour he quizzes us constantly about yields of wine and all sorts of wine minutiae and of course we are constantly failing. You see we are getting the ultimate wine nerd's tour for the complete and utter wine enthusiast but none of us are quite at that level.
We adjourn to a room that has been set up for a food and wine tasting. We will get to try various foods with six of their wines which you can book these tastings through Margaret River Wine & Discovery Tours or through Cape Mentelle directly.
Along with our tray of canapes we are given Sicilian olives, ciabatta bread with olive oil and merlot vinegar and some muscatels. There are also cashews which are supposed to help cleanse the palate or they tell us that you can also use unsalted popcorn. Firstly Robert shows us how to examine the wine. Holding it by the top of the stem as shown above, you hold it as flat as possible against a white background to see the colour. Then you take a sniff and then swirl it around the glass and take another sniff where the aroma will be stronger. Then of course you taste it!
We start off with a sauvignon blanc semillon which he pairs with a goat's cheese on fruit bread. We try the wine by itself and then compare it with and without the food. It's interesting to see which wines match best with the food. Some food  match the wines perfectly enhancing it whilst others are quite jarring. There seems to be somewhat of a consensus among the group as to what works well together though. For example the cabernet merlot is said to work best with foods with some fat in it because of the tannins present.
Our tummies filled with food and wine we set off on our last leg of Sean's discovery adventure. We are to walk part of the majestic Cape to Cape walking track which starts from Cape Naturaliste in the North to Cape Leeuwin in the South. The track stretches along the Indian Ocean making for some beautiful views and partial walks can be done (the first third from the north is said to be the easier part).
The view is remarkable and I have a romantic (but fleeting notion) of trying to walk the track before I realise that I only did a very, very small portion of it and that it is probably best attempted by a less phobia riddled person and one more at one with nature ;)
For a last taste of the tour, Sean brings out three honeys from the region: jarrah honey which is said to have medicinal properties, a peppermint honey which is absolutely divine with that unmistakable peppermint bite (and that he later kindly sends us a jar of) and a Karri honey made from the local Karri tree.
After a little break back at the hotel where I get ready to go to dinner at Cape Lodge. You know how much I love lodges right? Well Cape Lodge is a lodge that is known for their superb food and we were pre-warned to expect the very best from here.
The fresh bread with seaweed butter is utterly moreish. Conveniently I blame the brief portion of the Cape to Cape walk for the two pieces of butter slathered bread that I ate ;)
This was my kind of dish. I love Hiramasa kingfish, it's clean tasting and divine as sashimi and this is served with a Japanese accent to it. There are two squares of sushi rice (seasoned perfectly and the rice is the right, slightly sticky texture) topped with sashimi thin pieces of kingfish and thinly sliced pickled ginger and on the sides are cubes of pickled ginger jelly which gives the mild tasting kingfish seasoning and a burst of flavour. In the centre is a delectable Asian omelette which echoes the flavour of the sushi; the omelette is gorgeously soft and light and almost like a cross between an omelette and a souffle it is so light and melt in the mouth.
The second entree were local Abrohlos Island scallops set atop a black Angus carpaccio which is sliced very thinly. This is then matched with large shavings of reggiano which are dry and crumbly as well as a cream emulsion flavoured with dill and tiny baby capers which balance this well.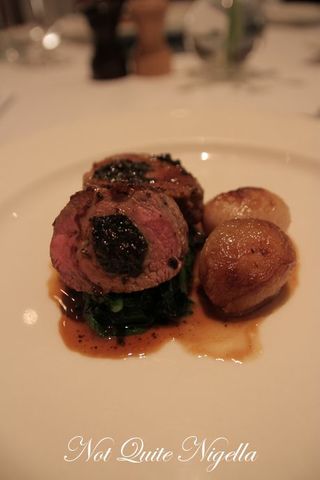 The lamb comes as two round pieces with the centres stuffed with mushroom duxelles (a mushroom paste) on a bed of buttered spinach and two whole roasted shallots. There is a side salad which has rocket, red capsicum and Persian feta and a tangy balsamic vinaigrette dressing. This is a rich dish and despite it looking petite the lamb is mouth watering and I like the spinach with the shallots together.
The chef's selection of desserts are a three parter consisting of a Frangelico creme brulee which is perfectly made but very light in Frangelico served with a thin crispy toffee sesame biscuit-my favourite out of the three. In the centre is a strawberry sorbet with a crunchy biscuit and apricot which is slightly tart.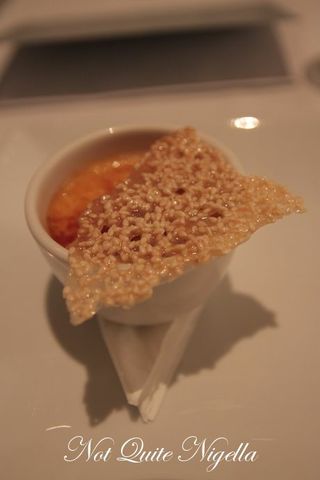 On the end is a very rich dark chocolate pudding which sits on a layer of biscuit sprinkled with coconut. It is heavenly but hard to get through and even though the dishes have been smartly proportioned and not overly rich in cream I have to wave my white flag of surrender.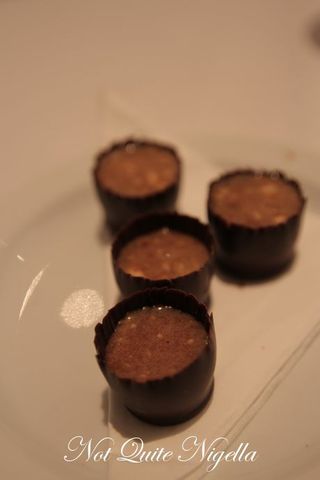 Conveniently I blame the walk and the satisfied rumblings of my tummy for my ability to sleep like a baby that night ;)
And Western Australia wasn't quite done with us yet! The next morning we were off to a yoga and raw foods cafe!
Try as might I'm not really a yoga or meditating person. With yoga I manage to successfully hurt my back and neck almost every time and with meditation...well that's just a recipe for mind wandering and composing to-do lists.
It's an early morning when we wake up at 5am to pack and checkout of our lovely home at Injidup spa and resort. We're heading off for our four hour drive back to Perth and stopping in Dunsborough for our last meal. It is at organic breakfast at yoga and surf retreat Samudra in nearby Dunsborough. Surfing was the original attraction for Margaret River visitors long before the wineries sprouted up and some of the best waves can be seen on the shores here.
We walk through to the cafe and I smile inwardly to myself. If Mr NQNs family had business acumen this would be exactly the sort of place that they would open up. It's vegan, organic and biodynamic food with a huge vegetable garden which they pretty much sustains the whole cafe. Items on the menu are marked gluten free and with an asterisk if they've been heated above 48C. There are ranges of their ready to eat foods as well as packets of supplements-the one that has us interested is the Youth Elixir which you can get a scoop of added to your shake or juice.
_ _We taste a little sample of their signature drink, the super green smoothie. The mango, pear, apple, lemon, orange provides a pleasant contrast for the leafy greens and it is quite palatable indeed, never verging into the "grassy" or too green territory. It is topped with little specks of bee pollen which are nutty and crunchy.
The chocolate recovery drink is nothing like what I expected. And that's not to say that it isn't good, it just isn't like your typical chocolate drink at all. Having a look at the ingredients there is fresh nutmilk, dates, coconut palm sugar & Samudra's chocolate vitalizer mix and adding the youth elixir may have added to this unsuual colour. It is also practically a meal in itself-thick and rich with nuts and dates and whilst it has an aftertaste it is quite pleasant once you get used to the fact that it isn't like a chocolate milkshake.
I always like a hot breakfast with eggs and this was going to be the closest to scrambled eggs on the menu. It features sliced soy balsamic sauteed field mushrooms and tofu scramble served on Yallingup woodfired sourdough bread. I've had tofu scrambles before and they've been a mix of disappointing and bland but this is pretty fabulous I have to say. It has a lot of flavour to it and before when I've had tofu scrambles at other places, the tofu  has been lumpy and watery but this simulates the scrambled eggs texture rather well.
These gluten free pancakes were slightly thick like American hotcakes with a grilled banana and honey lemon syrup. It is paired with cashew cream which has an unusual texture, like a very thick triple cream and a lemony flavour to it. They're filling and tasty and the cashew cream provides an interesting change from ice cream or cream.
I try the cheerful chai but it doesn't really do much for me. There is no strainer and so I spent each sip picking little bits of herbs and spices from my lips and it's not sweet and milky which is how I prefer my chai. It contains Yerba Mate, cardamom, cinnamon, rose petal and cacao.
After breakfast we take a walk around the gardens which are all done organically and biodynamically although not yet certified organic. There is an astounding variety of produce as the garden stretches deceptively long. There is enough grown to supply the cafe although at times they may find themselves having to order a few bits and pieces in. Kieren the gardener shows us around the various produce.
Feeling fit as a fiddle having sampled the delicious range of gourmet food, raw food and vegan food and adventure we sadly bade our Western Australian experience farewell.
So tell me Dear Reader, are you the type to do adventure activities? Or are you a spa and food person? Or both? ;)
'
NQN travelled to and explored WA as a guest of Tourism WA
Margaret River Wine & Discovery Co.
101 Bussell Highway, Margaret River WA
Tel: +61 0439 910 064
http://www.margaretriverdiscovery.com.au/
Cape Lodge
3341 Caves Rd, Yallingup WA
Tel: +61 (08)9755 6311
Samudra
226 Naturaliste Terrace, Dunsborough WA
Tel: +61 (08) 9779 9977