Hello! It's just me, your friendly spa and food loving hound! Did you guess where we were off to next? No? Well our first stop might give you a hint. It's the Southern Hemisphere's longest wooden plank jetty and the second longest in the world- Busselton Jetty. Well you know I can't resist shopping. In fact I have purposely left my bag and money in the van but of course cute little temptations beckon to me and my friendly travelling companions kindly loan me the funds. I resisted the temptation to buy some higher prices items and stay with this cute little anchor cookie cutter therefore satisfying my incessant urge to purchase while not getting Mr NQN upset when the bills come in.
The jetty is almost 2kms long and winds all the way around to the side. There is a giant slide for families and kids and a couple of places to stop and eat or have a drink, one more casual one a little fancier. the jetty is under construction at the moment and we are a week early before the opening will take place. We get back in the van after this short stretch of our legs and rewatering-the drive from Perth to our final destination is four hours and we have another hour before we get to stop for lunch.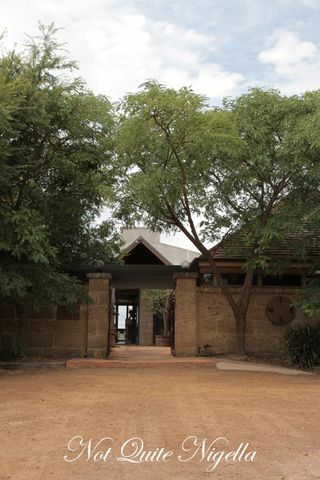 If you guessed we were off to Margaret River well then you are very wise indeed! Well you can't visit Margaret River without going to a winery or several and while we in Perth, we were slightly panicked at the idea of a cyclone hitting the Margaret River region. So we were all on "cyclone watch" and I was doing my best to will the cyclone away. Thankfully the cyclone weakens and we all woke up to the wonderful news that we would be going to the Margaret River! Although let's be honest we all volunteered to barricade ourselves in the Injidup spa where we were staying with bottles of champagne or wine. We're a determined lot we are ;)
We arrive at Wise Winery our lunch destination, I'm quite hungry and ready to eat. We order our meals and then go for a brief wine tasting at the cellar door next door. There are also ginormous jars of jams and marmalades made locally with South West WA produce-these huge 650g jars go for $17 which is a great price and a nice gift (and they have testers, the strawberry and rose jam is lovely as is the beetroot marmalade which is like a relish).
The ceviche is unlike any other ceviche I have tried. Presented as almost folded salmon ribbons, it's very much cooked through (whereas the ceviche I have tried previously still retains somewhat of a sashimi texture inside). Undeniably photogenic it is paired with a freshly and pickled red cabbage and onion, untoasted walnuts and whole black peppercorns and served in little witlof leaf boats. I didn't particularly go for this dish, it wasn't bad but the witlof was too bitter for me and the ceviche needed some herbs or seasoning.
The Wise tasting plate had several components to it starting with a puff pastry enclosed mushroom pie, thin slices of soft pork belly in a pea and mushroom sauce and topped with a gorgeous pickled cherry, chorizo which is a little hard in texture, cold grilled prawns with a very onioney guacamole and little toast shapes with a mild tasting rillette on top.
So I swore that I wouldn't have oysters again today as I figured you were all probably sick of seeing oysters on the site (see how much I love you to give up on oysters? ;) ) so I went with a crab dish. The paccheri (tube pasta) has been replaced with shells today and it is filled with a mixture of crab and what tastes like mashed potato and thyme. I don't actually taste much crab at all in it which is a bit disappointing but I enjoy the squid and cherry tomatoes.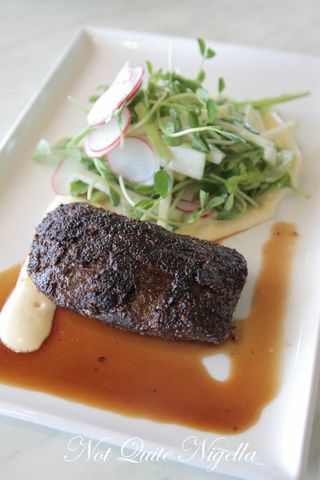 The gnocchi a la romana comes out as three discs of potato and cheese gnocchi which are delicious and go well with the pesto and the tomato, onion and olive diced salad.
Sadly we don't have time for desserts (from our experience here restaurants do take an awful long time between courses) so it's always a challenge to get to other appointment. Plus we are off to check in to our new digs!
My email to Mr NQN...
"Hello,
I'm at Injidup spa and my private line is: 9750 XXXX
I'm off to the spa at 7:30 Sydney time so you can call any time before then. If I don't answer I might be in the plunge pool. sorry :P
xxx"
We arrive at the Injidup Spa and resort in Injidup and are greeted at the lobby area where the spa also sits (and where I'm booked in for a treatment later!). We take our bags to our villas (unusually for a resort of this calibre, there isn't a porter) and check into our villas. There are only ten luxury villas here each bordering the clifftops and below is Injidup beach. Everything is tastefully decorated in creams and whites and there is a large living area, a kitchen area, an elevated bedroom and bathroom and my what makes my day, a private plunge pool. Life is just better with a private plunge pool and I wish my regular life included one too.
On the outdoor deck area there is a BBQ and lounge chairs and the view is magnificent ocean views and features artwork from West Australian artists. There are heated concrete floors (although we won't need these), gas fires and a stocked fridge with complimentary San Pellegrino and breakfast provisions as there isn't a restaurant on site. There is also no cellphone access at all (yes really!) and only landlines. Each villa has their own private landline and local and national calls are complimentary. There is also broadband access in each villa although as expected due to the remote area, this is a tad slow.
For breakfast there is Bannister Downs farm WA lite milk, Margaret river free range eggs, Wise The Bead Chardonnay Pinot Noir (yes I'm including this in breakfast provisions, don't look at me that way), Smiths home made muesli, Yallingup "Wave" wood fired pure wheat bread. All of the breakfast provisions are excellent in particular the yogurt, bread and butter.
The bathroom features a monsoon shower head and Molton Brown shampoo, conditioner and body wash although I was a little surprised that there weren't more toiletries and there was no bath given that it is spa resort. There is also an adjoining room in each villa with two single beds and a separate bathroom. As for me I'm off for a dip in the plunge pool and then the spa. Don't hate me please. I'll be back in a jiffy...
After a quick 15 minute paddle in the plunge pool, I reluctantly drag my eyes away from the views and from watching beetles taking a dip in the water and then paddle to the edge and dry themselves off before taking flight (I swear I was not hallucinating) and I make the short journey to the spa where I have an appointment with massage therapist Joel who hails from the South of France and who was a former Buddhist monk!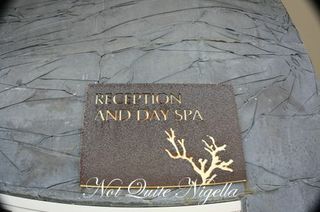 I make my way to the relax room where I fill in a form ticking the box for headaches and then I enter the room where Joel explains what he will be doing and how he will concentrate on a cranial massage as well as an all over massage. He offers me a choice of two different oils, a relaxation oil and a energising oil and I pick the relaxation aroma.
He then proceeds to administer a massage which is a combination of different techniques, some thai some remedial massage but with firm but steady pressure and asks about the pressure level at a few points. It is so relaxing that I catch myself dozing off and I do this about 3 times before deciding to give up and really relax where I fall asleep. I awake an hour later relaxed and adjourn to the relax room where I sip herbal tea and reorient myself with the cruel world.
I go back to my villa and get changed for dinner which is at nearby Smith's resort which is also owned by the same company that owns Injidup Spa. We have some drinks-I start with a non alcoholic mojito (I know,  it's terrible to not order wine in Margaret River but I'm fighting some tiredness). Others order some of the region's famous Margaret River wines and Pipsqueak Cider which is from WA's Little Creatures brewery.
We start with some ferociously good bread. Lightly toasted and spongey we all find that even though we are still full from lunch and snacks we end up eating several pieces of this bread. The dukkah is strong in cumin and sesame seeds.
The three types of olives, particularly the stuffed green olives are quite vinegary and not quite to my taste although it doesn't stop me from eating a few of these (for research purposes).
The steamed local asparagus is paired with small shreds of semi melted buffalo mozzarella, quartered peach pieces. I find the mozzarella is a bit too mild to stand up to the asparagus flavour and perhaps a feta like a Persian feta might have suited it better-also I thought it looked like Persian feta so when I took a bite it almost felt like it didn't have enough flavour.
The grilled sumac prawns are huge and very fresh served dusted with sumac powder and a sweet chilli nuoc nam style dipping sauce. There is also a side salad with onion, herbs, radish, lime and capsicum.
_Vietnamese salad with nuoc nam $2_7
Can you see how I was trying to eat healthier by choosing a vegetarian salad? Well if you know me you'll know it's mainly because I spotted some delicious sounding desserts so i wanted to leave room for them. The salad is mostly leaves and herbs like mint and coriander and some toasted peanuts and very little dressing so I find this quite plain and I think it would have benefited from some type of protein be it chicken, prawn or tofu.
Thankfully Dianne our driver from Swan Tours who is dining with us comes to the rescue with some of her chicken which is grilled but still moist.  And in an instant we have a DIY salad!
_Vasse Felix Cane Cut Semillon 08 _
I can't resist dessert wines I have to admit and considering that I've been looking forward to dessert I figure it's high time I ordered a wine. the Vasse Felix Cane Cut Semillon is smooth, silky and sweet.
The poached pear and plum crumble is slightly tangy on the bottom with a deliciously buttery crumble topping that just begs to be eaten by itself with a large spoon out of a large bowl.
This financier is unlike other financiers I have tried which are moist. This one is quite dry and requires the ice cream to give it moistness although it does have a distinct fresh banana and honey flavour.
The chocolate satin tart is also a little unexpected. I had almost expected a mirror glaze on the chocolate (thus the satin) but this comes dusted with cocoa. the tart itself is very rich and chocolatey although very firm to cut into. The star of the plate is the chocolate sorbet that sits on a moreish praline crumble, possibly one of the best chocolate sorbets I've eaten. The double cream is surprisingly flavoured with rosewater.
We get a cyclone warning-it seems to change from hour to hour such  is the nature of a cyclone and Cyclone Bianca is scheduled to hit us here in the morning which is about when we are supposed to be canoeing down the Margaret River! We go back to our villa and batten down the hatches (I've always wanted to say that seriously!) and studiously avoiding the crime channels (I scared myself silly the night before before realising that I shouldn't watch them as Mr NQN isn't here with me) and I listen to the sounds of silence and wonder what tomorrow will bring. Stay tuned Dearest Readers!
So tell me Dear Reader, have you ever been in a cyclone or hurricane?
NQN travelled and explored WA and a guest of Tourism WA
Wise Winery
Lot 80, Eagle Bay Road, Dunsborough WA 6281.
Tel: +61 08 9755 3331
Injidup Spa and Resort
Cape Clairault Road, Injidup, WA
Tel: +61 (08) 9750 1300
Smith's Beach Resort
Lot 2, Smiths Beach Road, Yallingup, WA
Tel: +61 (08) 9750 1200