Hello my Dear Readers! Guess where I have landed today? In Western Australia! Yep that's right, in Perth to be specific after a five hour flight across the country. It's no coincidence that our first stop once we land is a winery - wine is very popular here in WA.  Having arrived around lunchtime we enter Sandalford winery which is one of Perth's most visited wineries and the oldest family owned wineries. Here, 10 times a year they merge wine, food and music and hold outdoor concerts. Why only days ago Sting had just finished playing. Other acts include Alicia Keys, Tom Jones, Diana Krall, Michael Buble is an upcoming guest is the purple wonder Prince!
Of course we need to rehydrate after the flight so we start off with a wine tasting where we sample a few different wines and they are known for their cabernet sauvignon in the Margaret River region where their vineyards lie.
The Turkish bread is soft with crunchy edges and well seasoned. The kasundi (a strong mix of spices and tomato), extra virgin olive oil and dukkah is crunchy and an excellent accompaniment to the bread.
We try and oaked and unoaked chardonnay and taste the difference. Their unoaked Chardonnay is a modern one made without lactic acid and of course is much lighter in flavour with less "character" which can appeal to those that don't like the heavy oaking. Here they use French oak and they produce 1 million bottles of wine. The French oak barrels last for 4-5 years and once they are done with them they use them for port or sell them to a furniture maker
Max gives us some tips on how wine is judged and he starts with colour which accounts for three points. Aroma counts for seven points and before you taste it, you place the hands on top of the glass and slosh the wine around. This helps to lift it up to the nose.
Our last wine is the 2005 Cabernet Sauvignon Prendiville which is made using hand picked grapes and each bottle is individually numbered. A bottle of this wine could last for 25 years and each bottle is $90. I have to admit that it is utterly fantastic. I should have bought some for Mr NQN who loves red wine and has fantasies of having a wine cellar.
Onto more filling things, after all my tummy is telling me that it is 3pm (Perth is 3 hours behind Sydney) and demanding why I have neglected to feed it. I'm sure it was practically screaming "I'm hungry-feed meeee!!". We sit down at the Sandalford restaurant and order. The snails are said to be a signature dish and looking at it, it had two things that I like: snails and bone marrow. The snails are served in a garlic butter and rest on toasted brioches rounds, while the little pieces of bone marrow sit on the pesto like emulsion which gives the juicy, delicious bone marrow extra flavour.
My new travel companions are four very nice journalists and a PR person who don't seem to mind that I'm taking photos of their food. Isn't that nice!_
_
_
_
The trout is really beautifully cooked and moist inside it simply melts in the mouth. It is served with a deconstructed salad nicoise with diced potatoes, white anchovies, boiled quails eggs, tomato and an olive tapenade which provides the trout with seasoning and saltiness.
The hand cut chips aren't bad although I probably wouldn't order them again as hand cut chips are never quite as crisp as I like chips to be and the aioli is quite light on the garlic.
There are three squares of chilled, chewy caramel fudge topped with vanilla salted popcorn and peanut brittle which gives crunch, balance and saltiness to sweeter than sweet fudge.
The assiette of strawberries is a three a parter with a strawberry panna cotta topped with a layer of rose jelly and diced strawberries. It is more like a bavarois of whipped cream set with gelatin rather than a traditional panna cotta. The strawberry fool has slices of strawberries, whipped cream and a disc of meringue and is crunchy and sweet. There is also a shot glass with a sparkling strawberry shooter with schnapps sabayon which has a fizzy alcoholic punch. Out of this or the fudge I preferred the fudge as only one component really appealed to me (the strawberry fool).
_ _We finish off with a tawny port which as Max describes it as "liquid Christmas pudding" and indeed it does - it even has a slightly yeasty ready aroma to it!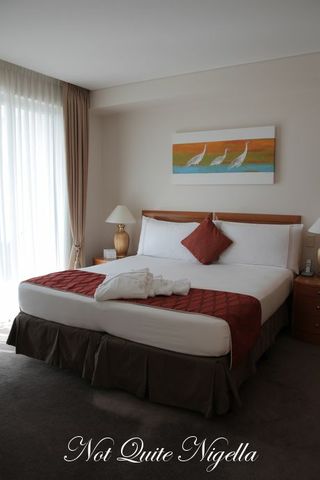 Tummies filled, we head to our next destination-our hotel! We check into The Richardson, a boutique 5 star hotel in the centre of Perth just near Hay Street's shops. A most welcoming sight greets me when I check into my 7th floor suite (apart from it being a suite and it is primarily a suite hotel). It's a bottle of Moroccan mint and berry tea and just the ticket for this warm weather. It's a different warmth from Sydney's as it is much less humid although with similar temperatures of 37C. I pour a glass of the mint and berry soused tea and drink deeply, it's just the right amount of sweet with a lovely light minty freshness. Such a thoughtful gift for guests and much more personal than a mini bar offering.
_
Moroccan berry and mint tea_
The room is large and there's a separate large kitchen and a lounge room and dining table and chairs all in sunny golden yellow hues. I make myself a decaf coffee using their Nespresso machine as I'm trying to stay a little bit awake (three hours, although not a huge time difference, is a bit discombobulating!).
I pad around the carpeted room and inspect it, There's an outdoor deck, a King sized bed and two closets (in case of arguing I suppose) and a spacious kitchen with good quality snacks at surprisingly reasonable prices for mini bars (500ml sparkling Antipodes mineral water is $3.50) and the freezer is stocked with ready frozen meals prepared in the hotel kitchen for those who want to eat in but perhaps want a more economical option to room service.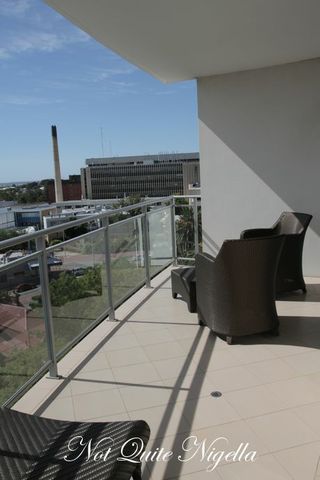 Apart from a pillow menu (you've just got to love these) there are also two pairs of plush slippers in woven sleeves that say "with our compliments" which is a nice touch. I need to come clean now, I always take the hotel slippers. I don't know if I am allowed to but I figure that they're quite disposable ones and that they're just going to throw them out as they're not going to wash or clean them (or at least I hope not!). I take them to wear at home as we have floorboards and I hate dirty feet. Actually now that I've said it out loud, I hope I am allowed to take them...Is that police sirens I hear? ;)
I've never really been much of a pub crawl kind of gal. A lack of tolerance for alcohol means that it's never quite fun traipsing through the city looking for bars and nursing countless glasses of sparkling mineral water. But a small bars tour and one that involves some nibblies along the way? Now that could be fun! Tonight we are off to a Two Feet and a Heartbeat tour of the city of Perth. Set up only 13 months ago as part of the Eat Drink Perth Festival it allowed Perth locals to explore a little bit more of their city. 50 years ago the planning of Perth CBD was such that they moved out the bars and restaurants out of the CBD into the suburbs but this meant that the CBD became sterile and empty at night time and on the weekend as a result.
Liquor licenses were cost prohibitive with one reportedly fetching as much as $500,000 and you could only buy a liquor license from someone who was closing down their establishment so small bars couldn't afford to set up shop. Recent deregulation meant that a small bars license is considerably less which is much more affordable. There is also a stipulation that each establishment can only house a certain number of people and that number of patrons allowed is based on a having a comfortable space for patrons rather than an elbow jostling capacity.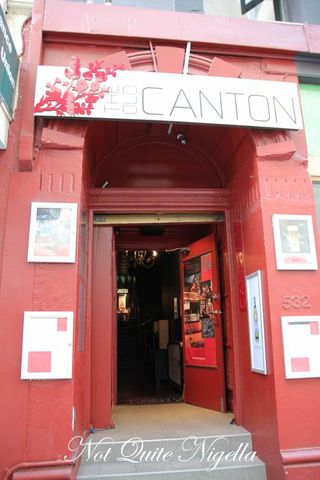 We start at the Old Canton, Perth's first Chinese restaurant. Inside there is original 1970s flocked velvet wallpaper and a pressed tin ceiling with dragons. I know that me and cocktails are a deadly combination and not wanting to peak early I ask for a non alcoholic version of a Liquid gold which usually has Licor 43, mint and pineapple. The cocktail is frothy and sweet and just the order and for this warm evening and easily gulped down. Given the speed at which I drank this, I was glad that I didn't order an alcoholic version.
The platters come out and there is an Asian platter, a Spanish platter and a sort of wedges and pie platter. I must admit that I didn't really go for the food on these platters apart from the empanadas. I think they're meant more as stomach fillers while drinking. Ryan also tells us that they have a current promotion where they will send patrons a taxi to pick them up from their home in an effort to coax people into the CBD without driving (although getting home is not included).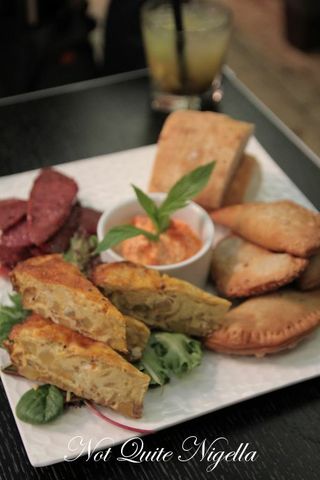 We take a quick peek out into the outdoor deck which featured a graffiti artist's work. Ryan tells us that graffiti and Perth has a love and hate relationship. There are anti graffiti campaigns, yet some are encouraging graffiti to give the CBD some soul and character. When they were renovating the Old Canton, a graffiti artist went into the empty building and started graffiti-ing on a wall. He was caught by the owner but instead of prosecuting him, he paid him to graffiti the walls as you can see above. It lends Perth a very Melbourne-esque vibe.
Staying here for about 50 minutes we adjourn to the next bar, a hidden away small bar called Helvetica. Walking around Perth CBD is easy, it's long rather than wide and walking North to South takes about five minutes whereas walking East to West takes about twenty minutes from one end to the other.
There's a council building, classified under the historical trust that is lit up in the evenings as part of the Light Up Perth initiative. We pass by "Point Zero" which is the spot where all locations in WA are measured from (it's usually the GPO in many states). We pass numerous roadworks on St George Terrace where they are widening the footpaths and reducing the number of car lanes to make it more pedestrian friendly and to allow for more outdoor terrace areas for establishments.
Helvetica is one of those bars that is hidden around the corner of a little alley. Not the kind of place that you might have ventured normally but the bright lights that illuminate the pathway (called laneway activation) promise goodies at the end of the path. More graffiti greets us at the door and we walk in. The atmosphere here is very welcoming and reminds me instantly of a quirky Melbourne bar.
There are bare light bulb lights, lambs grazing on grass on the cover of the menu and all sorts of unusual boutique beers on the menu. We sit down and we have a glass of their Fish house Punch which is a mixture of Appleton VX rum, Hennessy VS cognac, peach liqueur, sparkling wine, lemon, sugar and soda and served in a jar (served with retro mismatched cups). This is probably the only bar in Perth where one can buy whisky by the bottle and keep it behind the bar to drink from.
After spending some time here we move onto our last stop where we depart the tour early. Normally a place on the tour is $50 per person and Ryan will show you about 10 small bars and this is usually done on a Tuesday, Wednesday or Thursday night where it is less crowded so you know where to come back on a Friday or Saturday night. But for us we depart for dinner!
_Why it's the Greenhouse of course. And it is covered with plant pots!
_
And our last stop? The very fascinating Greenhouse. This was originally a structure that sat in Melbourne. The idea behind this restaurant is that is a restaurant with as little carbon footprint as possible. It was designed by Joost Bakker who teamed up with owners Paul and Jason. Paul explains that making it environmentally friendly meant that things like glue were not used and every join is made using brackets and lots of screws (similar to how a plane is built).
Everything is recycled. Street signs are turned into chairs, there is a lot of roll formed steel used with galvanised screws so the building has flex (if needed), the surfaces and cladding are made from plywood and recycled plastic and the walls are filled with straw for insulation. The straw comes from a biodynamic farm in Eden Valley where they mill their own grain. There is a rooftop herb garden and large worm farms and the whole shebang was designed so that it could be easily constructed and dismantled if needed.
But onto the food! It's getting late for us Sydney siders! The babaganoush comes out very smoky and with an unusual whole grain bread that is packed full of nubbly seeds. I'm not taken with the bread, it reminds me of when I first made bread and didn't quite knead it enough and it ended up with a slightly dry and cakey texture.
The tomato bread is slices of toasted bread with the juice of fresh tomatoes brushed over the top. It is paired with a very tasty sopressa and jamon which comes with a recycled tin (cut down and smoothed at the top) filled with a mixture of some large some absolutely tiny olives with a slight orange zesty and herby flavour to them.
The wood roasted vegetables are deliciously sweet with a lot of roasted red Spanish onion and an assortment of vegetables from enoki mushrooms, parsnip, capsicum, shallots and despite the salmoriglio sauce (a delicious sauce made from lemon, oil and herbs) it has an Asian flavour to it.
I was smitten with the oysters as they had run out of the kingfish tartare so I happily ate the dozen plump Sydney rock oysters which are local oysters from Albany in WA. They're served on ice with lots of lime wedges.
So far, it's an action packed first day in Western Australia! Given that it's about 1am in the morning Sydney time and our tummies are still on Sydney time we opt out of dessert and make our way back to the hotel.
There's a liqueur truffle sitting on the bedside waiting for me when I get home. I do love a turn down service and I wonder how I would go about getting Mr NQN to do a turn down service for me. Methinks he might protest but life should really come with a turn down service I feel! :) I take a shower (drainage is a bit of an issue in this bath), do some work and play on the ipad before falling asleep 12 midnight Perth time...or 3am Sydney time!
So tell me Dear Reader, do you ever take the slippers from a hotel room? Or anything else?
Sandalford Caversham Estate
3210 West Swan Rd, Caversham, WA
Tel: +61 (08) 9374 9374
The Richardson Hotel
32 Richardson Street, West Perth WA
Tel: +61 (08) 9217 8888
Two Feet and a Heartbeat Tour
www.twofeet.com.au/
The Old Canton
532 Hay Street, Perth WA
Tel: +61 (08) 9325 9900
Helvetica
101 St Georges Terrace, Perth City WA
Tel: +61 (08) 9321 4422
The Greenhouse
100 St Georges Terrace, Perth WA
Tel: +61 (08) 9481 8333