There's this thing about a three hour time difference. It means that even if you want to sleep in after a flight and a big day and night the night before you inevitably wake up at 6am thinking that you've slept in. And in a cruel twist of fate the clock face tells you the next morning "Silly sausage, you've woken up too early". It's no matter as our second day in Perth sees us actively and hungrily seeking out new food adventures.
We start  with breakfast downstairs at The Richardson which is a Continental breakfast of fruit (fresh and poached), breads, pastries and cereals included with your room rate. There is also more elaborate hot breakfast available on a separate menu which is paid for separately. I've never been good with yogurt and cereal in the morning-call me backwards but cereal is best eaten at 11pm when you crave a crunchy hit. So I always order a hot breakfast.
The scrambled eggs are creamy and there are two types of sausages, a fat and juicy pork and honey and a chicken and herb sausage as well as crispy, halved chat potatoes, a whole tomato and some rashers of bacon. It is well prepared but at $33, it is not an inexpensive breakfast.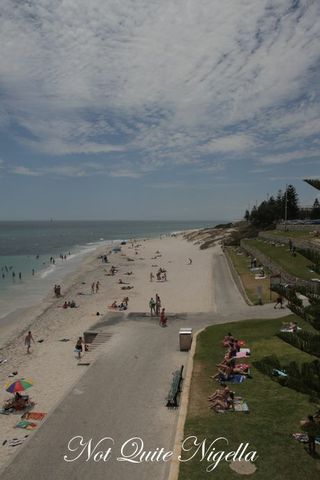 There are certain places that you want to be on a 37C day. At a beach is one of them. Cottesloe beach to be exact, one of Perth's most famous beaches. And given that our bodies think that it's about 3pm Sydney time and it thinks that we've missed our lunch we're all hungry! We arrive at Indiana, a gorgeous beachside restaurant with an airy beachhouse feel to it. Named after the "Indiana Tea House"  we're seated at a corner table where we look out to see happy beach goers and we relax to the cool breeze wafting through the window. There's the stretch of beach just outside where they held Perth born actor Heath Ledger's wake.
Since I'm trying to drink sensibly I want to pace myself and whilst they're happy to make fruit drinks they don't have any pre designed mocktails. I order a fruit cocktail that is a mixture of fruit-most noticeably strawberry and orange juice. Oh and I should mention that I didn't put any of the prices next to the dishes as I think they gave us larger sizes than what was on the menu. This was because we were such a large group and we were sharing most of the food and I also didn't see the individual prices on the bill at the end.
Sometimes soft shell crab can be greasy and weighed down with oil. This isn't, instead it is light and crunchy with a pocket of soft, moist sweet crab meat. The dipping sauce is a sublime chilli and lime dipping sauce with a sweet almost plum sauce quality to it. I may or may not have had four halves. I'm not confirming anything... ;)
The fried calamari is lovely and tender although I don't taste much za'atar spice or lemon in the yogurt and I think a lemon aioli or tartare would suit it a bit better and yogurt slightly wets the crunchy outer.
_
_
This plate was enormous and featured a breseola air dried beef, a locally made Prosciutto di Arcari, a divine Sicilian salami called coppacollo and a fantastic duck liver pate with cornichons and a bowl of olives and side plate of sliced lightly toasted ciabatta bread. And despite the fact that I hoovered down a lot of the soft shell crab I keep going back for more of that pate.
OK I know, oysters again right? These are freshly shucked local oysters served with shallots and red wine vinegar. The sauce is more shallot than vinegar which is unusual (it's usually more the opposite) but the oysters are so gorgeous and fresh I slurp each one up with utter gustatory pleasure. I'm an oyster guts I know. Oh and a soft shell crab one apparently.
I tried some of Laura's char grilled asparagus which was drizzled with balsamic. Some of the spears were too charred for me and I wasn't really taken with the egg mustard.
The apple tarte tatin is crisp with buttery pastry and firm but soft apples. There isn't any cinnamon or vanilla added to it which would have been quite nice but it is still quite moreish nevertheless.
Where are we off to next? An Indigenous tour with tour guide Greg Nannup! He is going to guide us around Kings Park where he will show us points of interest and various native plant species. He shows us a saltbush plant. I've eaten a lot of saltbush lamb so it was interesting to see the bush up close and if you press your tongue to a leaf there is a strong salt flavour. It grows readily and helps with salinity challenged soil so it is a popular plant to feed lambs which in turns adds flavour to the lamb meat. The only downside is that the lambs fed on saltbush need to drink four times the amount of water.
_Saltbush _
We see Boab palms which are fascinating palms which can suck in and store thousands of litres of water and then close up their bark to seal it in. They transplanted one from another area and this one is about 750 years old and hasn't stopped growing. He also shows us native peppermint which when rubbed between the palms is incredibly refreshing and fragrant.
He takes us to a lookout where we see a view of the Swan River and tells us that there are 25 or so dolphins that swim through here including a baby dolphin. He also takes us through some of the tools that the WA indigenous people use and it's interesting to see some similarities between the tools of the aborigines in the Daintree versus this area.
The Kings Park shop is also worth a visit and features absolutely gorgeous, unusual items. I could have gone mad in here I tell you and it was lucky that I left my credit card in the car-one of my travelling companion was kind enough to loan me $20 to buy some things!
Must Wine Bar
"Would you like to go upstairs to the Champagne bar?" they ask us and there's a look of "Hell yeah!" from everyone. Some things are a given that they will be met with an enthusiastic yes. A French accented gentleman greets us and explains the various types of champagnes that are on offer. People look the part and the atmosphere is dressy decadence. Quite fitting indeed that I've just ordered a glass of Dom Perignon which is not too shabby a drop indeed!
_Chicken liver parfait, grenache jelly, French bread slices $16
_
To accompany our champagne we try the chicken liver parfait topped with a grenache jelly which is blissfully good. It is soft and buttery smooth without any of the metallic taste that can often accompany a liver parfait and the grenache jelly gives is a lovely sweetness on top.
After out little adventures upstairs at the champagne bar (best to book, the space is cosy and it is very popular). A look at the menu reveals a predominantly French theme. Our waitress tells us that the produce is "mostly Western Australian."
I resisted the urge to order a dozen oysters again. I really wanted to but thought that you might throw up your hands and say "What is with the oyster obsession? Can't you order something else?". I mean I had already eaten a dozen oysters that day already and a dozen the day before. So I go for the sea scallops instead. They're served on the half shell and are seared and look to be local ones as they're not the juicy fat Canadian oysters that we otherwise tend to get. It is served with a small piece of Ringwould goat's cheese, a chilled beetroot puree and a drizzle of mandarin oil and it is given balance with the saltiness of the goats' cheese, and sweet aroma from the mandarin oil and beetroot. One thing? A spoon would have been great for eating this as the beetroot puree was delicious.
I adored this angel hair pasta which has a gorgeous silky smooth pasta that reminded me of soft noodles coated in a delectable garlic and basil cream with a hint but definite chilli hit and crab meat. Manna crab is actually what we know as the blue swimmer crab.
This was a three part dish with slices of the seared lamb loin, a buttery shank pie with a buttery shortcrust pastry crust and a crunchy neck meat croquette with soft shreds of the slow cooked neck meat. This sat on a creamy smooth white bean puree and a mint pistou (pesto) which gave the very rich dish it a lift.
The salad was very generously proportioned with plentiful chunks of ripe avocado meat, salty creamy organic feta, toasted pinenuts and baby spinach leaves. This is the salad that you eat and feel that you're not suffering at all by eating rabbit food.
I know that ordering a chocolate dessert is foolhardy at the end of a very rich meal like this but I had to. It's a warm chocolate molleux which is like a fondant with an oozy chocolatey centre and an absolutely perfect salted butter caramel ice cream. Yes salted butter caramel ice cream. Salted butter caramel. So not only do we make salted caramel but we add butter to it! Now you know why I ordered it ;)
I try a little of the lemon mascarpone cheesecake which is very fluffy and light as air with a very thin biscuit crust. Yep another delicious day of eating. And do you know where we're off to in W.A. tomorrow? Go on Dear Reader, take a guess! ;)
The Richardson
32 Richardson Street, West Perth WA
Tel: +61 (08) 9217 8888
Indiana
91 Marine Parade, Cottesloe WA
Tel: +61 (08) 9385 5005
Kings Park Indingenous Tour
Best of WA (WA Visitor Centre) +61 8 9483 1106 or travel@westernaustralia.com
Must Wine Bar
519 Beaufort Street, Highgate WA
Tel: +61 (08) 9328 8255