You know those cakes that look complicated and elaborate but are easy and a dream combination? This is one of those beauties. An easy, gooey one bowl chocolate cake is brushed with Frangelico or hazelnut liqueur, smothered with a Nutella chocolate hazelnut ganache with the tangy sweetness of fresh passion fruit! I called her Valkyrie.
This cake is made even more striking by the fresh flowers on top but don't worry if you don't want to bother with it, it stands alone as a gorgeously rich but balanced cake with the earthy, nutty hazelnuts, rich chocolate and tangy passion fruit.
A friend Mr X recently told me about his favourite cake flavour combo: chocolate, hazelnut and passionfruit. I was curious to try it. We always seem to have passion fruit here to make kombucha and hazelnuts and chocolate are staples in the pantry. The combination was a delicious one and one that I'm glad he told me about!
I recently sat next to someone on a flight who told me a lot of interesting things. He was originally sitting in front of me and when a woman sat down next to him with a baby he moved to give her more room. There were some seats free in my row and we ended up chatting a lot during the flight.
Now he wasn't sleazy at all and not once did he even approach flirting. Our conversation was like two kids in a schoolyard chatting about food and flying and was punctuated with "OMG did you know...?". He shared some great flying tips about how to maximise points, the best places to buy things and he gave me a new set of ear plugs that he swore by (which were awesome btw).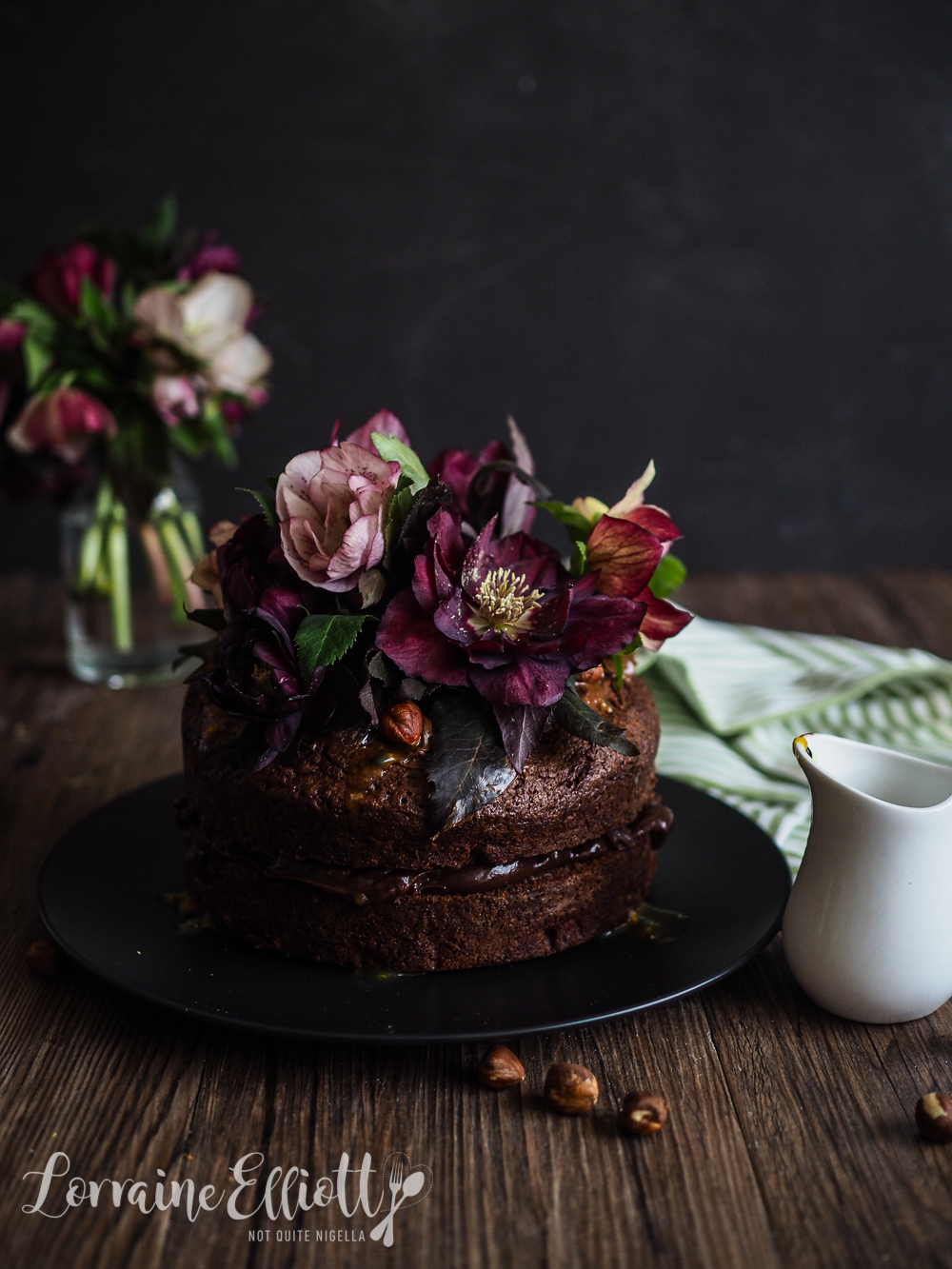 As we were flying Air Asia one meal was provided but he flipped open the menu. "What do you want me to order? Just tell me and I'll get it and then we can share it," he said. This was so sweet of him and he did it unprompted.
I got some more things too to get into the spirit of this little in-flight dinner party. I chose pineapple cakes, soup, curry puffs and he picked a range of things too based on what I wanted.
"Anything else?" he asked and when I looked sort of interested in something he'd add that to the other. Then he picked up the tab for all of the food! "My company will pay for it!" he said reassuring me. He was the perfect seat mate. After the meal he moved to another seat to get some sleep and the whole cabin dozed off for a few hours and then we woke up for the breakfast. Not once was he inappropriate, weird or creepy, he just wanted to talk food and flying!
So tell me Dear Reader, what is your perfect seat mate? Have you ever shared a meal with another passenger? Have you ever tried chocolate, hazelnut and passion fruit together?
DID YOU MAKE THIS RECIPE? Share your creations by tagging @notquitenigella on Instagram with the hashtag #notquitenigella
Chocolate Passion fruit & Hazelnut Cake
Rated 5.0 out of 5 by 1 readers
An Original Recipe by Lorraine Elliott
Preparation time: 45 minutes
Cooking time: 60 minutes
300g/10.6ozs. dark chocolate
100g/3.5ozs. butter
4 eggs, room temperature, beaten
3/4 cup almond meal
1/2 cup brown sugar, firmly packed
1/8 cup plain or gluten free flour
2 teaspoons baking powder
Nutella Chocolate Ganache
1 cup cream
300g/10.6ozs. dark chocolate chips
150g/5ozs. Nutella or chocolate hazelnut spread
Pinch of salt
75ml/2.7flozs Frangelico hazelnut liqueur
Pulp of 2-3 passion fruit
Step 1 - Line the base and sides of a 18cm/7.2inch springform round tin and preheat oven to 160C/320F. In a large microwave proof bowl melt the chocolate and butter together until smooth. Add the eggs and mix until combined. In a jug measure the almond meal, sugar, flour and baking powder and whisk until combined. In 2-3 lots add the almond meal mixture stirring until just combined.
Step 2 - Scoop into the tin and bake for 50-55 minutes or until centre springs back when touched. Cool in the tin.
Step 3 - Make the ganache. Place the chocolate chips and Nutella in a microwave proof bowl. Heat the cream until almond boiling and then pour over the chocolate and place a plate on top and leave for 2 minutes. Stir the mixture - if it isn't smooth then place in the microwave for 30 second bursts at 50% power (or place over a pot of simmering water) and stir until smooth. Place in the fridge to firm up.
Step 4 - Slice the cake in half horizontally. Brush both cut sides with Frangelico. Place one half on a serving plate and cover with half the ganache and then spoon over some passion fruit. Cover the second half and add more passionfruit pulp. Decorate the cake with edible flowers and hazelnuts with a pot of passionfruit pulp to serve.