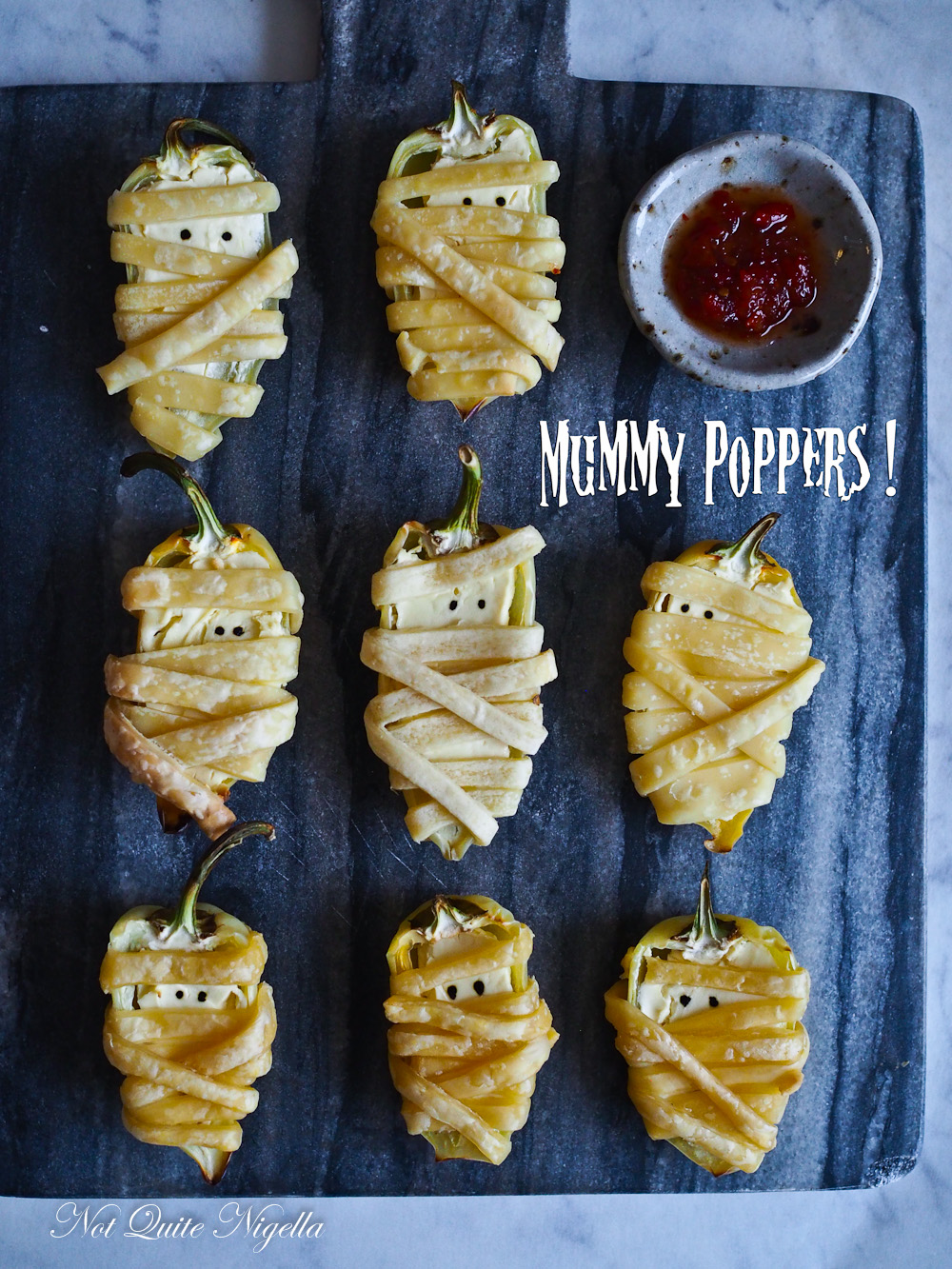 Serve these cute savoury poppers for a cute and slightly creepy Hallowe'en treat! You can use hot or mild chillies for these (or make a couple hot for chilli roulette!). Just halve, seed and fill with cream cheese. Then wrap shortcrust pastry strips around them and bake! Serve these with sweet chilli sauce and you won't be able to keep up with demand for these!
I didn't know how much of a hit these would be at my Halloween party until I served them. I wish I had made more because people are looking for savoury Halloween foods and these were an added bonus because they were vegetarian too. I think they're a little bit cute and not so scary because not everyone goes for the squeamish in the same way that I do. These are mummies but they're also a bit ghost-like too so go whichever way you like with them.
As for the other meaning of mummy, I seem to have become the mummy for little Mochi. And our little dog is going to have a bit of a change of lifestyle soon as Mr NQN is starting a new job soon and he will be able to bring her to work! That's actually part of the reason why he took the job. There are lots of dogs at his new workplace and hopefully she'll get to socialise with them.
I'll be a bit freer during the day because Mochi isn't going so well being left at home (she has severe separation anxiety). She is a very calm and sweet girl but she does feel like we might abandon her at any time. She glues herself to me and likes to keep me in her sights.
I was sitting down the other day and she was about half a metre away from me. Then she reversed beep beep beep without even looking behind her and planted herself square on my foot! She knew that way that if I got up to leave she would definitely feel it. It is nice to feel wanted and I guess with dogs, they never grow up and become surly teenagers so you're always their mummy!
So tell me Dear Reader, do you prefer cute or gory when it comes to Halloween? Is your workplace dog friendly? Would that make a difference for you?
DID YOU MAKE THIS RECIPE? Share your creations by tagging @notquitenigella on Instagram with the hashtag #notquitenigella
Mummy Poppers
An Original Recipe by Lorraine Elliott
Makes 24 poppers
Preparation time: 30 minutes
Cooking time: 20 minutes
12 large, not so hot chillies (I used Rio chillies which were pale yellow in colour)
A pair of disposable gloves
250g/8.8ozs cream cheese, softened (you can use light cream cheese)
1.5 sheets shortcrust pastry, thawed in the fridge
Sweet chilli sauce to serve
Black edible paint gel for eyes
Step 1 - Preheat oven to 190C/374F and line two trays with parchment. Put gloves on and split the chillies in half and remove the seeds. Spread the cream cheese inside them.
Step 2 - Cut thin strips in the pastry and wrap around the chilli. Leave a gap for the "eyes". Bake for 15-20 minutes (depending on the size of the chillies). Then draw eyes on them with black gel and serve with sweet chilli sauce.