Following the devastating fires that spread across Sonoma County in October, the Sonoma area is in the process of rebuilding and recovering and it is now open for business again. Come and take a look at the beauty of Sonoma County and see some of the businesses that call Sonoma home.
Sonoma County is an easy 1 hour drive from San Francisco and it's surprising how quickly the view can change from that of a populated city to farmland. Sonoma competes with neighbouring Napa Valley as a tourist destination and the two are quite different. Sonoma is seen as more spread out, laid back and country as well as less expensive although that doesn't mean that there aren't jaw dropping experiences.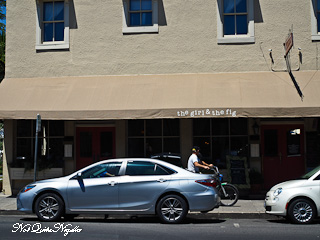 When we first arrive in downtown Sonoma it's lunchtime which is the perfect time to stop at The Girl and The Fig, a very popular local eatery with a California French menu located at the Sonoma Hotel. Owner Sondra Bernstein opened it in 1997 originally in Glen Ellen California but it relocated to Sonoma. Her business partner and chef is John Toulze and the business has quite a following.
Service is very welcoming and we decide to try some of the cafe's house made or Mano Formate charcuterie and some Californian cheeses. But as we are in wine country it's time to start with a rosé wine flight of three wines. Prices are excellent here and portions very generous.
We start with some applewood smoked ham, coppa and lonzo-these are all excellent particularly the first two. The cheeses, wines and meats all come with an explanation on a laminated card which is very helpful especially for those that tend to forget what they ordered (that would be me). I love the Central Coast Creamery Ewenique sheep's milk cheese while Mr NQN loves the Laura Chenal Chevre with honey and lavender on top. The Bleating Heart Death and Taxes is also very good, the cheese washed in a Death and Taxes beer by Moonlight Brewery.
Our main is one of their most well loved dishes, a duck confit. Once we try it we can see why it's so popular. The duck is enhanced by a light treatment of spices and a sweet element to it. It sits on a bed of leeks, lentils and fennel. You can get either one or two legs and I almost wished I had ordered two!
A meal isn't complete without dessert and we try the chocolate and salted fig trifle. It's not so much of a trifle as a layered dessert but I'm quibbling because this is soul satisfying. With a layer of chocolate cremeaux, salted fig sauce, cocoa nibs and a top of burnished Italian meringue. It's so moreish and the cocoa nibs and salted caramel save it from being too sweet.
We wander outside to the Sonoma Plaza, a historically important part of Sonoma. It appears as an eight acre park but in 1846, a party of settlers took over Sonoma Plaza, and declared that it was a Republic of California and raised the Bear Flag in what was called the Bear Flag Revolt. There was an event at Sonoma Plaza that prompted the Mexican government to give California to the United States, steering the state's future in a different direction.
"You never know who you're going to sit next to in Sonoma," says Amy Groth of Prohibition Spirits, Sonoma County's first distillery. What she means is that when Lady Gaga arrived in Sonoma she sat in The Girl and The Fig and sipped on Prohibition Spirits' Figcello, a smooth fig liqueur. It is a small batch, family run micro distillery located at Cornerstone Gardens, a outdoor shopping collective that produces organic spirits using wine country grapes and local resources.
Amy and her husband Fred packed up their lives in Colorado-she was an events designer and he an environmental engineer and moved to Sonoma County where they found their products were welcomed by the local community. They started with one product: the limoncello, based on their love of the drink while travelling in Italy.
It was a drink that is given by restaurateurs to guests where a one hour dinner ended up being a three hour one. It's that sort of drink and that sort of atmosphere that they want in their cellar door which is decorated as a beach club, Sonoma style.
There are several Cellos marketed under the HelloCello brand-an intriguing one is the Bello Hello with navel oranges and damiana, an ancient Mexican aphrodisiac. Along with cellos and brandies they also have whisky marked under the name Hooker's House. They explain why they called it that-it's named after General Joseph Hooker an army general who lived in Sonoma who liked to drink and liked women. With his troops he also had a group of numerous women. They became known as Hooker's House and legend has it that it is why prostitutes are named hookers.
Their rum is called Sugar Daddy after the Adolph Spreckles, a wealthy sugar baron who married a much younger woman Alma de Bretteville Spreckels. They lived in Sonoma and the story goes that she was fond of walking around holding a drink asking for her "sugar daddy" and that was how the term was coined.
Nicely relaxed having spent a couple of hours at Prohibition Spirits, we head to our home in Sonoma County. We take the short drive to the Fairmont Sonoma Mission Inn & Spa, a stunning property that is painted the same colour as the glass of sparkling Rosé that they hand us as we alight from our car.
The property is breathtakingly gorgeous. We walk into the main lobby where guests are enjoying a complimentary wine tasting-this happens every afternoon as we are in wine country after all.
We check into our Mission Suite, a gorgeous suite in a separate ivy coloured rose building. We are on the third floor, the top floor and each room with this suite type has its own balcony. The weather here is warm and balmy and at least 12°C warmer than in San Francisco.
The bed is a high princess style king sized bed. The lounge has a comfortable chairs and couches and this suite has a gorgeous bath right next to the bed (with curtains if you need to draw them). There is a separate shower and double sinks with Le Labo toiletries in a custom scent made just for the Fairmont. Internet is fast and free.
All guests have a complimentary bottle of Californian red (we have a cab sav but if you prefer another type you just let them know). The fireplace is genius too. You simply pop the burlap sack filled with wood, light the card attached to it with matches and it will burn for a couple of hours.
The grounds and hotel are stunning and just made for relaxing with plenty of places to sit back and relax.
Their main restaurant Santé is a fine dining restaurant but with a relaxed country casual dress code where everyone is made to feel comfortable. We sink into a plush velvet chair and take a look at the menu replete with caviar, truffles and lobster.
We start with an amuse bouche: a delightful watermelon gazapacho which suits the warm summer climate. I make a mental note to try making this at home when summer rolls around.
They bring by an unsalted French butter and a house made salted butter as well as some fleur de sel. Then they offer us some bread from a selection of five breads from the Della Fattoria bakery. It feels very indulgent getting a choice of five but we can't resist trying them all between the two of us.
There's another morsel from the chef and it's a fennel egg custard with trout roe served in an egg shell. I adore this silky, rich, eggy custard and the trout roe pops in my mouth. The sommelier comes out and matches wines with each course.
The pork belly arrives and it is a glistening piece of pork belly served with rocket or arugula, pickled fennel on a bed of vanilla scented pineapple puree. To complete the melting soft pork belly are tiny pieces of crispy pig's ear "chicharrónes".
Our other starter is the local Sonoma Saveurs foie gras with pickled peach marmalade with a whole loaf of house made brioche with a balsamic reduction. The foie gras needs a touch of seasoning but goes well with the pickled peach jam and the wine match is spot on.
This is the chef's version of a paella with saffron infused pearl Hokkaido scallops, manilla clams, fennel, piquillo peppers, chorizo and lobster bordelaise.
I really enjoyed the free range organic chicken filled with a black truffle mousseline, morels, mushrooms, Nantes carrots, English peas, asparagus and a sauce Albufera although the morels needed a little seasoning to them. The chicken is very tender and melts in the mouth with a slight crispy skin to it.
I'm excited to see some local strawberries on the menu and they end up being adorably cute little strawberries from Watmaugh farms. There are three desserts: a strawberry cheesecake, a sublime ice cream, mini farm fraises des bois Napoleon with a crispy, sugar dusted pastry. I like them all but it's the simple beauty of the strawberry ice cream that is silky in texture and flavoured with fresh strawberries that I like the most.
I'm not usually a chocolate person after a multi course dinner but I had a strong hankering for it so we order the Valrhona Azelia hazelnut dacquoise torte. It is delicious and lifted with coffee chantilly with a tiny hazelnut petite choux on top and crushed brittle. It's gone in about three bites flat too it's that good.
The next morning we wake up eager to try a day of wine tasting through Sonoma. We have breakfast at a local favourite at Crisp Bake Shop on West Napa Road.
I grab a few things to go including a Sonoma Fog (like a London Fog tea but unsweetened and made with coconut milk), a crispy buttery almond croissant, a still warm ginger scone and a chocolate chunk sea salt cookie that I'm convinced is made up of a third of its weight in chocolate. As I go to leave carrying my teas, a woman sees me balancing the tray and gets up from across the room and says, "Let me get the door for you" with a smile. Life does seem kinder and more idyllic in Sonoma County.
So tell me Dear Reader, which is your favourite wine country area in the world? Have you ever been to Sonoma County? And are you a limoncello lover?
NQN and Mr NQN stayed as guests of Sonoma County Tourism but all opinions remain her own.
The Girl and The Fig
110 W Spain St, Sonoma, CA 95476, USA
Phone: +1 707-938-3634
HelloCello & Prohibition Spirits Distillery
23570 Arnold Dr, Sonoma, CA 95476, USA
Phone: +1 707-933-7507
Fairmont Sonoma Mission Inn and Spa
100 Boyes Blvd, Sonoma, CA 95476, USA
Phone: +1 707-938-9000