Healdsburg in Sonoma County is an upmarket town popular with tourists that has an atmosphere like a country version of Double Bay or Beverly Hills. Property prices reflect this and it's a sought after place to live. The food scene here is also active with cooking classes, farmer's markets and an abundance of beauty.
Our first stop while in Healdsburg is with Relish Culinary Tours' Donna Del Rey. She drives a car with the license plate "2MATO" and likes to start tours at the Dragonfly Flower Farm, an organic farm run by Bonnie Z who changed her vegetable garden into a flower garden and became an accidental florist.
"This garden is full of fine critters," Bonnie says. This is a result of her changing the agriculture from just grapes or a mono culture to fruit and flowers.
Bonnie also holds flower arranging classes where people pick from the vast array of flowers grown in the garden and design their own rustic bouquets or centrepieces. People can also visit the shop which has an honesty box system of payment.
And on Sundays while they are closed, there's Lazy Sundays where people can help themselves to the flowers that weren't used or sold during the week in exchange for a donation of either money or trade.
Donna made Healdsburg her home a few years ago with her young family. We follow her in our car as she takes us to her downtown kitchen space to make some lunch. On the menu today are three things: a local peach salad with burrata, roast chicken with farro salad and an olive oil cake.
We start with the salad and I slice up some local peaches. To this we add pickled onions, shiso leaves and a generous tear of the softest burrata before seasoning this with golden balsamic, local olive oil, salt and saba (similar to vincotto). When we take a bite I'm blown away by how wonderful the peaches taste. We just do not get commercial peaches this sweet and juicy any more.
Donna roasts the Petaluma chicken and I season the farro salad. There is grilled zucchini, red capsicum and garlic and I add some basil, Achadinha Broncha grated cheese, hazelnuts, sherry vinegar, olive oil, salt and pepper to it.
It's a fantastic salad bursting with flavour and goes well with the simple roast chicken. Donna gives me a tip with storing basil. Add a little water to a plastic bag of basil and close it tightly. Keep it on the kitchen counter and it will not turn black as it does in the fridge.
To follow is an olive oil cake that is so moist and dense that Donna tells us can last up to a week on the benchtop. She pairs this with fresh plums and blueberries.
After our cooking class we walk around Healdsburg. We pop into boutiques and there are art galleries as well.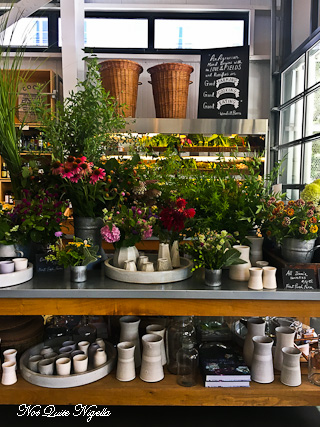 I stop into Shed, an emporium with fresh food (local and imported), a cafe and homewares. Much of the latter is covetable but very pricey. It is also said to have the town's best coffee.
I buy a couple of dresses in a boutique and then we stop for some pie and ice cream at Noble Folk who make all sorts of creative ice cream flavours.
There are flavours like Lucky Charms, Thai milk tea, black sesame and coconut, speculoos cookie butter and seasonal flavours like peach sorbet. They say that they'res a combination of French technique with Japanese and Scandivanian flavours.
We try a slice of blueberry, Albion strawberry and ginger pie with a cornflake and maple syrup ice cream. The pie is good although I would have loved it served warm. The ice cream is super creamy and very sweet and comes as a big, generous scoop, as does the pie. And the thought does cross my mind that we could just stay a little bit longer...
So tell me Dear Reader, are you a country town or a city person? And did you know that tip about basil?
Relish Culinary Adventures
14 Matheson St, Healdsburg, CA 95448, USA
www.relishculinary.com/