So you've only got a short time in San Francisco? Fear not! This amazing city has so many things to do! Start with a gorgeous brunch, a food museum, a basketball game, a spooky ghost tour and of course a visit to the Golden Gate bridge.
9am: Photo of The Golden Gate Bridge
A picture with or of the iconic Golden Gate bridge is a must on every San Francisco itinerary. The last time I was in SF it was foggy every day (the fog even has a name, it's Karl) so I never really got a great photo at the Golden Gate bridge.
If you get a clear day head towards Battery Spencer for a picture with the bridge. There are a lot of viewpoints to choose from and it's a little bit of a walk but the view from Battery Spencer is my pick.
10:30am: Brunch At Palm House
"Our crowd loves to party," says our waitress. Don't let the pics of the giant saucer of cocktails put you off Palm House. It's a fun brunch spot in the Cow Hollow area with a beachy vibe. The front patio is the pick (inside is more for large groups).
The neighbourhood is full of yoga studios, paper shops and boutiques. It's a bit Double Bay and Paddington in one and it's also the place for dog spotting.
The menu at Palm House is Californian mixed with Hawaiian with items like avocado toast, poke bowls, salads and burgers. We take a seat on the sun drenched patio and order. It's a spicy delicious Bloody Mary for Laura and refreshing prickly pear slushie for me.
Spam Fried Rice Musubi $6USD
We start with a Hawaiian item: Spam fried rice musubi. I know some people hate Spam but confession: I'm not one of them. Instead of using sushi rice they use garlic fried rice with the bottom layer of pan fried spam and add pickled onion and egg yolk jam on top with some ketchup on the side. It's delicious and even sometime vegetarian Laura loves this.
Katsu Avocado Fries $11USD
The avocado fries are crunchy on the outside thanks to the panko crumbs and creamy on the inside. They're served with a wasabi aioli.
Fried Chicken Sandwich $15USD
For mains we try the fried chicken sandwich. This is as enormous as it is delicious. There are two chicken breast fillets with a crunchy crumb, rainbow slaw, pineapple rings and sauce. It is absolutely heavenly. It comes with a choice of sweet fries aka sweet potato fries, salad or spicy potato fries and we opt for the first.
1pm: Check Out SF MOMA or the Museum of Ice Cream
SF MOMA
Take your pick: a modern art museum or an ice cream museum. SF MOMA is the modern art museum founded in 1935. It has a permanent exhibition featuring a Frida Kahlo painting and some curious modern art pieces like this blank canvas (the artist is said to have made 5 iterations of this). Upstairs is a large photography exhibit.
If you're looking for something sweet and somewhat unique head to the Museum Of Ice Cream, a candy pink heaven. Sure it is all about capturing that gorgeous Instagram photo, but it is also a fun place where your sweet dreams can come true.
You're best to reserve tickets online (tickets cannot be purchased at the location). The staff is very friendly and introduce you to the exhibit that is a bit like if Willy Wonka was less passive aggressive and met the Instagram age.
There you can eat ice cream to your heart's content. The pumpkin spice cones are unlimited and you can help yourself to candies, munch on an ice cream sandwich or dip your tongue in a cup of Dippin' Dots ice cream.
Make your way around the exhibit finishing at the piece de resistance: the sprinkles pool with slippery dip. I'd recommend having an hour at the very least, perhaps two hours if you want to get a lot of photos.
5pm: Catch A Basketball Game at Chase Centre
Nobody really does a basketball game like Americans and San Francisco has the new Chase Centre that opened in September 2019. It's a huge space, about 4 city blocks or 11 acres in the reclaimed area of Mission Bay. With a capacity of 18,000 it features local art work on loan from SF MOMA and plans are to have restaurants and a hotel on location.
The warriors are playing the Charlotte Hornets so it's a home game and spirits are running high. There's pre game activities, an Instagram Hooptopia "museum" like the Museum of Ice Cream but basketball themed. We take a seat in the arena and there's plenty to watch on the $75M retractable screen that disappears for concerts.
There is also food available. The number one best selling item is the Bakesale Betty fried chicken sandwich with plenty of slaw, a crunchy crumbed chicken filled and soft bun. I add a little ranch and ketchup to it and it's tasty.
At another stand there's also Sam's chowder, a creamy chowder with plenty of chunks of potato and a clam flavour. And if you're feeling a bit flush why not order a lobster roll? There is a generous amount of lobster. I like mayonnaise for my lobster rolls so I avail myself of the pump ranch and ketchup.
7pm: Dinner At Capo's
Dinner that evening is at Capo's, an Italian restaurant on Vallejo Street. If you've ever wanted to try Chicago deep dish pizza this is the place to try it (and honestly I liked it better here than in Chicago, sorry Chicago!).
Baked Artichokes $19USD
As expected the servings are enormous and generous. The artichoke dip is pure creamy delicious with spinach & provolone cream and served hot with soft toasted croutons.
Old Chicago Deep Dish Pizza $23USD
The old Chicago deep dish has slices of Chicago Italian sausage, meatballs with tomato sauce, mozzarella, provolone with dabs of ricotta on top. It feels like at least half the filling is meat which gives it a lot of flavour.
The Crown Point $40USD
We also try the Crown Point which has won many awards but we actually prefer the Old Chicago as this is like a focaccia with topping and is a bit on the dry side.
9pm: Drinks at SPIN
For a sports bar that is not your typical sports bar we head back into town to SPIN bar to work off some of that pizza. SPIN is actually a ping pong bar.
It's best to book ahead if you want to play ping pong because the tables can get very popular, especially on Saturday nights. There are also places to take pics like the ping pong ball filled bath and a gif booth.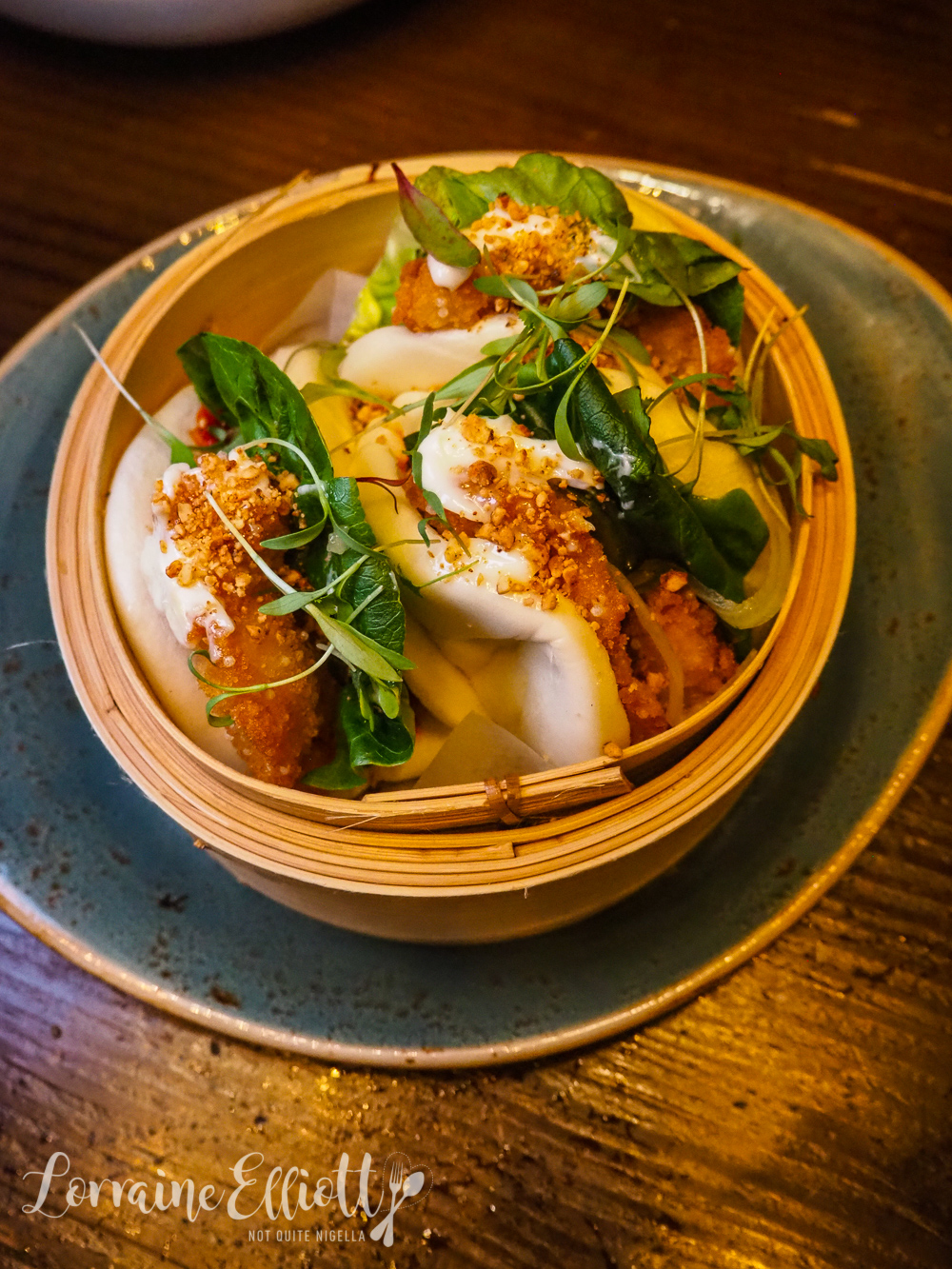 Shrimp bao buns $13USD for 3
The food is also really good and a cut above what you'd expect at a sports bar with items like a shrimp bao with mayonnaise that have soft steamed bao buns filled with crumbed and deep fried shrimp patties, marinated cucumber, butter lettuce, peanuts and ssamjang sauce.
Charred Octopus with Grilled Watermelon $16USD
My favourite is the octopus skewers with grilled watermelon. The octopus is tender and has a lot of flavour from the mint chimichurri and corn coulis on the bottom.
Hop Pop Chicken $14USD
There's also popcorn chicken which is chicken breast pieces brined in hoppy beer served with ginger buttermilk.
Margarita Flatbread $14USD
Also good for sharing is the margarita flatbread topped with fresh mozzarella, San Marzano tomatoes and basil.
9:30pm: Do A Ghost Tour
OR if something spooky over sporty is more your thing, head to Union Square for a memorable ghost tour. The ghost tour held by Haunted SF starts at Union Square where guide, actor and drag queen artist Rainey aka Mary Vice greets us while wearing gory makeup and piercing red eyes. He has a gift for storytelling and the dramatic and he takes us on a 1 1/4 hour of the spookiest spots in downtown San Francisco the site of serial killers and infamous murders.
He tells us about the neighbouring town of Colma, a necropolis aka a city of the dead whose motto is "It's great to be alive". Their buried and dead residents outnumber the living by nearly a thousand to one.
One of my favourite stops is the St Francis hotel, the site of 3 hauntings. Edith Pope socialite philanthropist in the 1930s and 1940s is said to be a ghost there. One of the most famous stories takes place on the 13th floor (technically the 12th floor) in suite 1221 which is where there are 2 hauntings regularly sighted. One is the spirit of Virginia Rappe who in 1921 was said to be killed by actor Fatty Arbuckle. The ghost of a woman in a flapper's dress weeping and tearing at her hair has been seen by guests that stay in this room (and yes you can book the room and it is popular!).
Rainey stands at a corner where the Zodiac killer picked up one of his victims, cab driver Paul Stein. Some young men saw the murder take place and called police with a description of the murderer: a blond man with short hair. Police actually spoke to him but were looking for an African American suspect because the dispatcher had given them the wrong information. To this day the Zodiac killer has never been caught.
Where To Stay: Hotel Emblem
Hotel Emblem is located in downtown San Francisco in Downtown, near Union Square, a busy mecca for shopping, dining and attractions. The quirky hotel's entrance is currently under renovations.
Walk through the doorway and see a wall lined with books and a warm and welcoming reception area. One wall is lined with curved booths while a faux fireplace and long share tables with large wooden tables are where guests have their breakfast. Service at the hotel is excellent with a real "can do" attitude.
The Bluestone coffee shop on the ground floor services both the hotel and outside patrons. The coffee is mixed, depending on who makes it (once it's great, the next cup is burnt).
My room is on the 7th floor of the 7 floor hotel. It is a king deluxe room. While it is "neat" in size (San Francisco's property and hotel prices make Sydney's look reasonable) it is very nicely appointed and rather sexy too.
There's a work desk with books stacked in a neat pile. A coffee service sits in the cupboard (tea isn't common in America). The marble bathroom has a large shower and full sized amenities. The shower has two heads, one high massage head and a lower one although switching between the two requires someone taller than me.
There's a deep red love seat, a comfortable king sized bed with nice sheets. Quotes line the walls as well as the carpet outside the rooms and they peek out from unexpected spots. The hotel's literary theme was based on its previous incarnation, the Rex Hotel in the 1930's.
It was brought forward to the 1950's beat generation and the slogan of the hotel is "Cast your fearless voice". Poet Alan Ginsberg and writer Jack Kerouac feature on the downstairs lobby Obscenity bar. It was named after Ginsburg's obscenity case and the large share table bears quotes from the trial documents etched in metal.
So tell me Dear Reader, have you ever been to San Francisco? Would you prefer the modern art museum or the museum of ice cream?
NQN was a guest of the San Francisco Travel Association but all opinions remain her own. The Museum of Ice Cream was independently paid for.
Palm House
2032 Union St, San Francisco, CA 94123, United States
Monday to Wednesday 11:30am–10pm
Thursday and Friday 11:30am–12am
Saturday 10:30am–2am
Sunday 10:30am–10pm
palmhousesf.com
Phone: +1 415-400-4355
SFMOMA
51 3rd St, San Francisco, CA 94103, United States Friday to Tuesday 10am–5pm
Thursday 10am–9pm
Wednesday closed
Phone: +1 415-357-4000
Museum of Ice Cream
1 Grant Ave, San Francisco, CA 94108, United States
Monday 12:30–6pm
Wednesday & Thursday 12:30–8pm
Friday 12:30–8:30pm
Saturday 9:30am–10:30pm
Sunday 9:30am–10pm
Tuesday closed
Chase Centre
chasecenter.com/
Capo's
641 Vallejo St, San Francisco, CA 94133, United States
Wednesday & Thursday 5–10pm
Friday & Saturday 4:30–11pm
Sunday 4:30–10pm
Monday and Tuesday closed
Phone: +1 415-986-8998
SPIN
690 Folsom St #100, San Francisco, CA 94107, United States
Monday to Wednesday 12–11pm
Thursday 12pm–12am
Friday & Saturday 12pm–2am
Sunday 12–8pm
wearespin.com
Phone: +1 415-636-5995
Haunted SF
wildsftours.com/tour/haunted-san-francisco-ghost-tour/
Hotel Emblem
562 Sutter St, San Francisco, CA 94102, United States
Phone: +1 415-433-4434
viceroyhotelsandresorts.com/emblem