The Mission district of San Francisco is a food and culture lover's delight. From the famous Tartine Bakery to the best burrito you'll ever have to the stories told through graffiti it is the kind of area that may draw you back again and again.
We have been in San Francisco for a little over 3 hours and already I've lost count of the number of times that friendly people have said "Welcome to San Francisco!" to us. If ever a city were to charm the pants off a visitor, it is likely to be San Francisco.
Mr NQN is fascinated by the tech side of San Francsico, so clearly a large part of industry here. Los Angeles has the entertainment industry, San Francisco has tech. As for me I'm rapidly falling for it from a food angle and our first stop is the Mission area of San Francisco. "Mission is like the stomach of the city. It's San Francisco's equator," our Uber pool driver tells us.
It's an area that doesn't have a comparison to anywhere in Sydney. If I could describe it, it's like Inner West and Outer West in one. It's a bit grungy, with a high Latino population although it is gentrified and highly desirable to live in. Three guys skateboard down the street past the graffiti lined streets where tourists, like us, pause to look.
Clarion Street's graffiti constantly changes and reflects the thoughts and feelings of the community. Meanwhile on Mission Street "Grease is the Word" blares from a ghetto blaster and we see endless taquerias. Homeless congregate on the streets and just a street away there are chic clothing boutiques and hipsters.
I mentioned taquerias didn't I? La Taqueria on Mission Street is said to serve up the best mission style burritos in town. The line is long, even at 4pm on an afternoon. It's cash only too but the queue moves fairly quickly.
The mission (no pun intended) on this unseasonably hot day is to order a carnitas mission style burrito (that means without rice). Burritos come with a choice of pork, beef, chicken, chorizo, beef head or beef tongue. They take my order, write it down and I hand the slip of paper to the cashier who is double timing and taking orders for takeaway over the phone one after the other.
Mr NQN miraculously nabs a seat and we wait for our order of burrito and pineapple agua fresca to arrive which I collect about 10 minutes later. We tear open the foil wrap and cut it in half.
The tortilla is super fresh, slightly oily from the griddle and soft as a new chamois. It's filled with slices of meat, avocado guacamole, tomato, lettuce and sour cream. I have to stop Mr NQN from wolfing it down too quickly and we follow it with gulps of the sweet pineapple drink. It's one of the best burritos I've ever had and to this day I can't stop thinking about it.
The Mission is a much larger area than we thought (note to self: when Americans say an area is small, it is big) and tired, we stop at Little Heaven for a Mangonada, a spicy mango drink.
Also in the mission district on Guerrero Street is the famous Tartine Bakery. The bakery is also a cafe with indoor and outdoor seating. I've got my eye on three of the most popular things: bread, a butter croissant, a morning bun as well as a lemon tart. I can't wait to sink my teeth into the baked goods. And if you're looking for a place to eat your food there's nearby Delores Park.
The butter croissant is a thing of beauty-enormous in size with two crispy "ears" at each end that I enjoy nibbling on before I get to the layered, airy, honeycomb patterned centre.
And then there's the morning bun, a triumph of butter and sugar and caramelisation that has just enough stickiness to stick to your teeth for a split second with caramel. The lemon tart is light and crispy bottomed with an appealing amount of tart citrus.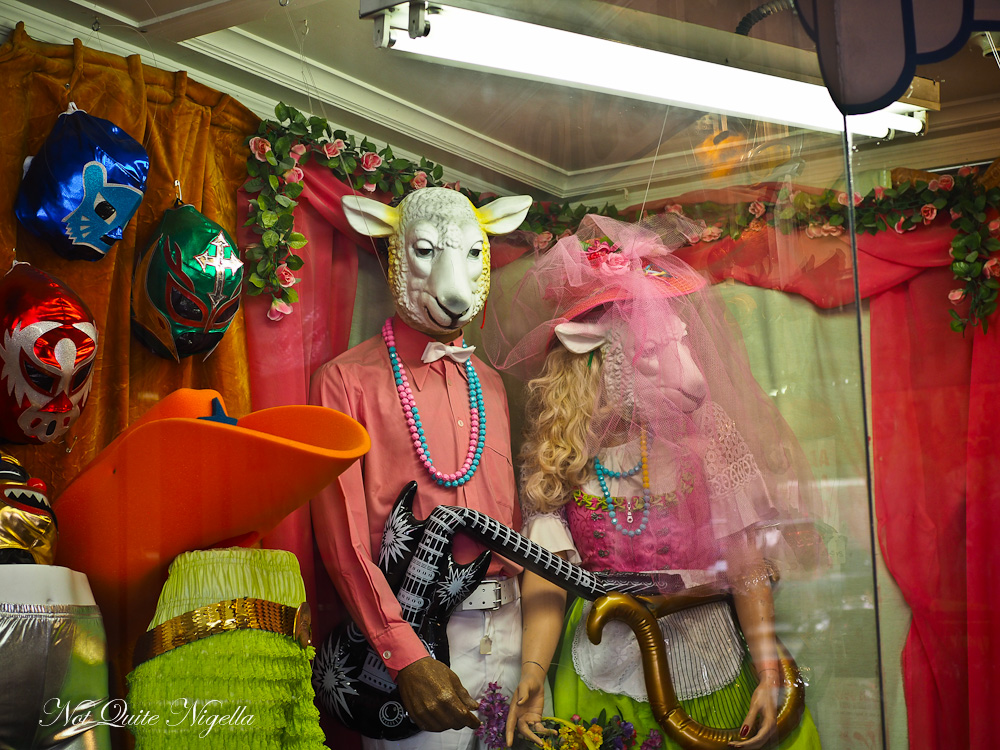 On Valencia Street there's a cluster of boutiques and artisan shops-this is a predominantly hipster area. There's Dandelion, a single origin chocolatier that offers free samples of their single origin chocolates as well as drinks and snacks to eat in. And Craftsman and Wolves is known for their delicate cakes, scones and pastries but also for one item in particular: "The Rebel Within" or the egg muffin that many have tried to replicate.
"The Rebel Within"
These savoury treats sell out around lunchtime so get in early. It is a savoury muffin or cake made with cheeses (Parmesan and Asiago), green onions and crumbled sausage. In the centre is a soft boiled egg. It's up to luck whether you get a runny yolk or not. Ours wasn't and at $7.20USD each I didn't want to keep trying. Still this is an absolutely delicious morsel - soft and comforting and the perfect final touch is the Tabasco salt sprinkled on at the end.
For something sweet, people love Bi Rite Ice cream. What sounds like a supermarket chain is actually a creamery on 18th Street. Their number one best selling flavour is salted caramel and I get a scoop of this and the strawberry balsamic. You can also choose your cone type: cake cone, sugar cone or gluten free. Both scoops are wonderfully creamy but what strikes me is how strong they are in their said flavour. There's no pussyfooting around flavours here with their flavour statements.
Another area that attracts a crowd is the Haight-Ashbury area, considered to be ground zero for the counter culture movement. This was several decades ago and now yuppies have replaced the hippies and have bought many of the area's Victorian terraces. The Painted Ladies are a series of seven Victorian houses located at 710-720 Steiner Street. Many of the Victorian houses were destroyed in the 1906 earthquake and these are probably the best known row of houses also dubbed "Postcard Row" due to their popularity. You may recognise them from numerous photos or even the opening credits of Full House. Their Victorian beauty is juxtaposed against the brightly lit backdrop of skyscrapers behind them.
Alamo Square's park is the best vantage point to view these houses and there are hundreds of people sitting in the park gazing at them when we arrive. I can only imagine what it's like to live in one of these houses and to look out to see hundreds of pairs of eyes gazing in your direction! One of the most famous residents of a Painted Lady was A Colour Purple's author Alice Walker who sold her house around 13 years ago for $1.2 million and used to host informal Tracy Chapman concerts. Now a Painted Lady commands $2.5million. Quite a lady.
So tell me Dear Reader, is there a food that you've eaten that you can't stop thinking about? Where is the best burrito you've ever had? And do you think you could live in one of the Painted Ladies?
Tips for San Francisco:
Anything worth looking at or eating usually involves a queue of some sort. Attractions like the Painted Ladies, Lombard Street and cable cars are full of people.
The weather in San Francisco is cold and foggy-around 10C degrees colder than other parts of California. Don't get too down if you can't get a clear picture of the Golden Gate Bridge. It was never clear while we were there.
Getting around is easy enough with a combination of Uber, buses and cable cars. The latter are really only used by tourists but are a very fun way of traversing the city. There can be long queues to get on them though, but if you ride them late at night there isn't much of a queue or during the day the California Line from Embarcadero is usually not too full.
Hotels are very expensive and rooms are small. Just be prepared for that when you visit.
There are two taxes you will pay in SF, state tax of 7.5% and a hotel room tax of 14% and of course tipping.
We used Uber pool a lot-it's roughly half the price of Uber X. Don't ask me how they figure it out for the drivers, I have no idea but from a passenger's point of view, it's the same as ordering an Uber X but your driver may end up picking someone up on the way (max 4 people in car). For this reason it does take more time and I'd avoid using it if you are in a hurry.
All food in this post was independently paid for. I visited San Francisco as a guest of San Francisco Tourism but all opinions remain my own.
La Taqueria
2889 Mission St, San Francisco, CA 94110, USA
Phone:+1 415-285-7117
Open 11am-9pm (8pm Sundays), closed Mondays
Little Heaven
2348 Mission St, San Francisco, CA 94110, USA
Phone:+1 415-824-1293
Monday, Wednesday to Friday 12–7pm
Saturday 10am–7pm
Sunday 10am–5pm
Tartine Bakery
600 Guerrero St, San Francisco, CA 94110, USA
Phone:+1 415-487-2600
Monday 8am–7pm
Tuesday & Wednesday 7:30am–7pm
Thursday & Friday 7:30am–8pm
Weekends 8am–8pm
Craftsman And Wolves
746 Valencia St, San Francisco, CA 94110, USA
Phone: +1 415-913-7713
Tuesday Closed
Monday, Wednesday to Friday 7am–5pm
Weekends 8am–5pm
Bi- Rite
3639 18th St, San Francisco, CA 94110, USA
Phone: +1 415-241-9760
Open 7 days 8am–9pm