Sonoma's cellar doors all have their own personalities with very different, creative offerings. From the glamorous and theatrical Buena Vista Winery, to the insightful and fun wine and herb pairing at Paradise Ridge to the stunning multi course lunch at Kendall Jackson you can find the right cellar door to suit your personality.
Buena Vista Winery: Eccentric Glamour
Buena Vista winery is Sonoma's oldest premium winery named after its founder self proclaimed Count Buena Vista or Agoston Haraszthy. A spectacular series of buildings, there are no grapes are grown here, that stopped many years ago in the 1800's, but it remains a popular cellar door under the new ownership of Jean-Charles Boisset.
The count had a great vision for the area but a bout of phyloxera destroyed the vineyards and they have not grown here since. The bottles here are a tribute to him - the Count's Revenge with an crocodile snaking around the bottle comes with it a tale of mystery. They say that the count passed away at the relatively young age and was last seen crossing a river in Nicaragua. Only his bag was found and it was assumed that he was taken by a crocodile.
There are several experiences available at the cellar door. You can of course taste wine but you can also go behind the scenes into the champagne cellar which is not usually open to the general public and take a guided tour.
We are offered glasses of sparkling wine and take a peek into the member's lounge, a lushly decorated room with a bartender in costume.
Member's Lounge
This progresses into several of the rooms and it is almost like a wine playground. There is a wall of smells - you press the air pump which releases the aroma of truffle, honey or raspberries.
The champagne cellar is atmospheric and still bears the original pick axe marks by the Chinese labourers that worked there. We follow Don our guide into various nooks and crannies darting down corridors. Then we arrive at a door that he swings open to reveal a museum of tools.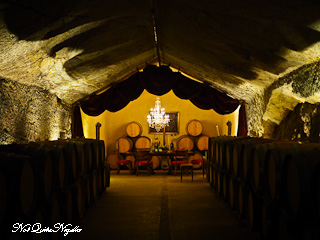 Pick axe marks on ceiling
In it we watch a 15 minute progressive tour and video detailing the history of wine making in the region. It's honestly rather delightfully spooky and eccentric (mainly because of the mannequins sitting at the dining table in the centre) but really quite interesting and details. We end our time there with a quick trip around the maze on the grounds.
Paradise Ridge: Fun & Informative
The sign at the cellar door of Paradise Ridge says "Welcome to Paradise" and when you step through the door and see the herb garden bathed in sunlight with wine glasses and chocolates at the ready you may just agree.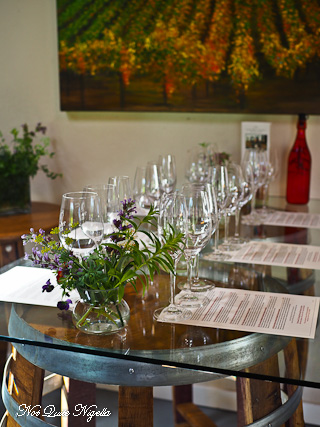 Paradise Ridge's Annette McDonnell is going to take us through an innovative "Infused Chocolate and Wine Sensory Experience" that will help us understand the way that food influences wine.
The experience is said to help demystify wine especially for those that smell or taste differently to other people. Annette explains some people that visit the winery don't even know that grapes go into wine and they aim to make it easy for people to pair wine and food.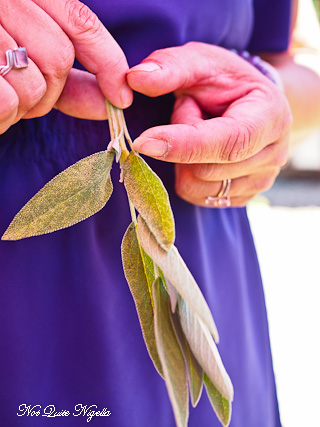 The cornerstone of Annette's wine tasting are the flavours of bitter, bright, savoury and sweet and she has us try the different wines preceded by bitter (high acid, no sugar), bright (high acid, low sugar), savoury (moderate acid, moderate sugar) or sweet (low acid, high sugar) herbs.
Sweet herbs
She has us scrunch up some rocket or arugula in our hands and then try the Blanc de Blanc sparkling wine. The rocket brings the flavours from the acidic front of the tongue to the middle palate changing the wine simply through the smell of a herb.
Likewise we try the 2016 Vineyard Select Sauvignon Blanc from the Russian River. We take a sip of wine and follow it with a 61% cocoa chocolate infused with lemon peel and sorrel. The chocolate opens up the wine's fruit flavour on the mid palate considerably. And then we follow this with a 2014 Barrel Select Chardonnay from the Nagasawa Vineyard in the Russian River Valley which is paired with a 61% cocoa with hazelnut, tarragon and kale.
Speaking of the Nagasawa vineyard, one of Paradise Ridge's vineyards was named after the Japanese born Kanaye Nagasawa who was a brilliant young scholar who came over to the United States to learn more about the west under the tutelage of religious leader Thomas Lake Harris. A series of circumstances led the adult Kanaye to inherit the land from Thomas Lake Harris and he helped introduce Californian wines to Europe and England. He became known as a wine king in the area. Annette is a natural storyteller and tells us about the fascinating courtship between Dr and Mrs Byck and how the two set about creating Paradise Ridge.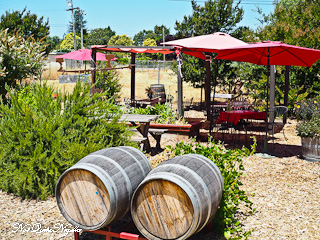 She then brings out a bottle of sparkling pinot gris, a lovely sparkling and a bottle of sparkling shiraz, a drink not often seen outside Australia. We toast to Kanaye and the Bycks.
Kendall Jackson Vineyard Estates: Food, Glorious Food & Wine
Kendall Jackson Vineyard Estates is a stunning property located in Santa Rosa. Our experience starts as soon as we walk through the cellar door - with a test. They hand us two black glasses of wine.
They ask us to guess what wine it might be, whether it be a red or white wine and what varietal it might be. It smells like a chardonnay but it tastes like a red especially with the oak and tannins. It turns out to be an oaked Chardonnay, the winery's best selling Chardonnay in the United States for the last 25 years. The mystery wines change regularly to keep visitors on their toes and it's remarkable how much seeing the wine influences our decisions.
We make our way to the outdoor patio area adjacent to the enormous and impressive kitchen garden. Chef Justin Wangler brings out our two first bites: a crostini made of house made baguette topped with a cheeseless pesto made with borage leaf.
The bread itself is made using chardonnay grape skin powder and the eggs on top are from the bantam couchon chickens in the garden. This is paired with a 2015 Grand Reserve Sauvignon Blanc from Medocino County which is an interesting Sauvignon Blanc because it isn't grassy like a New Zealand Sauvignon Blanc.
This is served alongside a seared scallop "risotto" on Carolina Gold rice grits, stinging nettles and sorrel from the garden with a beurre blanc sauce that goes particularly well with the 2015 Jackson Estate Camelot Highlands Chardonnay.
Our next course is my favourite course and a dish I can't forget: a crispy maitake mushroom with a red wine tempura using pinot noir flour and cold red wine. Justin explains that the organic Maitake mushrooms are grown indoors in sawdust at Sebastapol. The sauce is made using sweet soy dashi flavoured with roast chicken, pickled ginger and estate radish. It's wonderfully crunchy and full of umami flavours. It's the sort of dish you don't want to end. It is accompanied by a 2014 Jackson Estate Outland Ridge Pinot Noir.
Our main savoury course is a seared strip steak with roasted green onions, a Nopales cactus confit and an onion and black garlic soubise. The tender steak is paired with a 2013 Jackson Estate Hawkeye Mountain Cabernet Sauvignon which spends 24 months on French oak.
Dessert is courtesy of chef Robert "Buttercup" Nieto. He is an accomplished pastry chef having represented the United States in overseas pastry competitions. The dessert is an Estate olive oil cake with a refreshing goat's cheese mousse, pickled cherries and candied, crushed Marcona almonds. It's perfectly refreshing and we really appreciated that the serving sizes weren't too large or heavy and this is the perfect sized light dessert.
Do you know why everyone loves pastry chefs? They are the bearer of sweets and they always bring out extra things. There is a canele-all crispy caramelised on the outside and soft and squishy on the inside. And some petit four truffles with toasted marshmallow, local coffee from Taylor Made and a state honey with orange. And one more thing before we go: a box of caramel corn!
So tell me Dear Reader, which winery suits your personality the best? And do you try to match food with your wine as much as possible?
Robert "Buttercup" Nieto (left) and Chef Justin Wangler (right)
NQN and Mr NQN stayed as guests of Sonoma County Tourism but all opinions remain her own.
Buena Vista Winery
18000 Old Winery Rd, Sonoma, CA 95476, USA
www.buenavistawinery.com/
Paradise Ridge
8860 Sonoma Hwy, Kenwood, CA 95452, USA www.prwinery.com/
Kendall Jackson Vineyard Estates
5007 Fulton Road, Fulton, CA 95439, USA
www.kj.com/