Join us for a button popping ride across Portland to try the best of Portland's donut scene! We try eight of Portland's most popular doughnut houses on a crazy day and a half of donut eating!
I hop on the back of Prince-that's the name of the tandem bike that Mr NQN and I have rented for a day cycling across Portland from Pedal Bike Tours. I see the bike's name as good luck (I'm a huge Prince fan). After plugging in our donut stops into our phones we get going on bike. Portland is a fantastic city to bike in with dedicated bike lanes, polite drivers and quiet streets.
We pass gorgeous houses and I wonder if someone has written a book on the houses of Portland? Summer is the best time to see Portland as the remaining 9 months sees Portland shrouded in rain and mist. Some houses look like fairytale houses come to life and we pass so many we want to take photos of as we have stayed on the quieter back streets avoiding the busy main roads.
Coco Donuts
Our first stop is in the NE area of Portland for Coco donuts where everything is pink. Coco has several locations all around Portland. The display on NE Broadway is a bit bare though, with many donuts having sold out. I ask for a recommendation for the best donut. There are so many kinds from raised, cake and filled as well as a premium selection. There are crullers or even cinnamon scroll donuts but I go for the signature Coco.
Mr NQN and I sit down and I take a bite. Oh wow. It's SO soft. Like taking a bite from a cloud in heaven. It's a raised donut with chocolate glaze, chocolate covered coffee beans and a chocolate dusting on top.
I'm a big fan of raised donuts over cake donuts and this is just so light it almost feels like you aren't eating anything (in a good way).
Pip's Original Doughnuts & Chai
Heading back to NE Fremont we stop at Pip's Original Doughnuts & Chai. The thing about Pip's is that they sell adorably tiny donuts. Also we're noticing that people in America really do love their donuts as we watch a young guy down a dozen of Pip's donuts along with a milkshake.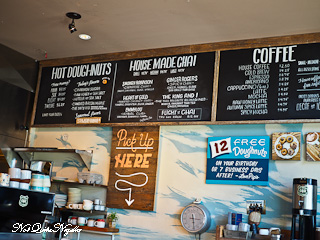 Service is super friendly and you need to order a minimum of four donuts which are all cooked fresh. They are also known for their chais which makes me very happy indeed.
They come out on a vintage plate with the chai that I ordered (the King and I, a Thai milk tea with chai spices). There are six flavours: cinnamon sugar; Nutella; honey and sea salt; Nutella, honey and sea salt; strawberry rhubarb and my favourite the caramelised bacon jam. Because they're all freshly fried these cake style donuts are fantastic.
At Pip's you get a dozen free donuts on your birthday and there are also dog cookies available for four letter friends. I wish we had a Pip's in Sydney!
Doe's Donuts
There's a little bump in our plan when we arrive at Doe's donuts and find the "Tough Luck" neon sign flashing. I mean guys really? That sign made me a bit cross. It's an improbable place for vegan donuts, in the middle of a huge intersection in a strip mall where there are huge fast food chains on all corners.
We go back the next day and the small shop is filled with customers. There's a high glass front display showing about a dozen enticing flavours from Oregon Trail Mix to matcha, edible flowers and local berries.
These are creative donuts and I'm fascinated by the S'mores filled chocolate raised donut cut in half and then filled with marshmallow fluff, oozy chocolate ganache and toasted marshmallows. It's messy to eat with the marshmallow fluff filling but if you like your donuts gooey then these will be very pleasing.
The only big difference I can really discern is that the donuts themselves have a slight crispiness on the outside. My favourite donut is the All Or Nothing, a super light donut that disappears in four generous mouthfuls. It has a nice surprise in the centre with a cookie butter filling, chocolate ganache and a raw chocolate chip cookie dough. This is one of my favourite donuts of all that we've tried.
The Golden Child is a super rich, gooey offering and is one of their signature donuts. It is a raised chocolate donut coated in ganache with brownie chunks, chocolate shavings, chocolate chips and gold pearls. The donuts here are more expensive at around $3.50 to $4 but come in a cute doe adorned box.
Blue Star Donuts
Blue Star donuts are doing a roaring trade as we watch people come in and out like a revolving door. When people tell us their favourite doughnuts usually Blue Star gets a mention. Their donut are also more expensive at around $3.50 a donut but less than Doe's $4 a donut (which is like Australian donut pricing). The proposition at Blue Star is that they use a brioche style dough that takes 18 hours to develop. They use cage free eggs, European style butter, hormone free milk and the donuts are cooked in rice oil.
We try three here-the apple fritter is a thick donut with shredded granny smith apples, cinnamon, coriander, and juicy golden raisins which once fried is dipped in apple cider glaze. This is a thick, hefty donut. The Cointreau creme brulee comes with a pipette of Cointreau and a custard filling with a bruleed toffee crust on top.
The most popular one is the blueberry bourbon glazed donut with basil. The flavour ideas are inventive but you have to love the slightly denser, more buttery brioche style dough to appreciate these.
Tonalli's
In the Alberta area lies Tonalli's. It's an unpretentious donut and ice cream shop where donuts come in a paper bag, not a fancy box.
The other customers are families enjoying a pre-dinner doughnut. Even though it is 7pm this donut shop opens until 2am so the displays are full.
We try two donuts based on their recommendations and they are about a dollar each or so. The maple bar is the most popular donut. It's very fresh each bite sinking in our mouths with every bite.
The blueberry old fashioned cake doughnut is our other choice and this is also fresh and soft and all I can think is how great this would be with coffee or tea to wash it down. Or an ice cream as I look around.
Heavenly Doughnuts
So far doughnut shops seems to be either artisan or cheap and cheerful. Heavenly doughnuts falls into the latter category-at first sight it looks like a car wash.
Service is super cheery and friendly and people eat and go-there's no instagramming going on here.
The donuts look simple and the old fashioneds are popular here. We try a maple bar, nice and light and sweet and we also try a cinnamon crunch.
This is really quite nice with a good amount of cinnamon and something a bit more than a plain glazed or dipped donut. And at $2 for 2 donuts, you can't really argue!
Donut Byte Labs
Donut Byte Labs is a little food cart that sits on SW 4th Avenue where the donuts are made by a donut robot machine. It is also where a lot of locals recommend you go instead of Voodoo-they're located in the street parallel to Voodoo Doughnuts. And they're really the polar opposite of Voodoo. There's no queue and these are tiny doughnuts. The price of a dozen depends on how fancy you want them, it's $5 for a dozen plain, $10 for a dozen mid range of $15 for a dozen fancy.
I go for the fancy because they sound the most exciting. The cake donuts aren't freshly fried (like Pip's original) but they are still fresh and freshly topped to order. These donuts are less sweet and they use what taste like fresh fruit purees and fresh fruit. The flavours are floral and more sophisticated using lavender, honey, creme brulee and French toast.
Voodoo Doughnuts
Everyone talks about Voodoo Doughnuts. They seem to either love them or hate them and most locals we came across were mildly disparaging saying they weren't worth the queue. And when you see the queue it is intimidating.
They're the shop that started the whole Portland donut trend so it would seems remiss to not visit but every time we went past a store and saw the queue we slightly freaked out. But when we unexpectedly finished lunch early we thought that we'd give it a go. Well I thought I'd get in line but Mr NQN refused to.
I joined the queue at a lucky time because it only took 40 minutes.Yes I wrote that the queue ONLY took 40 minutes which seems crazy but my barometer and tolerance for queues was clearly broken by Voodoo (reports say that it takes an hour). And do you know what is even crazier? Voodoo Doughnuts is open 24 hours 7 days a week and this is still the queue.
I watch people eating their lunch and reading books while waiting to reach the front counter. There is a small door that we pass on the side-that's the original door to the shop before it became insanely popular.
Finally, I get to the front of the store where they ask people to leave a space for people to walk out with their signature pink boxes.
It's like arriving at a fun park with colourful decorations, spinning displays and a giant sprinkle donut lighting fixture on top. Merchandise reads "The fun is in a pink box" or underpants read, "The fun is in the hole," which I found a bit creepy.
It is cash only here although there is an ATM. When I get to the front I'm greeted with a smile and a young guy who doesn't rush me and shows me different donuts like the TexAss (an enormous one equivalent to six regular donuts!) and a cock and balls (I asked to see that, that's for bachelorette parties). The Memphis Mafia is sold out (weep!) but the Voodoo Doll isn't which makes me happy.
It's $4 for two donuts which is a nice surprise-I thought they'd add a premium to these given the queues so I add two more just because I queued. I chose a Neapolitan chocolate cake doughnut with vanilla frosting, strawberry dust, and three marshmallows. And because I love Butterfinger bars I also order a Butterfingering with chocolate cake doughnut with vanilla frosting and Butterfinger crumbles. I also order the Oh Captain My Captain with vanilla icing and Captain Crunch donut and a Voodoo doll donuts which I loved.
So what were they like? The Voodoo doll is filled with raspberry jam and topped with chocolate icing. It's quite a hefty donut and when you pick it up you can feel the weight of the jam icing. There's no skimping on the jam filling.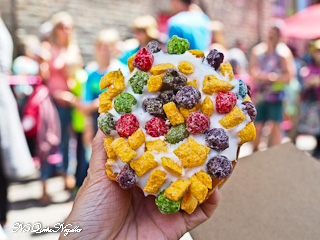 I really like the novelty of the cereal topped, colourful Oh Captain My Captain as the Captain Crunch cereal is very crunchy which is nice because of course turnover is so fast so I guess they aren't sitting around as long. I don't think I could eat a whole one as I'd probably go into sugar shock though.
I wasn't as huge a fan of these cake donuts but these aren't really ever my favourite donuts. There's also a range of vegan donuts available too.
I like butterfinger chocolate bars because of the toffee crunch. The donut version isn't as crunchy although I quite liked it.
And the best time to visit? According to the guy that served me, between 3am and 7am!
"My jeans have shrunk," says Mr NQN putting on his jeans the next day. "I wonder why?" I ask.
Note: we also wanted to visit Delicious Doughnuts but they were closed on the day we visited.
So tell me Dear Reader, how many donuts could you eat in a day? Do you ever try to combine high calorie food with exercise?
All food in this post was independently paid for
Coco Donuts
2735 NE Broadway St, Portland, OR 97232, USA
Phone: +1 503-477-9824
Plus many other locations
Pip's Original Doughnuts & Chai
4759 NE Fremont St, Portland, OR 97213, USA
Phone: +1 503-206-869
Doe Donuts
8201 SE Powell Blvd, Portland, OR 97266, USA
Phone: +1 503-333-4404
Blue Star Donuts
3549 SE Hawthorne Blvd, Portland, OR 97214, USA
Phone: +1 503-477-9635
Plus many other locations
Tonalli's Donuts & Cream
2805 NE Alberta St, Portland, OR 97211, USA
Phone: +1 503-284-4510
Heavenly Donuts
1915 N Lombard St, Portland, OR 97217, USA
Phone: +1 503-283-4141
Donut Byte Labs
12 SW 4th Ave, Portland, OR 97204, USA
Phone: +1 503-801-7321
Voodoo Donuts
22 SW 3rd Ave, Portland, OR 97204, USA
Phone: +1 503-241-4704
Plus 1 more location Voodoo Donuts Too