Sight seeing around San Francisco and want to find somewhere delicious to eat while exploring each neighbourhood? San Francisco is a large city and manageable if you're looking to eat in a certain area. Here are some selected picks in some of San Francisco's more popular areas to visit.
Downtown Eats: Bluestem Brasserie
Bluestem Brasserie is home to two things: a burger with bacon jam and totally addictive truffle fries (the answer to whether you want to upgrade from regular to truffle fries is always a yes).
Brasserie Burger $18USD
The burger with a thick layer of bacon jam heaven comes with a tender beef patty, white cheddar, thick cut and soft rosemary grilled onion and frisée. It's delicious and comes with a side of irresistible truffle fries.
Buttermilk fried chicken sandwich with bacon $20USD
The buttermilk chicken sandwich is also a contender with a Calabrian chili aioli, bread and butter pickles, red onions and we added crispy bacon and avocado which they added in very generous portions.
Take Six Cake $11USD
If you are visiting Blue Stem, I urge you to save room for dessert. Pastry chef Lori Baker is a talented cake maker who creates spectacles such as a six layer cake with layers of red velvet, devil's food, chocolate mousse, tiramisu, raspberry jam and raspberry buttercream. And despite what might think, it actually all goes well together the dominant flavours being the raspberry, chocolate and the creaminess from the mascarpone gives it a velvety texture.
Strawberry Crisp $11USD
The strawberry crisp is also an ode to streusel topping and is made with fresh in season strawberries.
Lemon Dynamite $11USD
The Lemon Dynamite is textural perfection. It is a crème brûlée napoleon with a crackly toffee crust, lemon verbena with thin, crisp pastry squares, fresh blackberries and slices of nectarine. See? You really have to leave room for dessert ;)
Embarcadero Eats: Ferry Plaza Building Farmer's Markets
If you find yourself near Embarcadero on a Saturday morning (or tip: try and ake sure you are if you visit San Fran!) the Ferry Plaza Farmer's Markets are a treasure trove of fresh produce and water views.
Inside the building are permanent stall holders like Sur le Table (with so many things that you never knew existed or you wanted). when we visited it was in the middle of stone fruit season so we ate amazingly sweet peaches. Many of the vendors grow organic produce and these peaches and nectarines taste like fruit of yesteryear - that is, fruit with real flavour. One of the most popular stand is the Roli Roti roast pork or chicken sandwiches made using all and fresh not frozen natural local ingredients. Just follow the long queue...
You can take whatever you eat to one of the tables or benches facing the Bay Bridge and eat it with a view. And if you find yourself weighed down by produce purchases there is a veggie valet that will store them for you. And if you see people pushing carts, they're the city's chefs stocking up for supplies!
SoMa Design District Eats: Dumpling Time
Yum cha or dim sum is a weekend ritual for many and people queue for over an hour to get their fix of Dumpling Time's twist on dim sum. It is located on Division Street in the SoMa Design District of San Francisco. There are tables inside and outside and we get a table outside.
Shrimp Har Gow $6USD for 4
We start with bottled iced teas and a range of goodies. They recommend 2-3 dishes per person and take us through the most popular choices. The shrimp har gow are crystal dumplings filled with shrimp, cream cheese and porky goodness and come with a cilantro or coriander pesto sauce. They're actually delicious although I can't say that the cream cheese really showed up in these but I do like the texture of the prawns.
Shrimp Toast $8USD for 6
Shrimp toast comes as six pieces of fried bread topped with shrimp paste. They are crunchy and good although I would have loved a bit more shrimp on mine.
Tom Yum Goong Xiao Long Bao $9USD for 6
We can't resist the idea of a tom yum goong xiao long bao and these little red dumplings look plump with fragrant Thai scented soup. They're really good - I see Mr NQN eat 5 without even asking me if I wanted more! You've got to watch your dumplings here ;)
King Dum $8USD
However, hands down my favourite item is the King Dum, a giant xiao long bao. It isn't just a gimmick as the XLB is filled to the brim with plenty of delicious pork broth that you drink through a thick straw. Although it's a bit inelegant to eat, it is delicious. Whenever I eat giant things I like to pretend that I have shrunk to a miniature size.
Char Siu Bao $6USD for 3
I don't usually order char siu bao but I was curious to see what it was like. This is made using pork belly char siu with a touch of peanut butter. The peanut butter flavour is quite mild but this is probably because of the saucy char siu filling.
Seafood gyoza $9.50USD for 5
The gyoza are served under a crisp egg white net and are filled with crab, scallop and shrimp encased in a spinach skin. They're served with a spiced chilli butter sauce as well as a soy based sauce. The sauce is a little unusual at first but the flavour does grow on me.
Vegetarian Dumplings $8USD for 8
The vegetarian dumplings are not bad and they are very prettily presented. The green Xi'an dumplings are served with a layer of edible flowers and sliced red chillies to give them a pep of flavour. Inside there are local greens, heirloom carrot and coriander.
It's dessert time and there are three types of buns as well as a steamer with one of each. They're all terrific and distinct in flavour. There's the egg yolk custard bun which is comforting and sweet, and then the green tea and milk bun and a beet and taro bun. I can't choose a favourite as I liked them all but I did like the novelty of the beet and taro bun.
SoMa Eats: Trace
As we were staying at the W hotel near Yerba Buena we tried their restaurant one night. Trace has good, solid meals there and you can usually get a table without booking. Service is very nice from our main waiter although the maitre'd had some attitude and another member of staff only spoke to Mr NQN which was silly as I make the food decisions and Mr NQN doesn't like to talk much.
We start our meal with a Carrot Top cocktail (Casa Noble Reposada Tequila, ancho verde chili liqueur, carrot juice, lemon honey syrup) and a Lemongrass Drop (Tito's vodka, pineapple, lemongrass, St. Germain elderflower liqueur and lemon) and they're both great but the lemongrass drop is a perfect summer cocktail.
West Coast Oyster $14USD
We tried the oysters and I was smitten by these petite oysters with a sweet jalapeno mignonette with shallot, cilantro. I could have easily downed a dozen of these.
Stone Fruit Salad $14USD
As the stone fruit was so glorious at the farmer's market we had to order the stone fruit salad. There's a round bed of quinoa and on top of this is tears of soft feta, pistachio, baby mint, with nectarines and a honey and lemon vinaigrette. It's a gorgeous dish.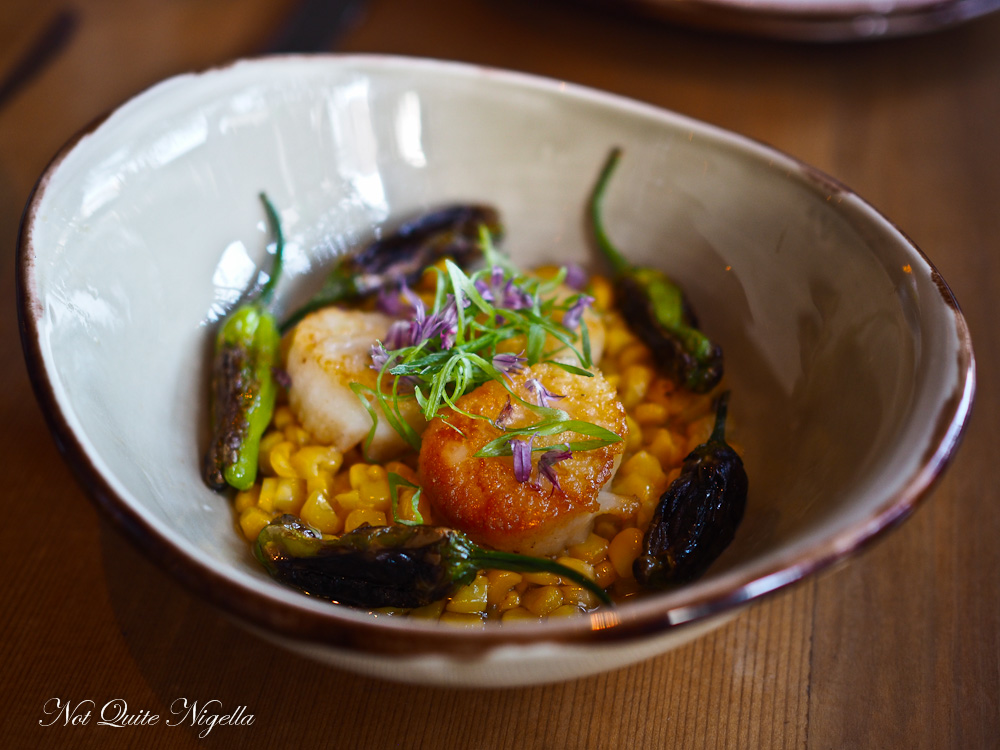 Roasted Scallops $19USD
I adore the scallops which are large ones from Hokkaido. What I loved even more than the scallops was the bed of buttered creamed corn with charred shisito peppers, scallions and banyuls. I could have licked my plate but I didn't.
Herb Roasted Flat Iron Steak $36USD
We order the steak as I love the flat iron cut. I think I've become used to dry aged steaks in Australia and adore them but here there aren't as much dry aged steak. There is pico de gallo, sauteed summer squash and pine nuts but I think it's a lesson to ask if a steak is dry aged when in America.
Sweet Onion Socca $20USD
Mr NQN suggested the Socca, a chickpea pancake that we had eaten in Nice, France. It's a great choice and here it is topped with roasted beets, cucumber, herbed ricotta, sunflower sprouts, harissa honey and dukkah. Both vegetarian offerings are excellent and we both loved this dish.
Carrot Cake $9USD
Whenever I see carrot cake on the menu I always feel compelled to order it. Mr NQN was hoping for the mango sundae with coconut mochi but we were told that this was the signature dessert so we had to try it. First of all, unlike a lot of food in the US it is a petite size which isn't a bad thing at all, it's just unexpected. But having said that this is very light and airy with a feather light topping of vanilla mascarpone. On the side there are spiced crumbs, blueberries, nectarines. And I just wanted to eat this all again.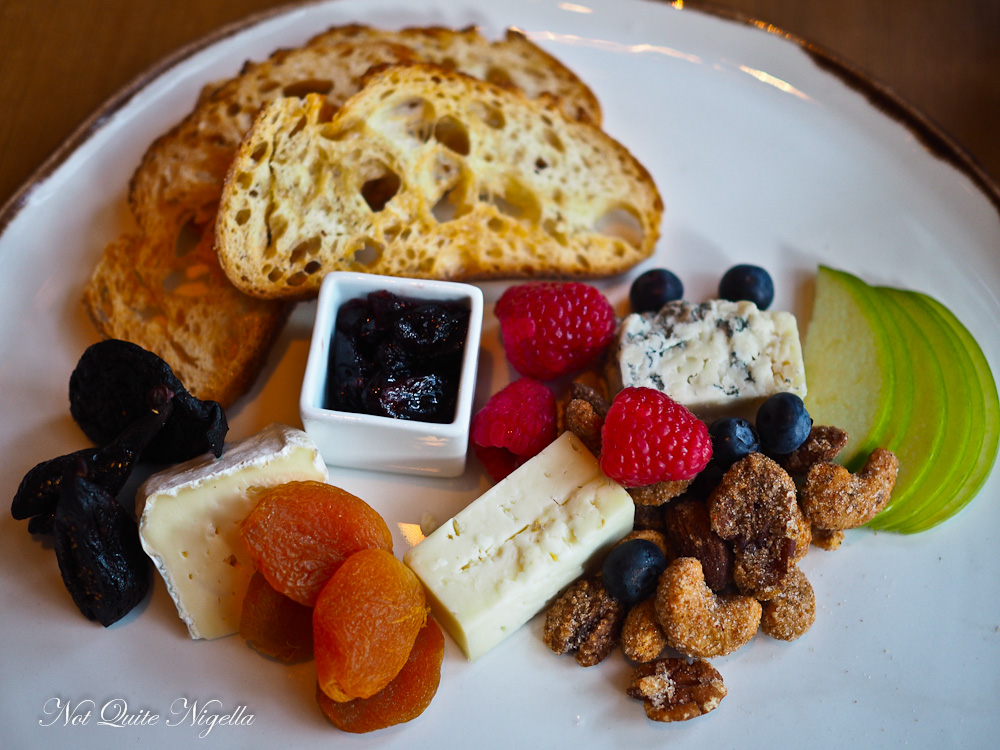 Artisanal Cheeses $16USD
We had to try the cheeses as they were all California cheeses. There is a Big Rock blue, a Saint Andres sheep's milk cheese and a creamy mountain cheese (which I was particularly smitten with as it tasted like the creamiest butter). They come with sourdough crostini, cabernet cranberries, cayenne spiced nuts, dried figs and apricots and slices of apple.
Union Square Eats: Farallon
Our last night in San Francisco is in busy Union Square. Farallon has achieved something of a feat, being in business and a busy business for 20 years. It's a seafood themed restaurant, wowing in its decor with enormous suspended jelly fish lights and an oyster bar in the front.
The main restaurant is further into the restaurant where booths are made for sinking in and relaxing - there are lovely two person booths and an open kitchen. The interiors were inspired by the Farallon Islands in the Bay designed by designer Pat Kuleto.
Service is seamless. Sometimes when I go to the United States, I'm reminded of how limited our service offering is in Australia compared to that of in the U.S.. Of course you pay for the privilege with a tip but it really defines hospitality here when the waiter just appears at the right second as if they read your mind or they tell you (and sound like that they mean it), to take your time reading the menu. His menu descriptions are lush yet informative and I whisper to Mr NQN that if our amazing waiter were to wait in Sydney, people might not know what to do with this level of service and may just throw money at him.
Perhaps what I'm saying is that this is a place for a special meal - a birthday goes off in the corner and a waiter brings a very delighted woman a beautiful cake with a candle. People holds hands, groups celebrate in a private room lined with bottles of wine. It's busy and it's a Sunday night.
Tasting of Pacific Coast Oysters $18USD
We start with oysters because that's what they're really known for (along with caviar). We try a tasting of three kinds: Amethyst, Kumamoto and Olympia. Our waiter tells us that the Amethyst and Kumamoto are grown in the same area yet taste vastly different. They're also different in size with the Amethyst oyster being half the size of the meaty, sweet Kumamotos (always a favourite oyster for me). The Olympias are a native oyster to the US, in fact the only remaining native oyster and after the sweet Kumamoto they have a distinct savoury, zincy flavour. It too is tiny with a beautiful shell that I just want to pocket as a memory treasure. I have been known to take oyster shells home if they are pretty.
Burrata and Maine Lobster $29USD
We start with the burrata and Maine lobster. Tender, perfectly cooked lobster is paired with a tiny tear of burrata. This comes with diced heirloom melons, anise hyssop, pistachios and a hit at the end of Calabrian chilli that lingers.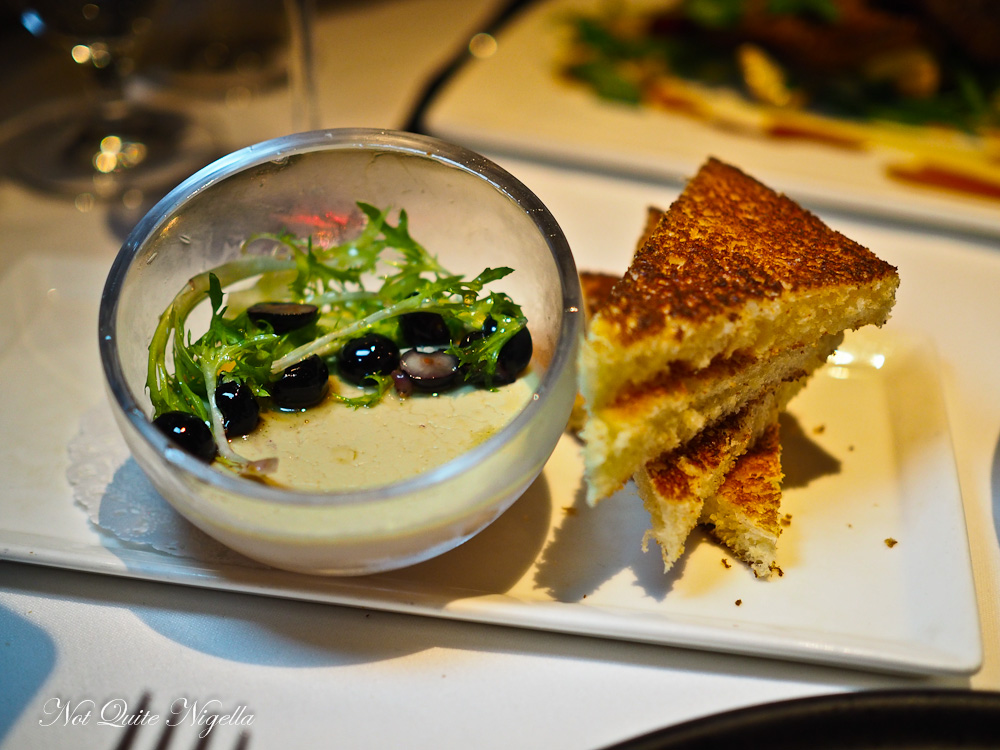 Potted Sonoma Foie Gras $15USD
We are headed to Sonoma County next so I'm excited to see Sonoma items on the menu. We also start with the potted foie gras pate topped with blueberries and paired with triangles of lightly toasted brioche.
Garganelli Pasta $16USD
So we had three entrees - well technically one course was a pasta course. Oh my kingdom for another bowl of this garganelli pasta. Like tiny handkerchiefs folded over in the centre, this house made pasta has golden cordyceps mushrooms and a salt spring mussel fondue. I savour every bite of this from the perfectly textured pasta to the plump mussels.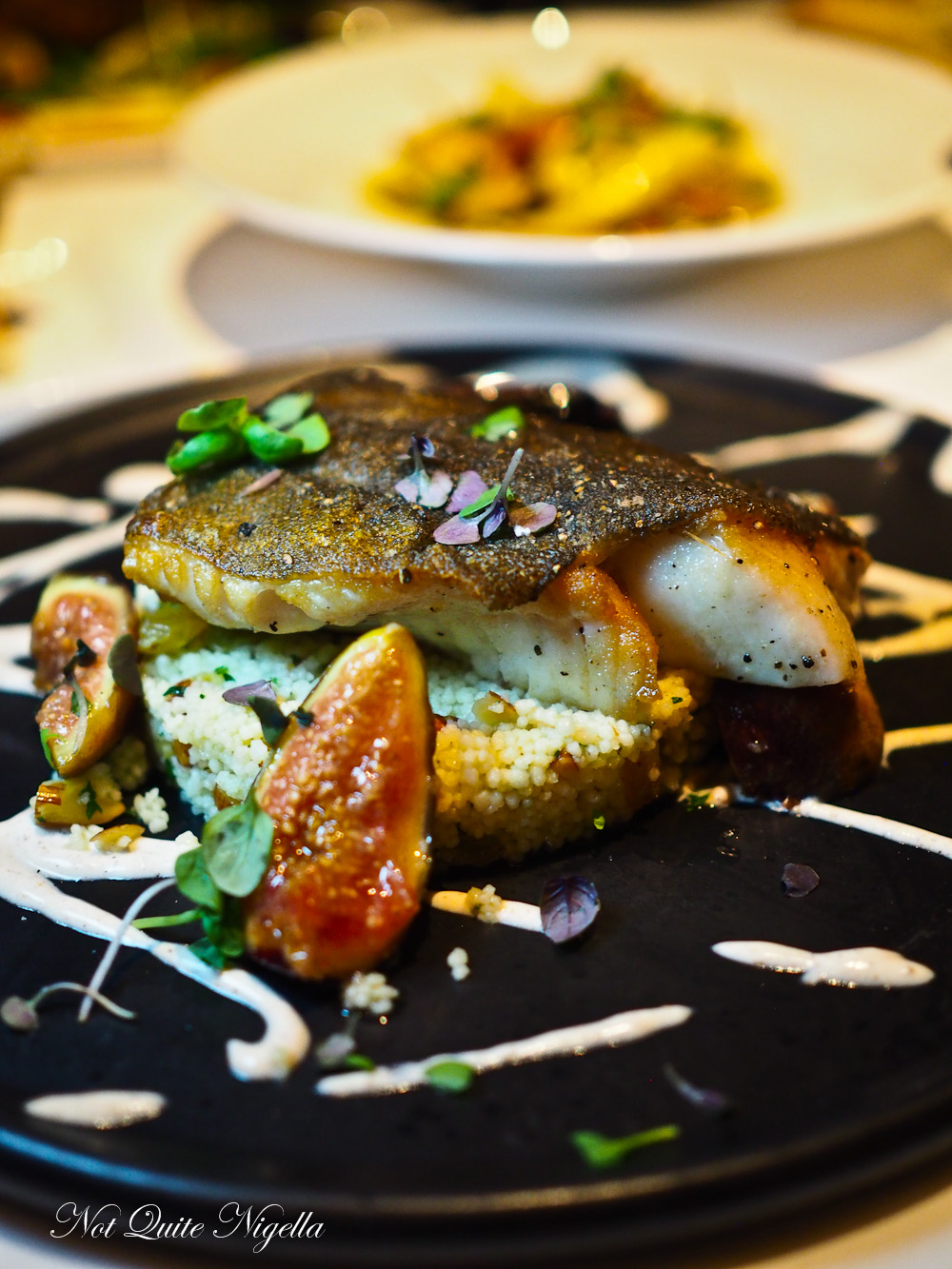 Sablefish, from the Farallon Islands $37USD served with a 2015 Matthiasson Chardonnay
We have chosen one seafood and one meat main. The seafood is a sablefish or black cod from the Farallon Islands, somewhat of a mainstay dish on the menu. The fish is utterly divine, richly luscious in texture. It is paired with grilled baby eggplant, couscous, split figs, almonds and ras el hanout. The star is the fillet of fish but the accompaniments go well with it.
Seared Sonoma Duck Breast & Confit Leg $36USD served with a Koehler-Ruprecht 2013 spätburgunder Pinot Noir
The duck has two components, a crispy skinned slice of duck breast and a crispy confit duck leg. There is a generous portion of pole beans, turnips and bing cherries with duck jus and it's a substantial and flavoursome dish.
Mocha Mousse $11USD served with a Malmsey Madeira 15 years
It's dessert time and as we liked our waiter's recommendations we decide to go with his recommendations for dessert. I crack the thin dome of chocolate to reveal a mocha mousse that is ethereally light. On top is chocolate cookie crumble, lavender petals and to the side is a lavender chantilly cream.
Yellow Peach Galette $11USD served with a Navarro 2015 Riesling
We had ordered the yellow peach galette because of the wonderful market peaches that we saw yesterday. This has sliced yellow peaches, lemon verbena, slivered, toasted almonds and a rich farm egg ice cream. Mr NQN doesn't want to hand this over while I covet the chocolate mousse.
As we leave, it's still light outside. It gets dark around 8:30pm in summer and restaurants tend to serve dinner quickly which is a godsend for those travelling. We walk past the cable cars chugging past, people waving and having fun while the drivers ring the bell and people hang off the edge looking carefree. We watch them turn the cable cars around - the cars ease into the turning circle and the staff turn the 10 tonne cable cars manually.
"Shall we get on?" says Mr NQN seeing me staring wistfully at the people getting on. "Yes!" I say and we climb on. Our no - nonsense drivers says, "You want to hang off? Then hurry!" and I grab onto a rail with two hands before I can consider the consequences of falling off. Mr NQN turns back at me and smiles while the driver slows down to point out sights. He's cheeky with an edgy sense of humour telling a woman that her head is too big so she is blocking her view. He softens this by asking her daughter to come forward to hang onto the side.
We reach the end of the route, at Fisherman's Wharf. "Ok folks, time to get off! Goodbye, sayonara, adieu and go on home and leave me alone!" he calls out.
So tell me Dear Reader, do you ever pretend that you're either tiny or giant when you eat giant or tiny food? Have you ever pocketed an oyster shell because it is pretty? And what do you think of the service in Australia compared to the United States? Do you prefer our system where you don't have to tip or theirs?
NQN and Mr NQN were guests of San Francisco Tourism but all opinions remain her own.
Bluestem Brasserie  
San Francisco Marriott Marquis, 1 Yerba Buena Ln, San Francisco, CA 94103, USA
Phone: +1 415-547-1111
Open 7 days 11am-11pm
www.bluestembrasserie.com/
Ferry Plaza Farmer's Market
One Ferry Building, #50, San Francisco, CA 94111, USA
Wednesday Closed
Thursday 10am–2pm
Friday Closed
Saturday 8am–2pm
Sunday & Monday Closed
Tuesday 10am–2pm
Phone: +1 415-291-3276
Dumpling Time
11 Division St, San Francisco, CA 94103, USA
Monday to Friday 11am–2:30pm, 5:30–9:30pm
Saturday& Sunday 11am–3pm, 5:30–9:30pm
Phone: +1 415-525-4797
www.dumplingtimesf.com/
Trace
181 3rd St, San Francisco, CA 94105, USA
Monday to Friday 6:30–10:30am, 11:30am–2pm, 6–10pm
Saturday 7am–2pm, 6–11pm
Sunday 7am–2pm, 6–10pm
Phone: +1 415-817-7836
www.trace-sf.com/
Farallon
450 Post St, San Francisco, CA 94102, USA
Monday to Thursday 4:30–9:30pm
Friday and Saturday 4:30–10pm
Sunday 4:30–9pm
Phone: +1 415-956-6969
www.farallonrestaurant.com/