Finally! My quest for a crunchy, crispy peanut butter cookie has been met! These delicately crispy peanut butter cookies are thin, waffle cookies baked until caramelised and golden crisp and then cooled in the oven to crisp up even more. But what is better than just cookies are ice cream sandwich cookies especially with these stay crisp cookies!
These cookies were a request from Nina. A request made while she was in the throes of her fast. She would often plead for cookies from me. But these cookies were actually something I wanted to eat. They are great by themselves, peanut buttery enough but not overly so so that they're too rich. They're baked for longer and then kept in the hot but cooling oven to remove any sort of softness or chewiness from them. Sometimes you want a chewy cookie but I have a particular fondness for crisp cookies like Anzac biscuits or brandy snaps.
After I made these I decided to try these as an ice cream sandwich cookie because they kept their crispness which makes for a lovely crunchy/creamy texture combo. I didn't think Nina would eat these. She usually doesn't eat unhealthy things but she breezily said the other day, "I need to put on weight actually." I know, how annoying is that? This is the woman that recently told me that she was so stressed out that she had begun stress eating copious amounts of food that afternoon. "What did you eat?" I asked her. "I stress ate carrots," Nina answered, confirming again that we are not of the same species.
She of course said this to me while giving me a new exercise. I like to call it prancercising. You may have been the videos of a woman who sort of gallops along like a horse. It's very camp and immensely shareable. In Nina's exercise, she placed an elastic exercise band around my waist and I had to run and pull her along while she pulled the other way. I took it as a chance to prancercise rather than run. She started singing "Eye of the Tiger" and "Push It" with little Mochi running alongside me and before we knew it, we had an audience. On their respective balconies, there was a young guy, a baby in a nappy and its dad who were all watching us.
The humiliation was all worth it though, because then we are peanut butter ice cream sandwiches. That's a win no matter if you have a horse in the race or not!
So tell me Dear Reader, do you have a favourite cookie texture-crispy or chewy? How about a favourite cookie type? Have you ever prancercised? And what advice do you have for people that need to gain weight?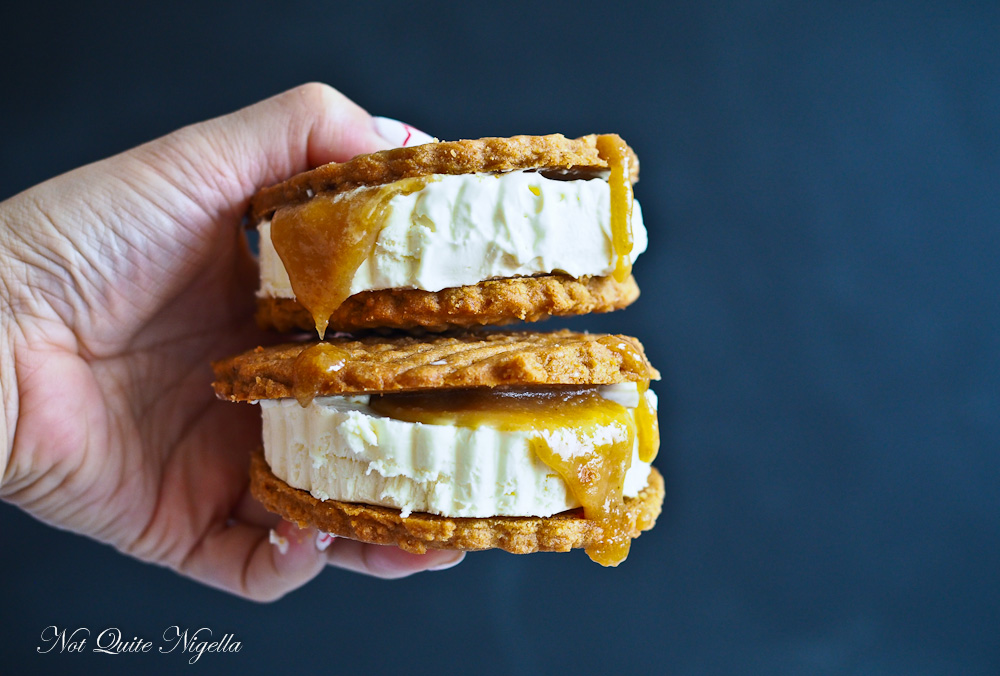 DID YOU MAKE THIS RECIPE? Share your creations by tagging @notquitenigella on Instagram with the hashtag #notquitenigella
Crispy, Gooey, Creamy: Peanut Butter Salted Caramel Ice Cream Sandwiches
An Original Recipe by Lorraine Elliott
Preparation time: 40 minutes plus 1 hour resting and overnight freezing time (can be done in parts)
Cooking time: 13 minutes
Makes around 16-18 cookies
125g/4ozs. butter, softened
1/2 cup caster sugar
1/2 cup brown sugar
125g/4ozs. peanut butter (use your favourite one)
1 egg, beaten
1 teaspoon vanilla
1.5 cups all purpose plain flour
1/2 teaspoon bicarbonate of soda
1/2 teaspoon baking powder
Fat pinch of salt to taste
For ice cream
900ml/32flozs. cream
1/2 cup icing or powdered sugar
2 teaspoons vanilla
1/4 cup salted caramel sauce
Step 1 - Line 3-4 trays with parchment. The cookies will all be baked at the same time so that you can make them crispy. Cream the butter and sugars together for 3 minutes until paler and fluffy. Add in the peanut butter, egg and vanilla and beat until smooth. Then on the lowest speed, add the flour, bicarb, baking powder and salt. Taste a little of the batter for the salt level. I love my peanut butter salty and sweet.
Step 2 - Wrap the dough in clingfilm and refrigerate for 1 hour. Preheat oven to 180C/350F. Shape dough into large balls and flatten with your palm. Roll out to a thin cookie-I used a non stick rolling pin and put parchment between the rolling pin and the dough. Cut out fluted rounds and use a fork to press down a waffle hatch pattern (you may need to wipe the fork between cookies). Bake for 13 minutes and then turn off the heat and allow to cookies to remain in the oven for an hour while the heat dies down. They should be caramelised and crisp.
Step 3 - To make ice cream, place the cream in a large bowl and sift the icing sugar into the cream and then add the vanilla. Whip the cream until you get soft peaks. Line a large lamington or Swiss roll tin with parchment on the base and sides and have it reach an inch above the rim. Spread the cream out in the tin and drizzle salted caramel sauce over it. Freeze.
Step 4 - Cut out circles using a cutter around the size of the cookies and sandwich together. You can also add more salted caramel sauce or peanut butter if you want to.