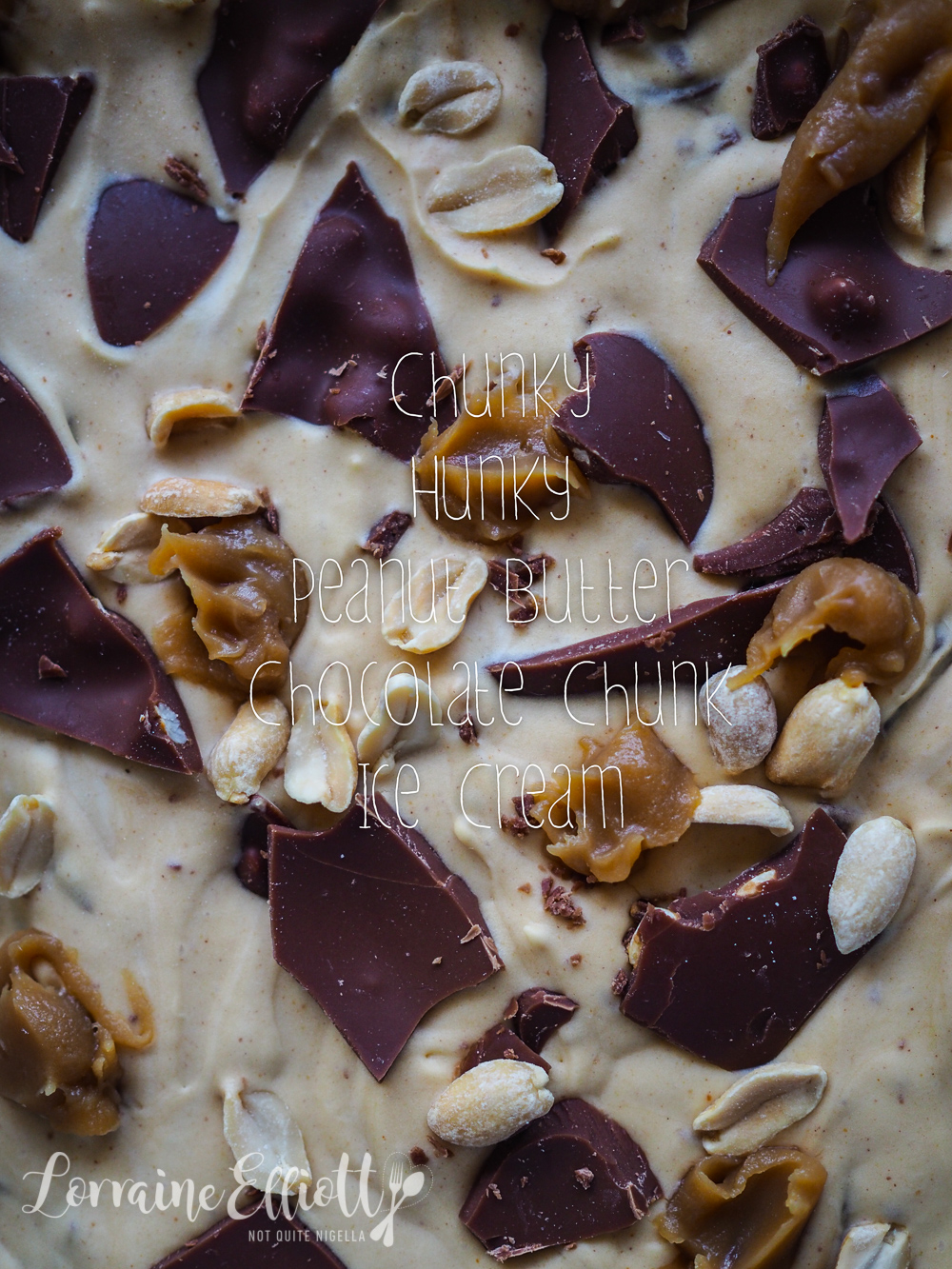 This peanut butter, chunky choc chip, salted roasted peanut and caramel ice cream is as creamy delicious and so much better than anything you could buy. For starters, we don't scrimp on the add ins. There's plenty of quality chocolate, caramel and nuts and your favourite peanut butter in it too. But it also makes around 1.5 litres of ice cream!
I cannot stress how easy and delicious this ice cream recipe is. There's no churning required, it's simply a beat, mix and freeze ice cream and it's so unbelievably creamy that from now on your ice cream maker will probably sit in the furthest corner of your cupboard like mine, (seriously, is it still even there? I haven't seen it for years).
I used a whole lot of leftover Easter chocolate to make this. I know that everyone says "What leftover Easter chocolate?" but I always have left over chocolate from Easter. I'm a really slow chocolate eater. I eat it every day but a little is fine for me. As a kid I used to get nosebleeds if I ate too much chocolate and I guess it has stuck with me ever since.
I had a bit more leftover chocolate than usual recently because of a Easter chocolate delivery. Now please understand that I love being sent chocolate and I'm not being ungrateful at all but one large chocolate company's PR agency had left it very, very last minute to send it out. On the Thursday before Good Friday I received a last minute email at 3pm asking me to urgently check my post office box for chocolate.
As luck would have it I was on my way to the post office when I saw the email so it was good timing. However the package was nowhere to be seen. Puzzled, we let them know and the PR woman seemed surprised. "But I posted it off today at noon," she said.
We had to explain that post office doesn't work like couriers and it wouldn't get to me until the next post day which would be Tuesday, too late to share for Easter. I guess she has never sent anything by post before.
When it did arrive after Easter, I opened up the satchel and all of the eggs were broken and the boxes bent out of shape. Other chocolate companies sent the chocolate in a big box because chocolate is delicate, especially large eggs and I guess they really had never dealt with posting things because sadly it was a bit of a mess. So I decided to use the eggs in the ice cream. Because sometimes life sends you broken eggs and you make ice cream!
So tell me Dear Reader, did you have leftover chocolate from Easter? How much chocolate do you usually buy?
DID YOU MAKE THIS RECIPE? Share your creations by tagging @notquitenigella on Instagram with the hashtag #notquitenigella
Peanut Butter & Chocolate Crunch Ice Cream!
An Original Recipe by Lorraine Elliott
Preparation time: 10 minutes plus overnight freezing time
Cooking time: 0 minutes
500ml/1pint cream
400g/14floz. tin sweetened condensed milk, chilled
1 cup peanut butter
3/4 cup roasted, salted peanuts
200g/7ozs. chopped chocolate (I used a mix of milk and dark chocolate Easter eggs)
1/4 cup salted caramel sauce
Step 1 - Whip the cream until soft peaks form. Add the condensed milk and whip to incorporate. Then add the peanut butter and whip until you get a thick, billowy consistency that holds its shape.
Step 2 - Spoon in the peanuts and chocolate reserving a little of both to place on the top. Scoop into a freezer proof container and add extra chocolate shards, peanuts and caramel dabs on top. Freeze until set.