The Ovolo Hotel has a brand new plant based restaurant called Alibi where everything on the menu is vegan with a component of it also being raw. California based chef and pioneer of plant based cuisine Matthew Kenney was tasked with bringing his plant based cuisine to patrons. So what is the food like?
"If you are vegan you'd probably be very excited to see this sort of thing but if you've had the real thing, the benchmark is different," says my wise friend Spay lady upon her first taste of the food at Alibi.
Alibi is part of the Ovolo hotel at Woolloomooloo's Cowper Wharf. The reception is up the stairs and Alibi takes up the space of the bar and restaurant at the back. Tonight, a Wednesday night, it is full patrons and a couple of food critics who executive chef Kasper Christensen is hurriedly ferrying dishes to. It seems like plant based is definitely popular.
Plant based is a term that Matthew Kenny prefers over vegan and his specialty is raw plant based food. He founded the world's first classically structured raw food culinary academy with restaurants in United States, Bahrain, London and now Sydney. The staff at Alibi, although sweet, vary greatly in their knowledge of the menu and the questions we have.
Drinks come past us, there's a number in a clear glass gun that looks very phallic and there's smoke under glass cloches and all sorts of tricks. We're more interested in the food for the moment though. They tell us about their daily special made using Bondi sourced vegetables. I don't think I've ever heard a more Sydney sentence uttered and Melbourne based Spay Lady raises an eyebrow. I try and ascertain whether they're from a farm in Bondi or a kitchen garden or even Bondi Markets but our waitress is not sure, "I think more...North Bondi?" she guesses gamely.
We were strongly recommended these dumplings, in fact they insist that we order four because they're convinced that we will fight over the last one (there are usually three to a plate). They are great dumplings although kim chi is not really a flavour I'd associate with them. But these are my favourite savoury item of the night. They're painstakingly created with wrappers made of dehydrated coconut purée mixed with coriander juice to give them the green colour and then filled with fermented cabbage, chilli, ginger, garlic, cashew, tamari soy and tahini. They're finished with a striking purple kimchi puree, ginger foam and black sesame seeds.
The cashew raclette comes out not as you'd expect but in a sizzling cast iron pan finished with smoked paprika oil. The cashew cheese is tangy, not as creamy or as cheese-like as other cashew cheeses that I've had. It is made with probiotics, white wine, nutritional yeast, lemon juice and sea salt and hot cornichons (admittedly not a big hit with both of us). And the herb salsa mentioned is perhaps the decoration of fennel fronds on top. Out of the two starters I definitely preferred the dumplings.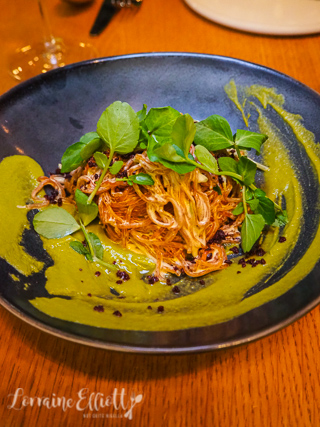 I love cacio e pepe pasta (cheese and black pepper tonnarelli pasta). And I think it would perhaps help if they didn't put cacio e pepe because it doesn't taste like cacio e pepe and if you're a literal person as I tend to be then you may come away disappointed. The Sea Tangle kelp noodles are served cold and are first marinated in tamari and olive oil. They are then tossed in a spicy and creamy black pepper cream with snap peas and watercress. Lastly there's a sprinkling of dehydrated oil cured olives. The predominant flavour is olives which is not what I think of with cacio e pepe. Spay Lady however really likes this because she's a big fan of the flavour of nutritional yeast.
I prefer the spicy udon with a thick, rich and creamy toasted cashew sauce that actually reminds me of cashew based Indian curries in texture. The organic udon noodles are mixed with a creamy cashew sauce seasoned with tamari, rice vinegar, maple syrup, red chilli flakes and toasted sesame oil. There are slices of pan seared tempeh, shiitake mushrooms and togarashi seasoning.
We went back and forth on this menu. The dumplings were great but we weren't as wowed by the mains because we were measuring it against the actual items (hence Spay Lady's original quote). But then this dessert came and I was feeling all the plant vibes again. The coconut cream pie has a macadamia crust, a layer of banana, a layer of coconut cream and slices of banana and shredded coconut. It's so good I want to eat it all and have trouble instigating my three bite rule. But because the food was quite rich because of all the coconut and cashews, I couldn't finish it.
This was a vanilla and pistachio, coconut and maple shortbread base with a hibiscus layer on top and fresh strawberry slices. The base is good but the top layer could be stronger in hibiscus. And I'm more preoccupied with the coconut cream pie to worry about this.
So tell me Dear Reader, do you like the idea of this sort of plant based food? And do you prefer the term plant based or vegan? Do they mean the same thing to you or conjure up different things? Are you a literal person when it comes to food?
This meal was independently paid for.
Alibi
Ovolo Woolloomooloo, 6 Cowper Wharf, NSW, 2011
Ph: +61 2 9331 9000
Open Tuesday - Friday 6pm - Midnight
Saturday - 12noon - midnight
alibibar.com.au