Bodhi is a vegan restaurant that has been going strong for 30 years. With indoor and an outdoor section (perfect for warmer months) it has a menu full of Asian themed vegan dishes.
This was my fourth attempt at going to Bodhi over the years. Every other time we tried it was closed. Valentina had been here recently for her son's birthday and had raved about the food so we decided to go back and make it a girls night with Jaqi.
The food at Bodhi follows Buddhist principles-not only is it vegan but it also eschews ingredients like onion, garlic, chives, leeks and spring onions. I'm slightly sceptical because I love all of those things and can't imagine getting flavour without them.
Sweet leaf $18 and Merida $18 (centre)
As a Dry July promotion there are four cocktails on offer using an Australian alcohol free spirit so we try those. The Sweet Leaf is pretty and flirty with Silver Princess alcohol free spirit , sage, lemongrass, chilli, rosemary, pandan, lemongrass, palm sugar syrup and marjoram. My cocktail is the Merida which was described as "The flavour after brushing your teeth" by the waiter which is honestly a bit of a disservice because it's nothing like toothpaste and is a sweet, long ginger ale cocktail with silver princess with habanero shrub, angostura bitters, lime, mint and ginger ale.
Mushroom and truffle oil dumplings $9.50 for 3
The first dish to come out are the dumplings. These dumplings come with chilli and soy dipping sauce. They're slippery and plump and with a faint truffle aroma to them.
Crispy 'chicken' skewers (3pc) $16.50
There are quite a few dishes that mimic the flavour and texture of meat and the crispy chicken skewers do a really good job of simulating chicken both in flavour and texture. There are flavours of sweet chili, kaffir lime leaves, lemongrass sauce and coriander.
Salt, pepper, tempura 'prawns' & coriander (5pc) $15.50
The "prawns" even look like prawns down to the shape and the lightish pink hue. However these to me actually have the flavour and texture of fish paste over prawns in a tempura batter.
South East Asian curry of grilled butternut pumpkin, zucchini & tofu with a lemon zest sour cream & crispy kale $28
We went with Valentina's recommendations as she had tried the banquet and we aren't disappointed. The pumpkin curry has a lot of flavour to it and a resounding chilli spice. There are slices of butternut pumpkin, tofu, chunks of zucchini and crispy kale and you can add on some "chicken" or "prawn" but we have it as it is. They pair it with a lemon zest sour cream which is like a coconut cream.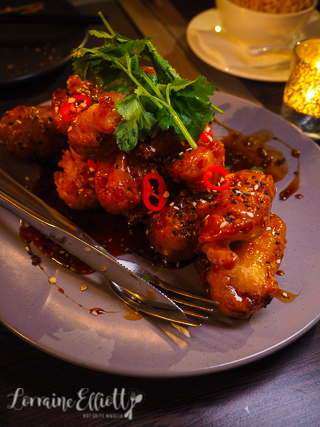 Light crispy finger eggplant, chili, toasted sesame seeds, sweet black rice vinegar, caramel sauce, coriander & peanuts $29
Battering and deep frying anything is generally going to be good and Jaqi and Valentina both love the battered eggplant batons with a moreish black rice vinegar caramel sauce to it.
Bodhi original Peking 'duck', hoisin sauce, cucumber, pancakes (5pc) $30.50
The most popular item is actually their version of Peking duck. Whilst it does lack the lacquered skin of actual duck it tastes a lot like Peking duck. My only complaint? There are just not enough of the excellent paper thin pancakes to match the "duck".
Snowball $17
Whenever I see Mochi on the menu I have to order it because I love it so much (RIP Mochi). The tiny mochi balls are filled with pandan custard. Surprisingly the coconut sago is unsweetened whereas we would have loved a bit of sweetness to it. The star of the dish however is the gorgeous rose infused granita!
So tell me Dear Reader, is there a vegan restaurant that you rate highly? Have you ever been convinced not to order something by waitstaff? Have you ever tried one and thought it tasted like the real thing?
This meal was independently paid for.
Bodhi Restaurant and Bar
2/4 College St, Sydney NSW 2000
Monday 11am–3pm
Tuesday to Friday 11am–3pm, 5–10pm
Saturday & Sunday 11am–4pm, 5–10pm
bodhirestaurant.com.au
Phone: (02) 9360 2523