Ever tried warrigal greens? This Australian native spinach is easy to find and you can forage for them along coastal areas, estuaries and in the sandy area of beaches where the sand meets soil. I was given an enormous bag of foraged warrigal greens and I decided to create some recipes for readers including a crunchy filo warrigal green and cheese pie, warrigal green frittata, scallop and warrigal green chilli dumplings and a warrigal green cannelloni! And don't worry if you can't access warrigal greens, spinach is an easy substitute!
Warrigal Greens and scallop dumplings
Warrigal greens or Tetragonia tetragonioides are a bush food that are also called New Zealand Spinach or Botany Bay spinach. They have soft, velvety triangular shaped leaves. The greens are high in Vitamin C and were used by early settlers and Captain Cook's crew to combat scurvy (reportedly they were served as part of the final meal on the Endeavour before it left Botany Bay). They can also be found in New Zealand, Japan, Chile and Argentina.
One thing to note about about Warrigal Greens is that they do need to be blanched for a minute or two before eating to get rid of the toxic oxates that they contain (if consumed in large quantities they can cause kidney stones and affect the absorption of calcium). Also make sure to discard the water that they are cooked in as it will contain oxates. I wilt a whole lot of them, run them under cold water, squeeze the excess water and package them up in lots and keep them in the fridge or freezer.
Warrigal Greens Cannelloni
But other than that they can be used in the same way that spinach is. They're quite mild flavoured and I like them because they don't make your teeth feel floury as baby spinach can do. They also have a good flavour and saltiness to them and are really as versatile as can be. Treat them in the same way that horta in Greek cuisine and cime de rapa is used in Italian dishes. A big plus is the stalks are not stringy but hold up to cooking.
Warrigal Green Frittata
I was actually given a big bag of warrigal greens by Mr NQN's father Roger at a recent family gathering. I have to admit that whenever Roger approaches me to talk to me I feel my defenses go up. Although they are hippies and not traditional, he relishes in being the "head of the house" and often lectures everyone about his philosophies. His greatest dream was to have a cult to lead. Sadly that never happened. And a big trigger for me is men trying to control me. I will have no bar of that.
Warrigal Greens Crunchy Filo Pie
He told us in no uncertain terms that the future was fake meat and about how scientists had grown an entire fake animal and that in a few years time we would be eating that. I usually don't try and engage, I'll usually be at the opposite corner of the room to him because we don't agree on much, especially food. I told him flat out that I didn't want to eat a faux animal and that it sounded terrifying. The rest of the family usually calm our discussions down and I don't even think he knows how pushy he is being.
So when Roger offered me some warrigal greens, my first instinct was to regard them with suspicion which was really more fool me because warrigal greens are delicious. I took the bag home and created these four recipes and then wanted more because they were so good. And as I mentioned don't worry if you can't get a hold of them, spinach works just as well in these recipes with an equal amount (because you really, really have to try these dumplings). I did however ask Mr NQN to ask his father where to get some more without engaging with him directly just to keep the peace ;)
So tell me Dear Reader, do you have issues being controlled by people? Do you argue or do you prefer to keep the peace? And have you ever tried warrigal greens?
DID YOU MAKE THIS RECIPE? Share your creations by tagging @notquitenigella on Instagram with the hashtag #notquitenigella
How to Prepare Warrigal Greens
Rated 5.0 out of 5 by 1 readers
Put a large pot of water onto boil. Drop the greens in the water and cook for anywhere from 1-3 minutes. Refresh in a colander until cold, running water to retain the green colour. Squeeze water and then use. These also freeze well.
Warrigal Green Crunchy Filo Pie
An Original Recipe by Lorraine Elliott
Preparation time: 15 minutes
Cooking time: 40 minutes
10 sheets filo pastry
Oil or melted butter
2 cups grated cheese
1 cup wilted warrigal greens, chopped
3 eggs
2 garlic cloves, peeled and chopped
1/2 cup green onions, chopped
6 cherry tomatoes, halved
Artichoke hearts, drained (halve or quarter these if they're very large)
Scrunching the filo pastry to create the crunchy top
Step 1 - Preheat oven to 200C/400F. Brush the base of a pie tin with oil or butter nad lay down 7 filo sheets one at a time oiling between each layer. In a bowl mix the cheese, eggs, greens, garlic and onions. Pour into the base and top with the halved cherry tomatoes and artichoke hearts.
Step 2 - Take the remaining three sheets of filo and cut into thirds. Scrunch them up lightly in your hand (don't squeeze too hard) and place on top of the filling making sure to cover the whole pie. Brush some more oil on top. Bake for 40 minutes or until the pastry is golden brown.
Warrigal Green & Scallop Dumplings
An Original Recipe by Lorraine Elliott
Preparation time: 45 minutes
Cooking time: 20 minutes
250g/8.8ozs. scallops (smaller ones are ideal)
2/3 cup wilted warrigal green (or baby spinach)
2 cloves garlic, peeled
1 inch ginger, peeled and sliced
1 teaspoon salt
1 teaspoon sugar
3 stalks spring onion, chopped
1 stalk of coriander, roots and leaves
1 egg, whisked
2 tablespoons cornflour/fine cornstarch
40 egg wrappers
Step 1 - Make sure to squeeze the greens well to drain of excess water. Process the greens, garlic, ginger, salt, sugar, spring onion, coriander and egg together in a food processor. Mix with the scallops and cornflour.
The dumpling folding process, top row from left to right
Step 2 - Line 2 baking trays with parchment. Have a brush ready as well as small bowl of water. Lay out half a dozen wrappers at a time and wet the edge with a brush. Place a small amount of filling in the centre (the less the easier they are to wrap up).Fold in half to form a triangle and pres down to seal the sides. Then bring two edges around and seal with water. Place on the tray.
Step 3 - Steam for 10 minutes. Serve with chilli sauce, coriander, spring onions and sesame seeds.
Warrigal Greens & Cheese cannelloni
An Original Recipe by Lorraine Elliott
Preparation time: 20 minutes
Cooking time: 25 minutes
250g/8.8ozs. cannelloni shells
500g/17.7flozs. pasta sauce
3 garlic cloves, peeled
375g/13.3ozs. ricotta cheese
100g/3.5ozs. feta cheese
1 cup warrigal greens, wilted
1 egg
1 cup mozzarella cheese
1/4 cup parmesan cheese
Step 1 - Preheat oven to 200C/400F. Grease a large baking dish. Spread 1/4 of the jar on the base of the tray. Blend the garlic cloves and then add the ricotta, feta, greens and egg and blitz until smooth. Place in a piping bag and then pipe into the cannelloni shells. Place on the saucy tray.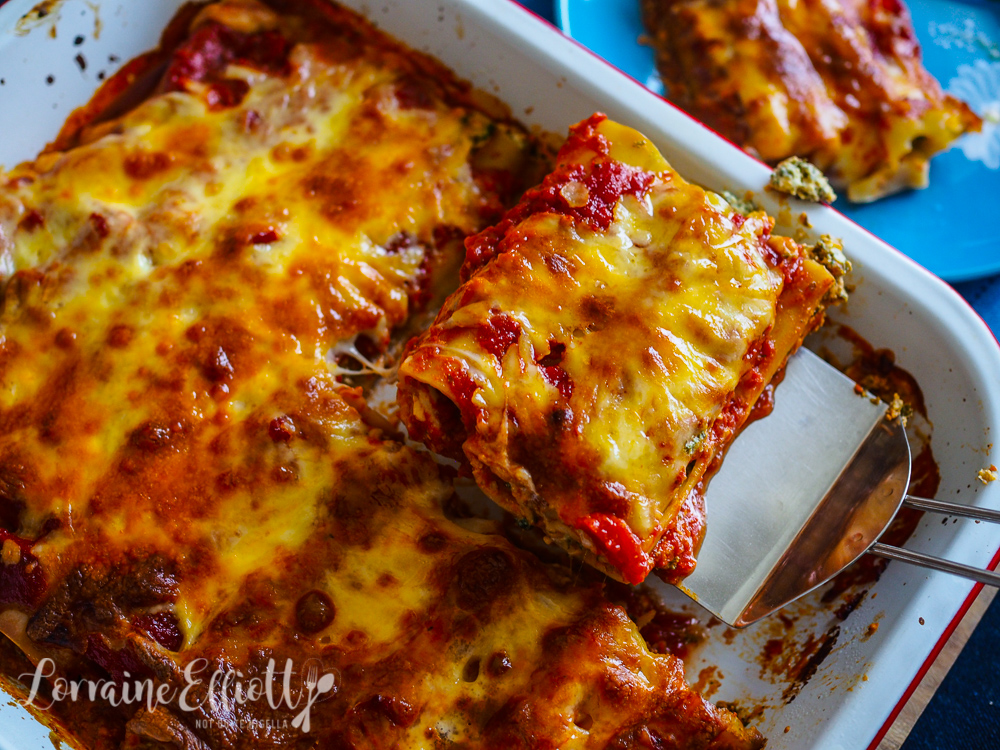 Step 2 - Cover with the remaining sauce and then top with mozzarella and parmesan cheese. Bake for 25-30 minutes.
Warrigal Green Frittata
An Original Recipe by Lorraine Elliott
Preparation time: 10 minutes
Cooking time: 10 minutes
Oil for greasing pan
8 eggs
1/2 cup milk
1/2 cup green onions, sliced
1 cup wilted warrigal greens, roughly chopped
200g/7ozs Persian feta, chopped
Salt and pepper for seasoning
Step 1 - Preheat grill. Whisk the eggs and milk together. Add in the onions, warrigal greens and Persian feta. Add 2-3 tablespoons of oil into a cast iron pan and brush it up the sides too. Pour in the egg mixture and cook on a medium high stovetop until the bottom starts setting (the top will still be liquid). To finish it off, place it under the grill to cook the top.